!REVIEW GOES HERE!>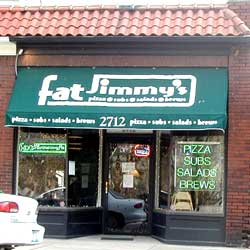 ** Fat Jimmy's Pizza
2712 Frankfort Ave.
(502) 891-4555
Web: www.fatjimmyspizza.com
I was sad to see the demise of Deacon's, a cozy little neighborhood beer tavern that just happened to be in my neighborhood, a spot made for graying Boomers with its soft music, no-smoking policy, magazines and board games and occasional quiet live concerts and pinochle tournaments. It didn't last, alas, perhaps because graying Boomers don't go out as much as we used to.
But now there's a new tenant in the little storefront next door to Heine Brothers Coffee on Frankfort, and if it's not quite as nostalgic as Deacon's, Fat Jimmy's Pizza is still a welcome neighborhood nook for Crescent Hill folks in search of a cold mug of beer or a hot slice of pizza.
An urban extension of a suburban tavern (9901C LaGrange Road, between Lyndon and Anchorage) that's said to be a popular stop for the biker crowd), Fat Jimmy's has ripped out the old interior of Deacon's and replaced it with spartan but usable furnishings. About eight big green formica-topped tables with small wooden chairs fill the floor space with plenty of room to spare. Industrial-style carpeting covers the floor and extends up to cover a bench-style banquette along one wall, with a few rows of fake-brick paneling behind it. Over that the walls are beige, spotted with a few framed black-and-white snapshots of people and some Ansel Adams posters.
A small, L-shaped bar at the back offers a limited selection of mass-market beer brands (including a few common imports) by the bottle ($2-$3.50) or draft mug (99 cents-$2.75). Soft drinks and iced tea ($1.25) come from a serve-yourself dispenser.
The menu is simple enough that the sign on the front window pretty much catches it all: Pizza, subs, salads, brews. Pizzas are $4.99 for a 10-inch cheese pizza, $6.99 for a large (12-inch) or $7.99 for extra large (16-inch); add an additional 50 cents, 75 cents or $1 per topping, depending on the size of your pie. Specialty pizzas range from $10.49 to $16.49 depending on size and ingredients, and include such goodies as the Fat Jimmy (10 toppings of your choice); a veggie pie for those who shun meat; BBQ Chicken (grilled chicken and onions with barbecue sauce and cheese) and a Border Pie, "a pizza that tastes like a taco" with refried beens, beef and jalapeñoes, lettuce and tomato.
A hot serving shelf, high enough to be a reach for youngsters and short people, holds about three pizzas available by the slice ($4.99 for all-you-can-eat) for lunch. It's a good way to check out the various types of pie.
Ranch pizza, an intriguing variation on the Italian theme, featured a creamy ranch dressing (applied with a light touch) instead of the usual tomato sauce, topped with tender bits of chicken meat, bacon and Italian sausage with lots of creamy pizza cheese.
The cheese and pepperoni pizzas, the other choices available on the day of our visit, were straightforward: Thin, rather crisp crust pies topped with a respectably flavorful tomato sauce and ample portions of the familiar "bubble gum" mozzarella dusted with a dash of dried herbs. They're not what you'd call gourmet pizzas, but certainly competent and filling.
Sub-type sandwiches come straight from the oven, almost too hot to pick up, with plentiful ingredients parked on light, yeasty white "torpedo" rolls. The meatball sandwich was a winner, with a generous ration of weighty but tender and savory ground-beef balls slathered with pizza sauce, chopped onions and green peppers and molten mozzarella, with ripple-style potato chips and a fat dill pickle wedge to fill up the cardboard tray.
A filling lunch with pleasant service from the young guys (no Boomers here) who run the bar and the pizza kitchen cost us under $15 for two, including tip. It's not Deacon's, but it's a pleasant addition to the neighborhood. $
ANOTHER LOCATION: 9901C LaGrange Road, (502) 339-8111.
<!REVIEW ENDS HERE!>
---