!REVIEW GOES HERE!>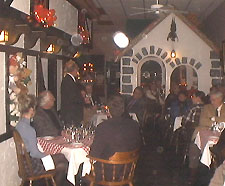 *** Gasthaus
4812 Brownsboro Road
(502) 899-7177
For a city with a German heritage as strong as Louisville's, where we have boasted a Turnverein (Turner's) and a Gesangverein (Social Male Chorus), and where family names like Oechsli ("exley") and Oertel ("ertel") slid trippingly off our tongues, we've been surprisingly short on restaurants featuring real German cuisine.
The old Kunz's The Dutchman and Hasenour's offered, at best, down-home translations of old-country German with an urban Louisville accent; and the few genuine German spots of the past decade -- Kienle's in St. Matthews and the series of odd little South End eateries hosted by the memorable Peggy Butt -- never rose much above culinary curiosities with small "cult" followings.
But now comes the family Greipel, straight from Bavaria to Eastern Louisville, where six years ago they opened Gasthaus and found their way straight into the hearts of local lovers of Teutonic fare.
Typical of many suburban eateries, Gasthaus's location in an aging strip shopping center on U.S. 42 just west of the Watterson Expressway doesn't offer much of a "curb appraisal." But step inside, and it's as if you've been transported magically to a town square in a Bavarian village, complete with tables in and around a pair of what appear to be tiny cottages framed in black beams and white stucco. Knick-knacks and teddy bears abound (remember, the word "kitsch" is, in fact, German), and with bright red-checked tablecloths and servers in Bavarian attire, the only word for the atmosphere is "gemütlichkeit," that untranslatable German term for "smile-making, cozy, comfortable and warm."
The menu is echt (genuine) German, featuring soups and salads from $2.95 (for creamy potato soup laced with tasty bits of German sausage) to $8.50 (for a hearty lettuce-and-slaw salad topped with strips of sauteed chicken breast).
Fifteen entrees, subdivided into poultry, beef, pork, veal and vegetarian selections, are priced from $12.95 (for Spatzle noodles with vegetables or Champignons a la Creme, sauteed mushrooms and onions over Spatzle) to $14.95 (for chicken ragout, rolled top-round beef Rouladen or the classic breaded veal Wiener Schnitzel) and $15.95 (for Schnitzel a la Holstein, breaded and sauteed veal topped with fried eggs, anchovies and capers).
Dinners come with one side dish, although hearty eaters may order more from a selection including Spätzle (homemade German egg noodles), Kartoffel Salat (warm potato salad), Bratkartoffeln (pan-fried potatoes with onion and bacon), Rotkraut (red cabbage, long-simmered and intensely sweet), and sauerkraut.
We enjoyed potato soup ($2.95), a thick, creamy puree, touched with a gently warming hot-paprika spice and studded with savory slices of a delicate, bratwurst-style sausage, and a soup of the day, tomato consomme ($2.95), a rich, salty beef broth with diced fresh tomatoes and long-cooked stew beef.
Chicken Wiener Art ("Vienna style") was a spoon-tender boneless chicken breast coated with a crisp breading and sauteed, schnitzel-style, served on a scant, pale-tan cream sauce with a generous serving of luscious, sweet-tart homemade sauerkraut on the side. The Schnitzel a la Holstein was a very large piece of boneless veal pounded paper-thin, breaded and crisp-fried, topped with two eggs fried sunnyside-up and served with garnishes of capers, rolled anchovies and julienne beets, with a hearty serving of crisp home-fried potatoes.
The wine list is short but interesting and fairly priced, with a half-dozen German white wines and a couple of German reds (a real rarity), fairly priced in the range of $17 to $20 for a bottle (plus a $30 bottle of Beerenauslese, an intensely sweet German dessert wine). A half-dozen German beers by the bottle are $3.75 to $4.50.
As you'd expect from a fine German restaurant, desserts are a specialty. Apple Strudel and Fallen Chocolate Souffle (both $5.25) are usually available, as is an ever-changing selection from Apfel Kuchen, apple wine cake, Schwarzwalder Kirsch Torte, Linzer Torte, cheese cakes and other Torten (rich cakes). We gazed longingly at a tray featuring a half-dozen calorific goodies on the way out, but passed, too full for another bite. "Come back for coffee and dessert some time," a hostess suggested. Not a bad idea!
Dinner for two was $55.23, including a glass of wine and two beers, plus a $10 tip for friendly and efficient service. $$$ <!REVIEW ENDS HERE!>
---