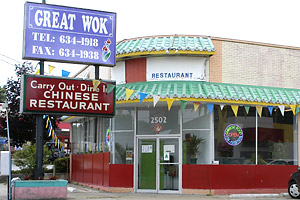 82

Great Wok
2502 Preston Highway
(502) 634-1918

<!REVIEW GOES HERE!> With the proliferation of quick, low-budget Chinese eateries in Louisville in recent years, it's tough for a critic to keep up. Just about every shopping center in the metropolitan area has at least one little fast-food Chinese spot, and just about all of them seem to get their menus and their limited decor from the same source. (Somewhere in New York City or San Francisco, or maybe Chicago, I visualize a massive warehouse filled with Chinese Zodiac place mats, tall, shiny black-lacquer chairs and oversize pictures of the Great Wall in back-lighted bas relief.)
Quality can vary too, it seems, almost from day to day, as chefs move on and new ones arrive to replace them.
But every now and then one stands out from the pack, attracting a whispered buzz as the news quickly, quietly spreads by word of mouth. And so it is, at least for now, with Great Wok, where a quick sample on a recent visit showed the tell-tale signs of an unusually skilled hand in the kitchen.
Situated just a few blocks south of Eastern Parkway on Preston, these sizable, almost windowless quarters formerly housed a more forgettable Chinese eatery called Chopsticks King. The long, lofty room is a bit more imposing than the average storefront, with walls painted a tasteful pale bluish-gray - the color of the sky on a day with a high overcast - highlighted by bright chartreuse trim and only a few art objects - a couple with Chinese landscape themes, one showing the Grand Canyon and one in Norman Rockwell style.
Sturdy turquoise marble-look tables for four are lined up in orderly rows, set with high-backed chairs straight from that Chinese-restaurant furniture factory I mentioned. As is typical of Chinese fast food, you order at a serving window at the back, then take a seat and wait for your food for take-out or eat-in.
The menu offers a typically broad choice of well over 100 Chinese dishes. It's even more budget-oriented than most, with nothing over $10 even in the relatively pricey "Chef's Specialties" section, which tops out at $9.95 (for "Seafood Delight" with lobster, shrimp, scallop and crab).
Twenty combination platters offer a main course, pork fried rice and egg roll for dinner from $4.50 to $6.25, and an innovative "Health Food Section" offers steamed vegetables, chicken, beef or shrimp plates from $5.75 to $8.50. Lunch specials are just $3.95 - about the lowest price I've seen anywhere - and portions are large; an egg roll and fried rice are included, but no soup.
The egg roll was a bit unusual in that it contained nothing but finely shredded Chinese cabbage ... no meat, no other veggie ingredients, and very little seasoning - salt, maybe, and possibly just a homeopathic dose of Chinese "five spice." It was a good egg roll, fresh and well-made, sizable, golden and grease-free, but to be honest, it was a bland egg roll, hot and crisp but monochromatic. (Hot mustard and orange sweet-and-sour sauce are available in plastic packets on the tables if you want to spice it up.)
Lunch plates are presented with exceptional style, carefully and attractively plated, not just plopped on the dish. Better still, they don't just look good, they taste good - this may be "fast" food, but it is very well-made.
Orange Chicken consisted of a generous portion of nugget-style boneless chicken bits, lightly breaded and crisply fried, napped with a thick, slightly sweet reddish-brown sauce. The orange came as an accent rather than a dominating flavor, and the spicy heat was piquant but stopped well short of fiery, with no whole chile peppers but a discreet shake of hot sauce or cayenne. Three crisp-tender fresh broccoli florets added color and a bit of good-for-you green-veggie health.
Moo Goo Gai Pan, a straightforward and simple chicken-and-mushroom dish, puts a Chinese chef to the test, as the line between subtle, delicate balance and mere blandness is a fine one. Great Wok's version is a winner, quality ingredients prepared with care to result in a subtle and interesting dish with clean, fresh flavors. Thin slices of tender chicken breast were lightly "velveted" with a cornstarch dredge before stir-frying, then tossed with crisp, bright-green pea pods; ripple-cut carrots sliced on the diagonal, mushroom slices, thin-cut strips of crunchy bok choy, bright-green broccoli florets cooked just right, and thin, crisp slices of bamboo shoot and water chestnut.
Fried rice was unusually yellow in color, perhaps brightened with a dash of turmeric; lightly fried and tossed with chopped scallions ... crisp, flavorful and not at all oily, it was a fine example of the genre.
Hot tea, so easy to get right, was the one disappointment, made from a tea bag dropped carelessly into barely tepid water. I suspect Great Wok's artful chef was not involved in this process.
A filling lunch for two, with brisk, no-nonsense service, came to a budget $9.40, plus a $1.60 tip. $
(June 2003)
<!REVIEW ENDS HERE!>
---