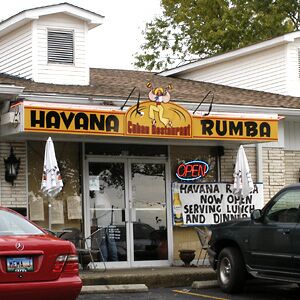 92

Havana Rumba
4115 Oechsli Ave.
(502) 897-1959

www.myhavanarumba.com
<!REVIEW GOES HERE!> One of these years, we hope, our federal government is going to realize that the Evil Empire has been gone for 10 or 15 years and Sen. Joseph McCarthy has been dead for even longer, and that it's probably OK to trust American citizens to visit Cuba again.
But until common sense prevails, at least we can enjoy a taste of Cuban hospitality, Cuban atmosphere and really excellent Cuban food at Havana Rumba.
After several recent visits, I'm smitten: This bright little spot in St. Matthews gets it consistently right, with friendly, fluently English-speaking service in an appealing, rather upscale setting, with bountiful servings of Cuban fare as good as I've enjoyed in Key West and Miami.
Owner-chefs Fernando and Christina Martinez, who served briefly in the last days of Salsa South Beach but came too late to save it, have set up their own operation in the East End storefront that recently housed Fat Bread (a welcoming if low-budget Bosnian deli) and before that, the country-shack ambience of the four-star Champion's Barbecue. (Old-timers will remember it as Greek Pilgrim, the city's only real Greek eatery for a short spell during the '80s.) Havana Rumba has completely redone the space, which now sports a sunny tropical theme with walls painted bold primary colors of deep red and sunny yellow, accented with bright Cuban paintings, Cuban drums and castanets and a couple of broad-brimmed straw planter's hats.
Tables made especially for the restaurant feature authentic Cuban cigar-box covers laminated onto warm woodgrain table tops; chairs are real leather-and-wood taburetes acquired from Cuban-American producers in Miami. (Rows of standard brown leatherette booths also line both sides of the room.) Four unusual ceiling fans with blades made to resemble tobacco leaves swirl gently overhead, and Cuban music plays quietly in the background. It's worth making a special trip back past the kitchen to the rest rooms to enjoy the old pre-Castro U.S. travel posters that have been relegated to this out-of-the-way corridor.
Votive candles are housed in attractive little pineapple-design glass chimneys, and heavy stainless flatware comes rolled in large white cloth napkins. Large plastic water glasses and sizable white earthenware plates complete the table service.
One small nit to pick: The menu's tiny print under shiny clear plastic makes it somewhat hard for middle-aged eyes to read, especially if your table happens to have one of those tobacco-leaf fans twirling overhead between you and the lights. About the only fault I have found here is that the lighting falls well short of cozy or comforting.
Once you focus, though, you'll find a lot of choices on an almost daunting bill of fare that requires time to study until you get familiar with the colorful diversity of Cuban cuisine.
Ten aperitivos (appetizers) range in price from $2.99 (for plaintain chips with mojo, a tart and tangy Cuban sauce of garlic and onion in an olive-oil-and-lime-juice vinaigrette) to $8.99 (for a Cuban starter sampler with a papa rellena potato ball, beef empanada turnover and a tamale). Four ensaladas (salads) are $3.99 (for the house salad or a Caesar) to $4.99 (for the Ensalada Española with house orange-cachucha-pepper vinaigrette). Sopas (soups) include the chef's mother's own black-bean stew with onions ($2.50 for a cup, $3.50 for a bowl) or soup of the day ($2.99/$3.99). A half-dozen bocaditos (sandwiches) are available on the dinner menu from $6.50 (for a hot-pressed Cuban-style all-veggie sandwich or Pan Lechon, chopped pork and onions) to $8.99 (for the Havana Rumba, also a Cubano-style pressed hot sandwich with a whole deli full of meats and cheeses).
About 20 main courses are subdivided into pollo (chicken), puerco (pork), carne (beef), mariscos (seafood) and vegetarianos (you guessed it). Many are under $10, ranging in price from a thrifty $8.99 (for chicken Ropa Vieja) to $14.99 (for skirt steak marinated in green-chile chimichurri sauce). The Parrilla Habanera, steak and chicken and Cuban chorizo sausage with black beans and rice, is $29.99 for two.
A variety of side dishes are available à la carte, and you'll find a half-dozen delicious, authentic Cuban desserts to choose from, plus real Cuban-style coffee drinks, strong, dark and sweet.
The wine list is short and all-Latino, with a number of interesting selections from Chile, Argentina and Spain, priced to sell from $3.50 a glass, $14 a bottle for the house wines, Concha y Toro Chilean Chardonnay, Cabernet Sauvignon or Merlot (or $3.50/$18 for homemade sangria) to $29 a bottle for Marques de Grinon Valdepusa red from Spain or one of our choices, Puig & Roca's "Augustus Trajanus" 1997 red wine from Barcelona's Penedes region ($29). Bottled beers include domestic standards and lots of Latino beers from Mexico, South America and the Caribbean including the "Cuban" Hatuey (actually an old Cuban brand now made in Florida). Non-alcoholic drinks include commecial soft drinks (1.55), bottled tropical juices ($1.99) and batidos (tropical milk shakes, $2.99). Malta, the popular Latino non-alcoholic malt beverage, like a sweet, un-fermented beer, is $1.99 for a bottle.
We assembled a party of four so we could try a lot of Cuban goodies, and pretty much ate our way through the menu during a long, well-fed evening.
In addition to complimentary Cuban bread, slices from a chewy white baguette-style loaf with excellent garlic-chive butter, we split three appetizers four ways.
• Entremes ($7.99), a Cuban-style dish with a Spanish accent that strongly resembles an Italian antipasto plate, featured thin-sliced Spanish Serrano ham and thin-sliced rounds of Spanish chorizo sausage (mild and savory, not close kin to the spicy Mexican chorizo) and sliced Spanish cheeses including Manchego and "drunken" wine-laced Murcia, along with pimenton (mild roasted red peppers) and pitted black olives.
• Empanadas de Picadillo ($4.50) were perfectly fried flaky pastry half-moons wrapped around a delicious, savory ground-beef filling that had been laced with olives and raisins and simmered in a tart-sweet tomato and wine sauce.
• Tostones con Pollo ($6.99), a generous portion almost sufficient to make a light main course, featured crisp rounds of fried patties made from mashed green plantain (a tropical fruit akin to an unsweet banana), arranged on a large plate and topped with savory bits of tender, boneless grilled chicken meat and mild jack cheese with chopped lettuce and tomatoes. The combination of sweet and savory flavors with tender and crunchy textures made for a surprising and addictive dish.
Four main courses, all attractively presented on large, colorful earthenware plates decorated with chopped parsley, offered a good cross-section of the menu.
• Pollo Asado ($12.99) consisted of half of a good-size chicken, large enough to provide brown-bag leftovers but too good not to finish on the spot, roasted golden brown after doing time in a garlicky, lightly spicy sour-orange marinade. It was served with traditional Cuban side dishes, fried sweet plantain rounds, black beans and steamed white rice.
• Lechon Asado ($10.99), a Cuban roast pork dish that bears a fairly close resemblance to Southern pork barbecue without the barbecue sauce, marinated in garlicky-citrus mojo-style juice and long-roasted, then grilled, served in thin slices so tender that they fall into savory shreds at the touch of a fork. It came with Cuban side dishes of congris (white rice and black beans, sometimes nicknamed Moros y Cristianos) and yuca, a white, fibrous tropical root vegetable, also known as casaba, cassava or manioc. It's sort of like a potato. Sort of not. It's yuca. Try it, you'll like it.
• Beef Ropa Vieja ($9.99). This is another traditional Cuban dish, literally translated as "old clothes" because of a fancied resemblance between these strands of shredded beef and old cloth rags. It tastes much better than that old "Clean Up For Gene in '68" T-shirt, though: Flavorful "skirt" steak was simmered in a savory blend of tomatoes, wine and Creole spices with bell peppers, onions and black olives. It's served with the standard plantains, rice and beans.
• Masas de Puerco ($10.99). Perhaps the best dish of the four, although it was an achingly close call, masas are deep-fried bite-size chunks of juicy marinated pork, crunchy on the outside and tender within, somewhat resembling Mexican carnitas. Congris and plantains came alongside.
Wine is served in functional but decent glasses, sturdy enough for restaurant service but large enough to enjoy the wine's aroma. We made short work of two good red wines, one from the New World and one from the Old. Don Miguel Gascòn 2003 Mendoza Malbec ($25) from Argentina was a straightforward Malbec, dark purple in color, showing cherry-berry red-fruit aromas and flavors accented by Malbec's distinctly earthy back note. Augustus Trajanus 1997 Penedes Red Wine from Puig & Roca in Barcelona ($29), imported by a Louisville firm, was a Bordeaux-style blend of Cabernet Sauvignon, Cabernet Franc and Merlot, fruity and soft and quite mature, showing earlhy "barnyard" aromas and a touch of oak in a fruity and soft, silky and velvety wine.
Havana Rumba doesn't let up with the dessert course, delivering a quartet of rich, seductive goodies. Tia's Flan ($3.99) was a wedge cut from a larger circle, perfectly fashioned, creamy but firm custard glazed with silken caramel. Arroz con Leche (rice pudding, $3.99) consisted of soft, tender medium-grain rice infused with sweet cream and dusted with cinnamon. Two crunchy chocolate-filled tuiles made an edible decoration; a pale, almost albino out-of-season strawberry went uneaten. Two orders of Helado de Coco (coconut ice cream, $3.99), were delicious: Creamy and coconutty, not too sweet, generous portions were loaded into martini-type glasses and garnished with crisp chocolate-filled tuiles.
We couldn't finish a fine Cuban meal without coffee, and tried a variety: Cafe Cubano ($1.50), strong and heavily sweetened, is billed as "strong enough to keep you up dancing all night." A Cortadito ($1.50) is an espresso-style shot of Cuban coffee smoothed out with a shot of steamed milk and sugar. Cafe con Leche ($2.50) approximates cappuccino, a big cup filled with a half-and-half mix of strong, sweet Cuban coffee and steamed milk. A small point off for a bit of hardened milk "skin" on top, but once this minor irritant was dispatched to the sauce, the rest of the drink was fine.
This sumptious Cuban feast, including two bottles of wine, came to $143.52 for four, so the share for two was well under $75 plus tip, a more than reasonable toll for a four-star dinner, environment and service.
Indeed, the dinner was so memorable that we raced back for lunch the very next day to try more goodies.
The lunch menu offers almost as much variety as dinner, with 15 main course items from $6.50 (for empanadas or a Cuban Sloppy Joe - named after a landmark bar in Havana with a modern outpost in Key West - or, my choice, Papas Rellenas) to $9.99 (for a grilled Palomilla steak with onions or the Cherna a la Parrilla, grilled grouper. You can also order any sandwich on the menu at lunch for $1 off the dinner price.
The Papas Rellenas consisted of two spheres of creamy mashed potatoes, nearly the size of tennis balls, rolled around spicy shredded chicken that appeared to be the the chicken Ropa Vieja, deep-fried golden brown and crunchy. Like most good fried things, it was an addictive treat, made even more so with a liberal application of the creamy, spicy aioli that came with it. It was accompanied by a simple, well-fashioned salad of fresh mesclun greens with a slice of avocado, three beautiful ripe tomato wedges and a sprinkle of crumbled mild white queso bianco with a small tub of tangy vinaigrette.
The "Half and Half" lunch option ($6.99) gets you half of any hot-pressed sandwich on the menu plus salad or soup. We went with the Havana Rumba sandwich and a cup of the soup of the day, chicken noodle.
The sandwich featured a variety of thin-sliced meats - serrano and hickory-smoked ham, roast pork, rounds of mild Spanish chorizo, mild white provolone-style cheese, roast pimenton red peppers, lettuce and onions and a smear of garlicky aioli, pressed and heated Cuban-style in a sweet, crusty white baguette-like mini-loaf of Cuban bread. It came with a good ration of crisp sweet-potao fries, a delicious variation on the usual French fries. The soup was not your mother's chicken-noodle soup, unless your mother was Cuban. Smooth and thick, it was a savory pale-reddish broth loaded with short strands of spaghetti, chunks of long-cooked carrot, small dice of yuca, and an exotic whiff of saffron.
With tall glasses of ice water with lemon, lunch for two came to a very modest $13.24, plus a $3.76 tip. If it's not quite as exiting as a trip to Cuba, at least you don't have to lie to the Customs people on your way home. $$$ for dinner, $ for lunch
(October 2004)
ACCESSIBILITY: The entrance is accessible to wheelchair users, but rest rooms lack facilities for disabled patrons. The only "curb cut" for wheelchairs in the small shopping center's front sidewalk is near Del Frisco's, some distance away from the restaurant entrance.
<!REVIEW ENDS HERE!>
---