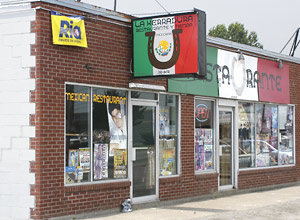 85

La Herradura
615 Eastern Blvd.
Clarksville, Ind.
(812) 280-8650

<!REVIEW GOES HERE!> The proliferation of authentic Mexican tacquerias that has occurred as a happy result of the region's growing Latino population poses a problem to language-impaired food lovers: How best to take advantage of an intriguing cuisine when the management speaks mostly Spanish and you speak only English?
The friendly folks at La Herradura make it simple: What they may lack in fluent English, they more than adequately make up for with friendly hospitality ... and a handy bi-lingual laminated menu at the service window that provides helpful translations. A smile, a nod, and a pointed finger go a long way toward getting you one of the more interesting and authentic Mexican meals around.
Just a block or two away from the new and also appealing A la Fiesta, La Herradura ("The Horseshoe") is a no-frills establishment: A simple storefront, concrete-block walls painted schoolroom green (in the process of being repainted a brighter pea-green at the time of our visit). Several tables are shoved together to make a long banquet table that's covered with a plastic tablecloth featuring a horseshoe decor; more tables are undraped, set with bentwood chairs that look like they have a little mileage on the odometer.
A wood-paneled back wall is adorned with a couple of somewhat scruffy looking deer heads that I suspect were inherited from a previous tenant, and Mexican tunes with a happy beat play fairly loud (but not so loud as to make conversation impossible) in the background.
You step up and order your meal through a small oval window at the back. As noted, there was no real hope of communicating in English, but things went well. Point to the chalkboard, which lists tortas, tacos and sopas (soups), or use the bilingual menu. Staff is eager to communicate, so getting your order placed is not a problem.
The bill of fare is relatively brief, anyway: Ten tortas (Mexican sandwiches) are almost all $4.50, including such intriguing choices as breaded steak, chorizo sausage, ham-and-cheese, and such exotica as the "Hawayana" ("Hawaiian," with ham, cheese and pineapple), the "La Bomba carne asada" (ham, bacon and cheese) and "La Vegetariana" ("The Vegetarian," which may come as a surprise to those who shun animal flesh, as it's made of cheese and turkey). Add a dollar for the Cubanita torta ($5.50), sliced pork shoulder with white and yellow cheese.
Tacos are $1.25, with a choice of fillings that includes tripe, barbacoa (steamed lamb), carne asada (skirt steak), al pastor (pork), lengua (beef tongue) and chorizo (spicy Mexican sausage). Burritos are $1.50, and a red or green enchilada plate is $6.
Desayunos (breakfasts) are $3.50 and consist of a half-dozen selections with various combinations of eggs, bacon, chorizo and ham. You can also get a hamburger for $2, or a cheeseburger or hamburguesa Mexicana for $2.50.
Domestic and Mexican beers are available. Bottled soft drinks are $1.25, including Mexican Jarritos fruit sodas and real Mexican Coca-Cola made with pure cane sugar, an entirely different experience than the Anglo version. For an alternative ethnic option, try a horchata (a sweet rice-and-sugar drink), $1.
Two black crocks of salsa, served warm from the cooking pot, were homemade and very good indeed. The thick green salsa was very hot, and the reddish-brown, smoky chipotle salsa even hotter, warm enough to break a sweat and burn your tongue, but it created such a great endorphin rush that it was hard to quit eating it. Commercial wheat tortilla chips sufficed to dip up the salsas, although they weren't up to the homemade standard of everything else here.
Asada (skirt steak) and pastor (pork) tacos ($1.25 each) were classic Puebla-style soft tacos, served open-face on a pair of small corn tortillas, deliciously tender and "short," almost like pastry; surely either freshly made on the premises or purchased from a local Mexican vendor.
A chilanga torta ($4.50), described as "the Mexican state capital torta," featured an odd but appealing combination of ingredients piled on good, crisp three-lobed toasted bolito bread. Thin-sliced sweet ham, a thick spread of spicy chorizo meat and a "Milanesa," a slice of beefy skirt steak pounded paper-thin and pan-fried with a thin breading. It was dressed with fresh tomato, thin slices of mild Mexican queso blanco ("brick cheese," in the menu translation), chunks of jalapeño peppers from the jar, and thick slices of fresh avocado.
A Mexican Coke made a fine match for La Herradura's fare; so did a Jarritos Tamarindo, a brownish soft drink with a deliciously fruity and tangy-sweet flavor that worked well to cool the fire of the hot salsa.
A hearty, delicious and authentic Mexican lunch was just $9.50, plus a $1.50 tip. $
(July 2003)
<!REVIEW ENDS HERE!>
---