!REVIEW GOES HERE!>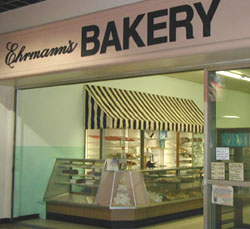 Ice cream battle!

St. X or Flaget (oops, Trinity) ... Male or Manual? Catholic or Protestant, Democrat or Republican? Windows or Macintosh?

Now, add another bragging-rights battle to these classic competitive pairs with this culinary question: Who makes the best ice cream in town? Louisville's traditional Ehrmann's Bakery, a local landmark since 1848, or latecomer Graeter's Ice Cream from upriver rival Cincinnati, a tough contender in the dairy-dessert sweepstakes since it entered the Louisville market more than a decade ago?

NOTE: Ehrmann's closed its doors in June 2003, following the death of owner "Whitey" Driskell. It will be missed.

Ehrmannís Bakery
Mid City Mall
1250 Bardstown Road
(502) 451-6720
The details are a little sketchy, but it's certain that Ehrmann's was founded more than 150 years ago and has remained, through a series of buildings, in the same general location on Bardstown Road.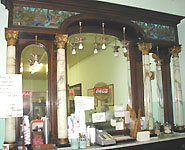 When Mid-City Mall was built on the site of the old Protestant Orphans' Home as the city's first indoor shopping center in the late 1950s, the bakery moved from its old storefront location nearby into the spiffy new mall, taking along its antique dairy bar (the ornate, altar-like oak, marble, stained-glass and mirrors artifact pictured at left) and sturdy bakery cases.
The mall has changed a lot since those early days: Hammered by competition from The Mall in St. Matthews, the city's first suburban mall, it was all but destroyed in a suspicious fire (which, luckily, spared the Ehrmann's bar), and in years since it has passed through a seesaw pattern ranging from slightly seedy to very seedy and suffered such jocular nicknames as "Skid City Mall," despite its location near the affluent Cherokee Triangle.

Through all the changes, however, Ehrmann's remains. The fixtures, the contents, even some of the employees, it seems, are little changed since the 1950s if not the 1850s. Like many other Louisville bakeries reflecting the city's German heritage, you'll find kuchens and strudels and stollen among the basic doughnuts, crullers and rolls.
Best of all, though, you'll find ice cream. Rich, creamy ice cream, hand-made in the back room each morning in the old-fashioned way, cranked in ancient ice-cream makers chilled with ice and salt. Even the flavors are old-fashioned, none of your modern 251-flavor menus here but simple, basic vanilla, strawberry, peppermint, banana, chocolate, chocolate-chip, caramel, peach and cherry pecan (and orange, pineapple, raspberry and lemon sherbets), fresh from the churn at prices that also seem more fit for the '50s: 85 cents for a single dip, $1.30 for a double dip, generously hand-packed in your cup or cone.
This is frighteningly rich stuff, devoid of fillers, preservatives or artificial flavor, pure heavy cream whipped into a thick, silken frozen confection so heavy that you will literally find tiny balls of butter in the chocolate. There is no other ice cream like it, anywhere, unless you make your own at home and skimp on nothing.
The store is so old and the mall so dubious that I worry every time I come here that I'll find Ehrmann's has closed its doors for the last time. But it endures, and after 152 years satiating Louisville's sweet tooth, I hope it will be around for a long time. $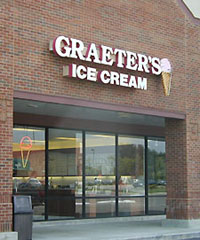 Graeter's Ice Cream
9430 Brownsboro Road
Springhurst Shopping Center
(502) 327-0651
Boasting a history in Cincinnati almost as long as Ehrmann's in Louisville, the Graeter's Website (www.graeters.com) tells this story: In the mid 1800ís, the Graeter family emigrated from Germany to a farm in Madison, Ind. Louis left home at age 16 and came to Cincinnati, where he set up a malted-milk stand near the present day Court Street market. ... In 1879, Louis, his brother Fred and Fredís wife, Anna, opened an ice cream and confection shop.
Ehrmann's and Graeter's apparently evolved along similar lines, each in its own city, for a century or so. In recent years, though, Graeter's has grown from a local ice-cream store into a regional chain. The first local outlet opened in Chenoweth Square in the late 1980s. It's gone now, but Graeter's remains represented by a trio of shops in Eastern Louisville and the suburbs.
Graeter's is substantially more pricey than Ehrmann's - a single scoop (sugar cone or dish) is $1.65, and a double scoop is $2.75 - add 80 cents for a waffle cone or 99 cents for a chocolate waffle cone. The scoops are somewhat larger, though, and come from a larger selection of flavors including the old standards plus such newfangled notions as amaretto crunch, cookies-and-cream or chocolate coconut almond fudge. Graeter's is particularly known for its chocolate-chip flavors, nine choices ranging from the original to coconut chip, peanut-butter chip or toffee chip (deliciously evocative of Heath bars), all of which feature chocolate bits that might better be described as chocolate chunks or chocolate slabs than mere chips.
Graeter's makes a very different style of ice cream using a traditional process called "French pot." Equally as rich as Ehrmann's, it seems more dense, perhaps starting with an egg custard in contrast with Ehrmann's pure cream, and is so heavy that it bends a plastic spoon when you scoop it from your cup. It's seductively delicious, but I find the Louisville contender more impressive in its simple purity. For what it's worth, my wife disagrees, calling Graeter's her clear favorite.
And so it goes - a judgement call between two very fine local products with a history of loyal fans and commercial success that goes back more than a century. With choices like this, who needs Ben & Jerry's? $
OTHER LOUISVILLE LOCATIONS: 841 S. Hurstbourne Parkway, (502) 394-9747; 2204 Bardstown Road, (502) 451-0044.
<!REVIEW ENDS HERE!>
---