!REVIEW GOES HERE!>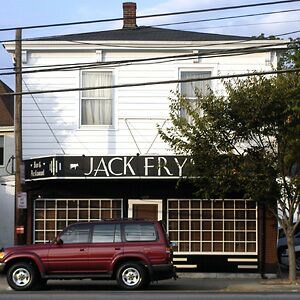 UPDATE:
Jack Fry's closed briefly for kitchen renovations in September 2004, reopening later that month with a full non-smoking policy. Since its horribly smoky environs had been the least appealing thing about an otherwise delightful eatery, I eagerly returned for a revisit. I'm pleased to report that this Louisville standard is better than ever with its fresh, clean-air ambience, and the food remains first-rate. It's still casual, crowded and noisy - especially after the jazz trio arrives around 7 p.m. - but that's all part of the Fry's formula, which blends decidedly upscale prices into a cleaned-up saloon setting. I've updated my review with new information about the current menu and wine list, and am delighted to elevate it to full four-star status as one of the city's top tables. RESERVATIONS: In the summer of 2005, Fry's also revised its long-standing mostly no-reservations policy, now accepting reservations every night for all sizes of party.
The original namesake and owner, Jack Fry, started a neighborhood tavern with the repeal of Prohibition in 1933 and ran it as a local institution until the late '70s, whereupon - gentrifying in step with the neighborhood it's in - it went upscale under new management, shedding its stale-beer-and-peanuts ambience in favor of something just as comfy if a bit more dressy.
And suddenly it's been a quarter of a century, and the "new" Jack Fry's has earned a place in Louisville's heart.
That's what I call enduring popularity, and Fry's has earned it the old-fashioned way, by consistently offering excellent fare in a comfortable setting. I rarely leave here after a meal without a happy, satisfied smile.
It looks pretty much like what it is: A pleasant dining room grafted seamlessly into an older saloon, with the trademark black-and-white tile floor, dark-brown walls (my wife says it's "taupe," and I say dark coffee), under an antique tin ceiling painted the color of cafe au lait.
Dozens of pictures of old Louisville scenes and places fill the walls of the two rooms divided by a large, cozy bar, and the tables and trademark black booths are set with simple white cloths (and somewhat less fine slick white polyester napkins), unobtrusive place settings, and intriguing faux dried-herb arrangements in bud vases.
Tables in the main room are crammed tightly into a fairly small space between the bar and short rows of upright, not overly comfortable black-leatherette booths that surely go back to the original Mr. Fry's era. So might the clock behind the bar that bears the familiar logo of one of Louisville's old regional breweries, Oertel's '92.
Executive Chef Shawn Ward's menu offers American-style bistro fare with international touches; it's creative without tipping over into the weird. Nine appetizers range in price from $6.75 (for country paté) to $15.95 for pan-seared Hudson Valley foie gras with caramelized local apples, onions and aged Calvados syrup.
These prices have increased significantly since a review visit about three years ago - the paté was $5.25 then, and the foie gras was $10.95. The same is true of the dozen or so main courses, which now range from $16 (for a marvelous potato gratin) to $31 (for a grilled filet mignon with Woodford Reserve glaze); compared to a top plate price of $25.95 in 2001. In short, be aware that the bill of fare is priced a bit higher than you might expect for the casual bar setting; but when you pick up your knife and fork and taste, you'll agree that it's well worth the price.
Salads are $5.75 (for a seasonal salad of mixed greens, roasted beets, corn and herbed croutons tossed in a lemon and dill buttermilk dressing) to $9 (for a goat-cheese arugula salad made with hazelnut-crusted artisanal cheese from Indiana's Capriole Farm. The thrifty can always rely on the trademark Jack's Burger (now $8.25), harking back to the bar's old days with sides of fries, caramelized onions, lettuce, pickles and tomatoes and the options of Swiss, Cheddar or bacon.
The two-page, leather-bound wine list remains one of the city's better selections for wine enthusiasts, featuring close to 100 wines, mostly from the U.S. More than half of the wines are available by the glass at a standard one-fourth of the price of a bottle.
You'll find a few high-end items ($160 for Niebaum-Coppola 2000 Napa Rubicon napa, $140 for the Paul Jaboulet Aine 1996 Hermitage La Chappelle, which is really too young to enjoy), but most of the wines are well-chosen and fairly priced, topping out among the Chardonnays, for example, at $65 for a Javillier 2000 Meursault, a fine white Burgundy at an entirely reasonable price tag for a special occasion. Chardonnays start at $23 ($5.75 for a glass) of Bonterra, the organic wine from Fetzer.
Looking for an affordable Pinot Noir to match a range of dishes, I lingered briefly over the Acacia 2002 Carneros at $46 but gambled and won with a less expensive Pinot, Gloria Ferrer 2002 "Etesian" from Sonoma County ($27 for a bottle, $7.75 for a glass), a light, crisp red wine with good spicy, red-berry aromas and flavors and zippy acidity, fresh and clean, more akin to a simple village Burgundy than a California Pinot. Wines are served in decent but not overly fancy Pier One-style wine glasses.
Complimentary bread, served in a silver wire basket with butter and a sprinkle of minced chives in a small white ramekin on the side, was fine, a white soda bread and a crusty, chewy pale-tan levain.
We started our meal with a shared bowl of Jack Fry's signature starter, shrimp and grits ($9.75), a small but rich mound of creamy, cheesy grits topped with three plump, tender sauteed shrimp and bathed in a thick, salty red-eye gravy loaded with bits of tomato, red bell pepper, crispy bacon and sliced shiitake mushrooms. The smoky bacon and salty red-eye gravy put an addictive Kentucky spin on this Low Country delicacy, and the generous portion was more than enough to make an ample starter for two.
I'm always on the lookout for an outstanding vegetarian dish, and Jack Fry's potato gratin ($16) is one of the best around. Thin-sliced boiling potatoes and delicately earthy mushrooms are baked in rich cream with subtle herbs, topped with mild but tangy goat cheese in a steaming, succulent mix of seductive textures and flavors. It joins the similar-but-different vegetable Wellington entrees at L&N Wine Bar and Chef's Table and the North End Cafe's wild mushroom lasagna in the city's Vegetarian Hall of Fame. It was accompanied with sauteed vegetables - crisp-tender strips of red and green bell peppers, onion, thin-sliced lengths of carrot, a couple of thin asparagus spears and a few capers - and a small mound of mesclun lettuces dressed with a nutty vinaigrette of walnut and sesame oils; my wife says she'd buy it as a dinner salad if they'd just put it on the menu.
My choice, the veal medallions ($27), was served in a large, shallow bowl with a trio of inch-thick veal medallions, gently tender if a bit past rare, plated on a rich puree of potatoes whipped with gremolata, a garlicky-lemony Italianate flavor blend, with a couple of walnut halves and several wedges of pan-sauteed apples and mission figs on a thick, pale-tan Calvados cream sauce. It sounds like an awful lot of potentially competing flavors, but in fact they went together as beautifully as a Classical symphony. The dish was a triumph, and a perfect match with the Pinot. It was accented on the plate with a dozen thin, crisp haricots verts, French-style green beans.
Pastry Chef Robyn Ferguson's dessert menu comes on a tiny sheet with small print that takes some squinting for middle-aged eyes to make out. It's worth the effort, though, with a half-dozen delectibles, all $6.75, plus an artisanal cheese tray for $9.
We shared a wedge of butterscotch coconut cake ($6.75), making it the upscale equivalent of a Big Mac and Diet Coke by accompanying the dessert with a skim milk cappuccino ($2.50) in a glossy black cup. The cake was moist and sweet, with a thick slather of buttery caramel icing, served with a single scoop of rich vanilla ice cream, all drizzled with caramel sauce and clear coconut syrup and "bammed" with a sprinkle of powdered sugar. The cappucino was fine, and my wife had no complaints about a strong, dark espresso ($2) despite its lack of the frothy crema that denotes a perfectly pulled "shot."
The toll for two was 96.46 with tax, only a few bucks more than our last visit despite the menu increases; and exceptionally competent and friendly yet discreet service earned a 20 percent-plus tip, bringing the total to $120. $$$$
(September 2004)
ACCESSIBILITY: Fully accessible to wheelchair users, with a grade-level entrance and reserved parking in the small lot on the south side of the building. Note that the side door is the main entrance for all diners; the front door on Bardstown Road is non-functional.)
<!REVIEW ENDS HERE!>
---