!REVIEW GOES HERE!>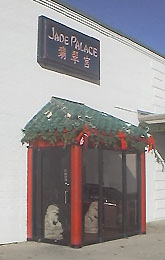 88

Jade Palace
1109 Herr Lane
(502) 425-9878

<!REVIEW GOES HERE!> Forget your eggs Benedict, pancakes, French toast and bacon: When I've got a hankering for brunch, I choose Chinese.

Chinese brunch - called "dim sum" from the Cantonese for "touch the heart" - is about as far removed as it's possible to get from the American variety, but it's a delight in its own right, featuring dozens of bite-size snacks in a bewildering array of hot, cold, savory and sweet. Many items are steamed; others deep-fried, and a few come in exotic presentations, rolled in glistening Chinese wheat pasta or wrapped in a dark, sturdy lotus leaf.

In larger cities, restaurants in "Chinatown" neighborhoods specialize in dim sum, where the boisterous weekend scene features servers rushing around the room with wheeled carts filled to the brim with dim sum dishes. Diners point to the items they want, and at the end of the meal, the bill is tallied from the number of plates they used.


NEW AND TASTY

A recent re-visit turned up a number of new dim sum items worth adding to the list: Char sui so ($2.30) is a pair of golden baked pastry shells filled with sweet-savory barbecued pork. Nor Mai Fun ($3.95) is a substantial dish, Chinese sausages over sticky sweet rice. And maybe best of all, the ultimate Chinese comfort food, Congee ($4.59 to $4.99 depending on ingredients), a steaming bowl of rice cooked into a consoling porridge, aromatically flavored with ginger and cilantro and studded with chicken, pork, egg, seafood or fish.


Jade Palace is the place for dim sum in Kentucky. Although cart service isn't economically feasible, a colorful photo menu makes a practical substitute. Select from pictures of nearly four dozen dim sum treats, which you can order by number or by pointing to the photos of the items you like. (GOOD NEWS: Early in 2004, management instituted limited cart service for Saturday and Sunday dim sum. You may still order from the menu, but popular items are now wheeled around for the point-and-eat treatment.)

Jade Palace also offers more familiar Chinese dishes, including an all-you-can-eat lunch buffet on weekdays, but to be quite frank, it doesn't rate more than two stars for its everyday fare. But it's the dim sum that draws us here, and in this role, Jade Palace is first-rate.


Here's a quick guide to some of our dim sum favorites:

Sui Mai ($2), pork and shrimp dumplings, four to an order, ground stuffing wrapped in won-ton wrappers pulled up around them in tulip shapes, steamed in a bamboo basket.
HAR GOW
Har Gow ($2.20), shrimp dumplings, four to a serving. Fine-diced shrimp meat steamed in a light, almost airy won ton wrapper.

Lo Bak Go ($2), turnip cakes, three to a plate. Despite turnip's down-home nature, this one is a little exotic - earthy aromas and flavors, pungent and tart, shredded and served in a gelatinous rectangle that tastes a lot better than it looks. The very similar Woo Tou Kou ($2), Taro cake, is similar and even more earthy.

Woo Kwok ($2), fried taro, three to a plate. Deep-fried crisp and brown, these football-shaped root-vegetable fritters bear a remarkable resemblance to rolled oysters ... without the oysters.


Chuen Kuen ($2), more familiarly known as spring roll, two to a plate. Veggies, pork and shrimp deep-fried in a won-ton (pasta) cylinder. I rarely order them with dim sum, as they're a little TOO familiar, but Jade Palace's rendition is a good one, crunchy and filling.

Pai Quat ($2), spare ribs in black bean sauce. A long way from Kentucky-style barbecued ribs, these tasty bits (bone in) gain flavor from fermented black soybeans and lots of garlic in a sticky sauce.

Stuffed To Fo ($2), two largish and rather chewy "boats" of fried bean curd (tofu), each bearing a cargo that's apparently identical to the beef balls above.

Char Sui Bao ($2), two to a serving and representative of an entire genre: Soft white bread rolls, steamed, not baked, wrapped around a hidden treasure - in this case, tender and sweet chinese barbecued pork.
NGAU YUK KAU
Ngau Yuk Kau ($2), beef balls, three to a plate. Rather loose, light meatballs full of fine-chopped, aromatic scallions, ginger and garlic.

Jau Bao ($2), a pair of buns with saucy curried pork in the middle, covered with sesame seeds and fried golden brown - the most seductive pork sandwich I've ever tasted.

Char Sui ($4.95), a plate loaded with Chinese barbecued pork sliced thin, bright red around the edges, tender and succulent, enough to fill up and take leftovers home.


Cheung Fun ($2.50), slippery-tender steamed won-ton pastry wrapped around a ration of steamed shrimp, pork or beef.

Nor Mai Gai ($3.50), one of my favorite dim sum, is a pillow of sweet-sticky glutinous rice wrapped around a melange of shrimp, pork and chicken and steamed inside an oversize lotus leaf that adds its own delicate flavor to the dish. Cut open the leaf at the table (it's too tough to eat) and pull out the delectable ingredients with chopsticks or your fork.

If you're looking for something more substantial, the dim sum menu offers large bowls of Chinese noodles: Char Sui Mein ($3.50) features a generous ration of barbecued pork in broth with wheat noodles; Yee Don Mai ($3.95) is a similar dish with fish balls (ground fish dumplings). Pork and beef rice-noodle stir-fries are also available. Koun Chou Ngau Nor ($6.95) was a large oval dish of stir-fried beef and soft, freshly made wheat noodles in a light, rather oily sauce.

Serious aficionadoes finish their brunch with sweet dim sum like Don Tot ($2, custard tarts), Mar Tay Kou ($2, watercress nut cake) or Coconut Pudding ($1.25).

Dim sum makes a surprisingly affordable and filling meal. No matter how hard I try, throwing caution to the winds for the sake of dim sum gluttony, I have never been able to push a lunch for two past the $20 mark. Two recent visits topped out at $15.90 and $18.10. $$

<!REVIEW ENDS HERE!>
---