!REVIEW GOES HERE!> *** Joe Huber's Family Farm & Restaurant
2421 Scottsville Road
Starlight, Ind.
(812) 923-5255
Email: info@joehubers.com
Website: http://www.joehubers.com/restaurant.html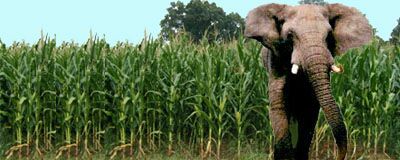 So there we were, cruising through the pretty rolling farm country of Southern Indiana on a sultry August day, with lazy breezes barely stirring the treetops and tall corn rising on both sides of us, turning the country road into a narrow lane; and then my wife starts humming that darn song about "The corn was as high as an elephant's eye."
Suddenly there came a rustling ... a trumpeting sound ... and then a gigantic elephant appeared out of the field on our left!
OK, I'm just making this up.
But elephants or no elephants, there's hardly any culinary treat better than corn in season, and it's best of all when it's fresly plucked from the farmer's field.
In short, there's no better time than midsummer to make the trek to Starlight, Indiana, for a filling meal at Joe Huber's Family Farm & Restaurant. A pleasant 20-minute drive into Indiana from downtown Louisville, Huber's has built a solid reputation for simple fare that's well-made, fresh and good. Some of the produce is grown on the premises in season, and it's all - not just the corn - the kind of fresh country produce on which the Starlight farm-as-tourist-attraction economy has built its reputation.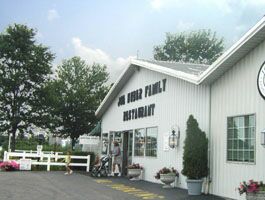 As you might expect of a working farm with a long family heritage on the Indiana soil, the atmosphere at Huber's is neat but simple: A big barnlike building houses a huge hall with knotty-pine walls, a few framed prints, and high white suspended ceilings with twirling ceiling fans. Worthy of note: The entire restaurant is smoke-free. Big plate-glass windows let in lots of daylight and offer a view of the pretty, well-manicured flower gardens and farm. Pots of plastic flowers sit on the window sills, an odd off note amid nature's bounty. Dozens of white birch woodgrain tables, enough to seat close to 300, by my count, are set in trim, orderly rows that run across the room from wall to wall, creating a feeling a bit like a military chow hall.


The food, however, is nothing like a military chow hall. It's quality fare, prepared with care, fresh and good. The menu isn't long, but it's hearty, with a variety of appetizers (from $3.25 for a half-order of fried green tomatoes to $7.95 for a full order of chicken tenders), sandwich platters ($4.25 for bratwurst to $6.75 for ham and swiss, fried whitefish or a Reuben) and "from the garden" specials ($2.95 for a garden salad to $8.25 for a strawberry spinach salad topped with grilled chicken). A dozen "country-style suppers" are $9.95 (for a quarter chicken, country-fried) to $13.95 (for grilled pork chops, country ham, Angus ribeye or catfish); the family-style Huber's Country Platter Dinner, with fried chicken and country ham plus a groaning table-load of veggies and side dishes from fried biscuits to chicken and dumplings, is $14.95; kids from 4 to 11 years old get their share for $7.95.

There's a full bar, offering cocktails (peach daiquiris appear to be a specialty) and a short list of beers as well as locally produced Indiana wines from cousin Gerald Huber's winery down the road. These wines are surprisingly fine, and priced just a couple of bucks higher than retail; here's a link to an article I wrote about the Huber winery a couple of years back. We went with iced tea ($1.65) on a hot summer afternoon. It was fresh and strong, served in oversize plastic glasses, but be sure to let them know if you don't want it sweetened.

It took a while for the tea to come, though. Huber's draws a crowd just about every day during summer, and the servers in their khaki shorts and pale-yellow polo shirts were kept busy throughout the lunch hour. Service was friendly but sometimes seems overburdened, and we endured longish waits for our drinks and between the appetizer and main courses.

The food, however, made up for such complaints. Everything we had was good, and much of it outstanding.

Fried biscuits and apple butter are served to start the dinners, a Southern Indiana variation on chips and salsa. We got five of them in a napkin-lined basket, literally the size of baseballs but much more flavorful. Spheres of slightly sweet biscuit dough were deep-fried until puffy and sizzling, golden brown and not at all greasy, lightly crunchy crust surrounding a steamy, rich interior. Whipped butter and a squeeze jar of apple butter were available but almost redundant.

I could eat them all, but I know I shouldn't. "This isn't really the kind of thing I like," my wife mumbled, grabbing a second and eyeing the third. I quietly nudged the tray in my direction so I can get the last one before she does.

Biscuits dispatched, we followed up with a small order of fried green tomatoes ($3.25). They're fine, too. There's an awful lot of fried food at Huber's, but somebody in the kitchen knows how to fry. These are sizzling hot and as close to grease-free as fried food can be. Thick slices of pale-green tomato were sweet but tart and just cooked through, encased in a thin, light tempura-like cornmeal batter laced with black pepper. A creamy horseradish sauce was pleasant, but the tomatoes were fine by themselves.

A grilled pork-chop dinner ($13.95) featured two large but thin chops, appetizingly striped with sear marks from the grill, thoroughly cooked through, none of that faddish rosy-pink center here, but still tender and flavorful pork. they came with a bowl of sweet-tangy ketchup-based barbecue sauce, but again, the food was so good that it needed no sauce to improve it.

The country-fried chicken ($9.95) was just as good, juicy and hot, offering further testimony to the chef's frying skill. Its traditional crispy batter was crunchy but not heavy, graced with a hint of herbs and spices that complemented but didn't dominate the good chicken flavor. Fried chicken doesn't get much better than this: It's a four-star general that deserves a chicken colonel's subservient salute.

Each dinner came with two side dishes, which are also available a la carte for $1.95. We ordered four different items and split them all.

A summer salad, available in season, took full advantage of the garden's bounty. A generous portion of diced fresh, deep red summer tomatoes were tossed with thick cucumber slices (skin left on so you can see they're not those waxed supermarket cukes), thin-sliced fresh green peppers and a bit of sliced red onion, all swimming in a light, sweet-tart vinaigrette.

Limas were perfect too, fresh beans cooked just right, tender but not mushy. Unlike many country-style eateries, Huber's doesn't soak everything in butter or fat, and it doesn't really need to.

IF YOU GO

Take I-64 west from Louisville across the Sherman Minton Bridge and through New Albany to the U.S. 150 exit (Greenville-Paoli). From there the route, about 10 miles, is very well marked by signs for Joe Huber's as well as nearby Huber Orchard & Winery and Stumler Orchard.

Green beans were broad romano beans, long-simmered and tender, with good flavor, a hint of pork and a whiff of black pepper. An odd, haunting and almost "mineral" quality didn't appeal to me, though ... possibly, just possibly it was a slight iron taste from country well water. No big deal, it was a minor glitch in a really good meal.

The corn on the cob was best of all, an outstanding seasonal treat. Fresh white corn tasted like it was just picked, and not overcooked; it was tender but crisp, sweet but not candylike. If not literally adhering to the old saying about "first boil the water, then pick the corn," it wasn't far off that mark, so sweet and good that it needed no butter or anything else.

Desserts are available, including fruit cobblers ($2.75), pie ($3.25) and a presumably gigantic "Three Acre Sundae" ($6.75), but that sweet corn was plenty dessert enough for me.

A filling midday meal, the kind of lunch that country folks call "dinner," came to an affordable $31.97, plus a $5.03 tip.

We raced a summer thunderstorm back down the country lane, and I could swear I saw that elephant sneaking through the corn rows. $$

<!REVIEW ENDS HERE!>
---