!REVIEW GOES HERE!> *** Kashmir Indian Restaurant
1285 Bardstown Road
(502) 473-8765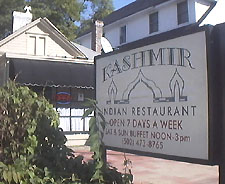 Perhaps it's a lingering echo of Empire, or maybe it's just the lack of an edible native cuisine; but one thing I've always admired about England is that you'll find a little Indian restaurant on just about every corner, dishing up fiery curries and tasty tandoori.
Louisville, sadly, has never been like that. Indian food is a tough sell in the Derby City, where a handful of Indian eateries over the years have tried to wake up our taste buds but generally didn't last long.
Happily, though, this sad food trend may at last be changing. The arrival of Kashmir Indian on busy Bardstown Road marks the first time in my memory that we've had three Indian restaurants going at the same time, each with its own special character.
I am happy to report that Kashmir, now open again after a damaging fire that closed it for nearly nine months, is better than ever. Everything is pretty much the same in decor, selection and prices, but it seems that the chefs must have been practicing during their enforced time off. My wife and I love Indian food and have enjoyed it at authentic restaurants in New York, London, Oxford and Dublin; I have to judge Kashmir's current offerings as good as any we've tried. I have upgraded its rating to *** three stars.
Like many of its counterparts in Britain, Kashmir is casual, neither posh nor expensive, staffed by authentic Indian gentlemen and producing seemingly authentic Indian fare. Its decor hasn't changed much from the succession of restaurants that have occupied this small frame house over the years: Maroon carpeting, white tablecloths (under protective plastic), comfortable side chairs, a twirling ceiling fan or two, plastic philodendrons and, to give the place an exotic touch, bright Indian scenes on black velvet.
The menu is extensive and entirely Indian - finicky children won't be able to bail out of the ethnic experience with a hamburger or fried chicken plate. But there ought to be something for just about everyone on this lengthy list, which includes more than 50 entrees, almost none over $10, with lunch specials mostly under $5, plus an array of appetizers and more than a dozen Indian breads.
Quite a few of the entrees bear Indian names that seem hard for English-speaking tongues to wrap themselves around, but the menu's fine print offers translations. The inscrutable "aloo matter," for example, is "fresh green peas and potatoes in a fragrant spices and sauce."
Appetizers range from $1 (for pappadams, a paper-thin and crackly fried bread that's a standard Indian appetizer) to $5.25 (for a "non-vegetarian" appetizer platter with a half-dozen fried crunchies).
We started with the vegetarian platter appetizer ($4.95), a half-dozen pieces including pakoras (vegetable fritters breaded with chickpea batter), samosas (a fried turnover stuffed with peas) an aloo tikki (sort of like an Indian potato pancake inspired by fresh ginger and peas) and a cheese samosa (the Indian equivalent of fried mozzarella sticks, breaded-and-fried mild white cheese with a dusting of exotic spice in the middle).
The spices are the best thing about well-prepared Indian food. It's not necessarily fiery fare - some dishes are, some aren't, and Kashmir will adjust the heat to your order - but it's aromatic, with a breadth and range of spicy flavors that's simply not found in Western cuisines: Cardomom and cinnamon and cumin and even more exotic smells and tastes perform a sinuous dance from your plate to your mouth.
I don't find dry wines well-suited to Indian food, but if you insist, Kashmir offers a short wine list of a dozen mass-market items, all available by the glass.
Beer works better with Indian fare, and in addition to domestic ($2.25) and mass-market import labels ($2.75), Kashmir offers three Indian beers, all of them fairly inoffensive German-style lagers: Kingfisher ($2.75) and Taj Majal and Flying Horse ($5 for a "bomber" bottle big enough for two). Another surprisingly effective beverage for taming peppery fire is lassi, the Indian yogurt "shake," which comes in salty or sweet ($2) or mango ($2.50) flavors. The salty version is extremely salty, with a lingering taste of cardamom; it's interesting but perhaps an acquired taste.
Dinners are served with a generous portion of exceptionally well-prepared basmati rice, aromatic with a delicate jasmine scent, every grain separate; an extremely fiery homemade onion chutney of chopped onion and red-hot chile spice, and a dark, smooth sweet-sour tamarind sauce. Other chutneys and side dishes are available at extra cost. I added a small bowl of pale-green and spicy-warm mint chutney for a buck.
On a return visit after the reopening, a Vegetarian Thali platter ($10.95) offered a tasty trip through a variety of Indian meatless treats: matter paneer (green peas and yogurt-cheese dice simmered with a hot-and-spicy sauce); channa masala (a deliciously "meaty" dish of chickpeas and onions cooked in a thick and aromatic tomato sauce, especially good when rolled in a piece of puffy puri bread, which is included in the dinner); dal makhni (thick and spicy lentil puree); smoky nan bread, raita (a cooling cucumber and yogurt condiment) and rice.
A dish of tandoori chicken ($7.95) was also on target, half of a chicken, cut into parts, broiled dark-red with tandoori spice and served sizzling on a steel plate with onions.
All the dishes from our pre-fire visitS remain on the menu:
Lamb Bhuna ($8.95) was fine, with bite-size chunks of mature lamb verging close to the mutton stage (which is no crime in this full-flavored cuisine), cooked with fresh green bell pepper, tomatoes and onions in a rich brown sauce that was pleasantly aromatic but fairly restrained on the chile-pepper heat.
Baingan Bharta ($7.95) was disappointing. A roughly mashed eggplant concoction studded with peas, it was fiery (surprisingly so for a dish ordered "medium hot") but otherwise rather dull in flavor. On a return lunch visit, both Saag Paneer ($4.95, long-cooked spinach in a zippy curry sauce with bite-size bits of fried cheese) and Lamb Curry ($4.99, tender lamb bites in a mild brown onion sauce) were fine.
A cooling dessert ended the evening on a high note. Rasmalai ($2) was a silver-dollar-size raft of sweet white cheese floating in a pool of creamy milk sauce, topped with a fine-chopped dollop of almonds and pistachios. It was delicate and subtle, not a symphony of a dessert but an elegant string quartet.
An extremely filling dinner for two came to an affordable $35.49, plus a $6.51 tip. Lunch another day, taking advantage of the daily specials and a shared appetizer, was $13.49 plus a $2.50 tip. $$ <!REVIEW ENDS HERE!>
---