!REVIEW GOES HERE!>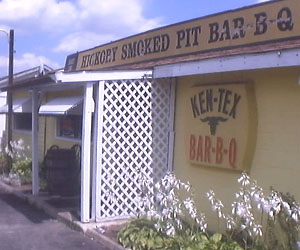 *** Ken-Tex Bar-B-Q
1163 Mount Eden Road (KY 53)
Shelbyville, Ky.
(502) 633-2463
A generation ago, it might not have made sense to include a Shelbyville eatery in a list of Louisville-area restaurants. But with the city's suburban sprawl creeping well into surrounding counties, a quick trip east on I-64 (just 20 miles from Hurstbourne) makes sense when your goal is a plate filled with really excellent barbecue.
Ken-Tex is easy to find - its little yellow building is less than a mile north of the second Shelbyville interchange (Exit 35, KY 53) - and its particular style, as the name implies, is a tasty blend of Kentucky and Texas barbecue, meaning that the emphasis is on long, slow smoking that transforms mere meat into a treat of succulent and aromatic tenderness.
You order from the friendly folks at the front counter, then carry your tray into the adjacent room, a space so spare that it looks like it might have started life as a garage. The walls are beige and so is the enameled concrete floor. Folding conference tables and a couple of booths provide room for a small crowd, and the decor is limited to such down-home touches as local people's business cards under glass on the tables, and a collection of police shoulder patches pinned to the walls.
Neither elegance nor luxury touches are expected of a barbecue joint, though, and the real test of Ken-Tex's quality comes in the eating. Sandwiches range from $2.25 to $3.45 and come in small (about 1/4 pound) and large (about 1/3 pound) sizes and feature sliced beef, pork or turkey, and chopped chicken or pork. Pork ribs, half chickens and a variety of side dishes fill out the menu. The meats are cooked over hickory wood in large smokers out back.
A chicken half ($3.99) was wonderful, with a charred black exterior peeling away to reveal tender, juice meat tinged smoke-pink and infused with delicious aromatic flavors.
A large chopped-pork sandwich ($3.45) brought a generous portion on an oversize white bun. The meat was delicately smoky and falling-apart tender, simmered in a mild, sweet-tangy tomato-based sauce. Rations of chopped onion, pickle and jalapeño slices came alongside, as did a delicious chunk of crusty corn bread. A side order of baked beans was just right, a generous bowl of tender, long-simmered pintos.
With big (refillable) glasses of fresh, unsweetened iced tea, a large meal for two came to an affordable $11.39, justifying the trip to Shelby County even with soaring gasoline prices. $
<!REVIEW ENDS HERE!>
---