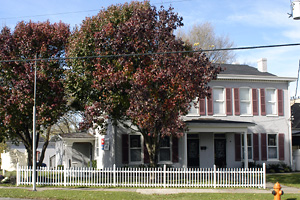 95

L&N Wine Bar and Bistro
1765 Mellwood Ave.
(502) 897-0070

Website: LandNWineBarandBistro.com


<!REVIEW GOES HERE!> L&N Wine Bar and Bistro, the city's first full wine bar since The Winery closed back in the '80s, has captured my attention, and my affection, since the day it opened last November.

I've delayed giving it a formal rating until the arrival of its long-awaited 54-unit Cruvinet wine-bar dispenser (pictured below). But as it turned out, co-proprietor and wine guy Len Stevens did so well without it that L&N had already jumped out close to the lead among Louisville restaurant wine programs even before this fancy equipment that holds and protects wines at "cellar" temperature under inert-gas pressure was finally installed on the L&N's back bar.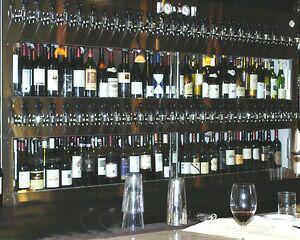 With a full slate of more than 50 well-chosen wines available by the bottle, full glass or 2-ounce tasting glass, this establishment has become a mecca for local "wine geeks." But it's not just about the wine: L&N scores for food as well as drink. High-quality fare and an unmatched wine program, in a relaxing, comfortable old-house setting with first-rate service to match, this still-new spot earns my "A" rating at the top of four-star country.
You'll recognize proprietors Len Stevens and his wife Nancy Richards from the old Zephyr Cove, where Stevens was the "wine guy" and Richards (whose brother John was the chef) managed the front of the house. Together, they bring more than 35 years' experience in food and wine to this new venture. They have done a fine job of turning the historic brick building that once housed Wheeler's Roadhouse into a tasteful three-room bistro, with a cozy fireplace, exposed-brick walls and discreet art photos on off-white walls trimmed in black. Some of the comfortable furnishings were retrieved from a former life at Zephyr Cove, and I think the Cove's old regulars will find much of the one-time Crescent Hill landmark's spirit in L&N's eclectic bill of fare.
With experienced and competent kitchen, bar and service staff and a menu that ranges from an upscale rendition of meatloaf and macaroni-and-cheese through a "vegetarian Wellington" to steak Bordelaise (entrees range from $10.95 to $19.95 and sandwiches from $7.25 to $7.95), this opening adds another drumbeat to the culinary excitement that's been going on in town this autumn with the opening of Limestone and the reopening of 610 Magnolia.
The restaurant name reflects Len's and Nancy's initials, but they won't mind if locals remember the place by association with the old Louisville & Nashville Railroad.
Expect a strong focus on "interesting" wines at L&N but don't expect a snobbish attitude, Stevens pledges. Serious wine fanciers will find plenty to keep them busy with a frequently changing selection of wines, and plenty of wine education (and wine trivia) will be available for those who like it. But those who just want to sip wine without taking a college course on the subject will be just as welcome as the "wine geeks." And there's plenty of options for those who don't wine at all, from a full bar, an impressive selection of artisanal and import beers and Zephyr Cove's old infused vodka cocktails ladled out from tall, colorful glass cylinders on the bar, as well as non-alcoholic beverages of course.
Stevens, a serious wine expert, has chosen a wine list with something to please just about everyone, with generous 6-ounce glasses generally listed at $10 or less for a glass, and 3-ounce tasting pours available for those who want to put together "flights" of several wines for side-by-side comparison. Service is in luxurious Austrian Riedel glasses in assorted shapes and sizes designed to show off specific wine types and grape varieties.
The list is likely to change often as unusual and artisanal items come and go, and there will always be a broader selection of bottles than the Cruvinet can hold for by-the-glass service. The initial list contains about 70 wines, ranging in price from $19 a bottle (for numerous items including Vega Sindoa 2001 Chardonnay and Basa Rueda 2002 Sauvignon Blanc from Spain and the Folie a Deux red blend from California) to $55 (for the top-end still wine on the list, Ancien Steiner Mountain 1999 Sonoma Mountain Pinot Noir. The most expensive wine on the list is a Champagne but not the ubiquitous Dom Perigon; Stevens has come up with a more interesting rarity, Heidsieck Monopole Diamant Blue ($110). By-the-glass prices range from $5 to $15 for a 6-ounce glass (most are under $10) and $1.75 to $15 for a 3-ounce tasting glass (most are under $7).
We enjoyed a variety of appetizers and main courses that offer a good overview of where the kitchen is going: Roasted garlic tomato soup ($3.95 for a bowl) was creamy and rich, full of the robust flavors of garlic and garden tomatoes, topped with a dollop of dark-green pesto. Blue crab and corn chowder ($4.95) was thick and sweet, full of corn and plenty of crab. A daily special, veal stew, was perfect autumnal comfort food, loads of tender bits of veal swimming in a thick, clear soup laced with red wine and sweet, caramelized tomato.
Shared appetizers included Gruyere puffs ($4.95) apparently based on Burgundian gougeres, light, hot pastries bearing the intense flavor and aroma of Gruyere cheese, served on a pool of glistening, clear sweet onion marmalade, and scallops and gnocchi ($8.95), three oversize diver scallops, perfectly seared without being overcooked, served with four tender gnocchi sauced with a bit of marinara-style charred-tomato sauce. I'm going back soon to try duck beignets ($7.25) with apricot chutney, an incredibly appealing item that wasn't available on practice night thanks to a fryer problem.
Main courses were all ready for prime time: A home-smoked pork chop ($15.95) was tender and smoky, topped with a fruity compote of figs and apples. The steak Bordelaise ($19.95) appeared to be part of a filet cut crosswise into thick medallions, cooked to a perfect medium-rare. Tuna Humphries ($19.95) might have been the hit of the evening, a perfect slab of tuna properly seared on the outside, sushi-rare at the center, tender as melted butter, with a dab of risotto on the side. The tongue-in-cheek Blue Plate Special ($10.95) featured two generous blocks of meat loaf, beefy and tender - I thought it was perfect, although it was on the sweet side for my wife's liking - with a delicious take on macaroni and cheese made with elbow macaroni but quality sharp white Cheddar in place of the traditional Velveeta.
Dinners were garnished with crisp, thin and barely cooked green beans and, except as noted, well-fashioned mashed potatoes. Tender, fresh Mr. Ed's baguettes and whipped butter also came with the meal.
Desserts included an oversize chocolate fondue (apparently to be a signature item) with strawberries, pound cake, bananas and apple wedges for dipping, and generous portions of dark, intense chocolate ice cream and tangy blood-orange sherbet.
Stevens says he hopes to offer "casual, midrange but quality dining with excellent service and a world-class beverage program in an atmosphere that lends itself to comfort. We want people to look at us and say, 'Hey, we can come here every week for dinner, not just for my birthday.'"
It's a tall order ... but they're making it come true the old-fashioned way. $$$
(Many visits between November 2003 and April 2004)
<!REVIEW ENDS HERE!>
---