!REVIEW GOES HERE!>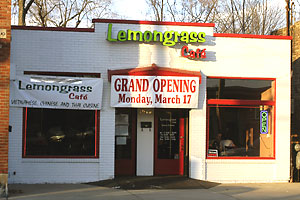 88

Lemongrass Cafe
1019 Bardstown Road
(502) 238-3981

As Louisville's cadre of real ethnic restaurants continues to grow, it's a particular pleasure to welcome a new Southeast Asian restaurant to Bardstown Road's Restaurant Row. Just down the block from Jack Fry's and a short coffee bean's throw from S- Sta- Starbucks, Lemongrass Cafe offers an appealing blend of Vietnamese, Thai and Chinese fare in a simple setting that transcends an obvious low budget with style and grace.

Under Vietnamese management previously associated with the short-lived but noteworthy Golden Phoenix Chinese-Vietnamese restaurant on Hurstbourne (since replaced by Thai Smile 4), Lemongrass Cafe seems to have settled comfortably into its storefront quarters in its first week of operation. We've raced through a good chunk of the menu in early visits and haven't hit a disappointment yet.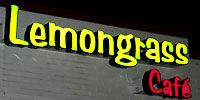 The thoroughly renovated storefront stands out among its more sedate neighbors on this old block of Bardstown with a freshly painted off-white front, brilliant red trim, and overhead sign with "Lemongrass" spelled out in illuminated pale-green letters the color of, well, lemongrass.
Inside it offers simple decor, a fair-size room painted the color of peach ice cream, with gray industrial carpeting below, track lighting above; woodgrain laminate tables and simple, wooden dinette chairs. The wall art looks a bit like the souvenirs that GIs used to bring back from Vietnam, but there's still a certain style about the place, that shows in small touches from the attractive typography of the logos and the menu to a quiet corner at the back that holds gentle Buddhist symbols: A smiling, dancing Buddha statue, a good-luck frog with a coin in its mouth, a bowl of fruit.
There are currently just nine tables for two in the room, with a surprising amount of open space. Management says city regulators will only allow that many diners for now, a regulatory hurdle that apparently has to do with parking problems in the Bardstown Road area. They're working for more but fear it will be a lengthy process; meanwhile, the place already seems to have been discovered, with hungry supplicants waiting their turn for a table or choosing takeout or delivery instead.
The menu, as I said, is attractive, but it's in mighty tiny attractive print, which can be hard to read after sundown. As best I can make it out, its three-fold format contains separate pages for Vietnamese, Thai and Chinese goodies.
Counting appetizers, you'll find about four dozen Vietnamese dishes and about 30 Thai specialties. A couple of dozen familiar Chinese-American combination plates ($4.75 for lunch, $8.15 for dinner) fill the menu's back page.
Vietnamese entrees range in price from $5.75 for many Phò (soup) dishes to $8.95 for Cóm Thâ Câm, which is grilled pork chops, chicken and shrimp over rice. The Thai dishes are just a bit more, mostly from $6.75 (curry fried rice) and $6.95 (for many entrees including the familiar Pad Thai) to a still affordable $10.95 (for Kraprao Talay, my dinner choice, a melange of seafood stir-fried with vegetables and basil.
A couple of Southeast Asian "house specialties" also hit the $10.95 mark, including roasted quail and an exciting seasonal dish that I can't wait to try, a whole crispy-fried fish topped with cucumber, pickled cabbage and carrots. Another item that's high on my list of dishes-to-try-soon is papaya salad ($4.95), a seasonal delight that I haven't seen in Louisville but loved in Thai restaurants in Hawaii.
We concentrated entirely on the Thai and Vietnamese menus in our first couple of visits.
Two big summer rolls ($2.50, sometimes called salad rolls) were almost as big as small flashlights, well formed and tightly rolled, with shrimp halves showing colorfully through translucent rice-flour "paper" wrappers stuffed with rice noodles and bean sprouts, small bits of chicken and shredded lettuce and cucumbers gently dressed with rice vinegar. It comes with a small dish containing sweet hoisin sauce with chopped peanuts on one side, crimson, garlicky and fiery hot Sriracha sauce on the other.
"Pot-sticker" style pan-fried dumplings ($3.50) were first-rate, too. A half-dozen good-size hand-rolled half-moon turnovers were stuffed to bursting with spicy ground pork and shredded cabbage, wok-toasted until light-tan crunchy on one side, which made a pleasant textural contrast with tender pastry on the side that stayed away from the wok. Its delicate flavors got a boost from the standard Southeast Asian dipping sauce, a thin blend of the fish sauce that Vietnamese call nuoc mam and the Thais nam pla with garlicky rice vinegar and red-pepper flakes with fine-shredded carrot.
The menu led me to expect something a bit more exotic in another appetizer, crispy shrimp ($4.25), which turned out to be four large, perfectly cooked shrimp encased in a thin, crisp and grease-free deep-fried breading, served atop a lettuce leaf with the standard dipping sauce and a tasty raw-vegetable-in-vinegar garnish on the side. The shrimp were delicious, but didn't particularly differ from those you might get at your better local seafood shacks. Still, if they didn't seem particularly Vietnamese, this simply shows us that great food transcends national and ethnic boundaries.
Bahn Xeo ($4.75) is a personal favorite of Vietnamese cuisine. It's something like a pancake and something like an omelet, and this one was as good as any I've tried. A bright-yellow, eggy pancake, almost as thin as lace, was folded over a savory filling of barely cooked, still-crisp bean sprouts stir-fried with shredded onion, tiny shrimp and bits of tender chicken. It was served steaming hot with a ration of lettuce, fresh mint and Vietnamese dipping sauce on the side. We split one as an appetizer, but it could easily serve as a light main course for one.
Main courses come in generous portions sufficient to fill large serving plates.
In honor of the name of the place, we had to start with a lemongrass-accented dish, and Cóm Xào Xà Ôt ($6.25), a Vietnamese entree, got the job done with flair. It consisted of delicious, tender bits of boneless chicken stir-fried with spicy chilies, green onions, button mushrooms, bamboo shoots and tangy lemongrass that infused the chicken with a lemony-spicy-hot flavor. It was served in a generous pile atop a mound of white rice, garnished with lettuce and crisp-crunchy slices of carrot and cabbage lightly "pickled" in mild rice vinegar.
From the Thai side of the menu, Kraprao Talay ($10.95) was a seafood feast, featuring good rations of flavorful shrimp, sweet scallops as soft as butter, and appropriately chewy bites of squid along with a few "crab shapes," all stir-fried with strips of green and white onion and mild red bell pepper plus a few shreds of cooked sweet basil in a thin and rather hot-and-spicy reddish-brown sauce. A bowl of steaming white rice came on the side.
From the "house specialties" section of the menu, stir-fried string beans ($6.95) may show a slight Vietnamese accent, but they bear a close resemblance to a classic Szechwan dish, and Lemongrass fashions an estimable rendition. A healthy portion of crisp-tender, bright-green beans were toss-fried with juicy bits of roast pork, small shrimp, crisp bits of onion and salty shreds of a Chinese pickled cabbage in a scanty amount of thin, more-than-medium-hot brown sauce, with a bowl of rice on the side to keep the heat under control.
In the for-the-record department, this dish - and a few others - is not starred as hot-and-spicy on the menu, but it was made with enough hot chile peppers that it could have been a problem for those who don't like it that way. If you're a tender-mouth, you might want to consult with the server about heat before ordering a dish you haven't tried.
I'll often test a new Thai restaurant by checking out their Pad Thai, and the version here ($6.95) earned an "A" grade. Very good if not the best I've ever tried, the Lemongrass rendition of this classic home-style Thai dish showed competent preparation with bean threads that stayed fresh and crisp to offer a pleasing contrast of texture with steaming hot and tender rice noodles. It was chock-full of just about all the usual Pad Thai suspects: Tender bites of boneless chicken meat, strips of green and white onion, chopped peanuts and shredded scrambled egg, all dressed with an exotic mix of elusive spices that cast nam pla as the lead with other flavors singing harmony.
With hot tea and iced tea ($1 each), an excellent dinner came to $26.71, plus a $5.29 tip. Lunch another day got us to pretty much the same place with different dishes, 26.39 for the food plus a $5.61 tip. $$
(March 2003)
<!REVIEW ENDS HERE!>
---