!REVIEW GOES HERE!>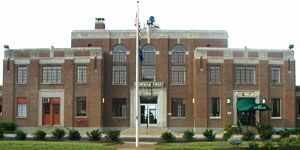 97

Le Relais
Bowman Field
2817 Taylorville Road
(502) 451-9020

Website: http://www.lerelaisrestaurant.com/

How do I love Le Relais? Let me count the ways: Elegant art deco style, excellent service, and most of all, creative riffs on traditional French cuisine keep Le Relais consistently near the top of Louisville's restaurant competition. It's certainly Kentucky's best French restaurant; I would go a step further and rank it above Cincinnati's famous Maisonette, which loses points for a stuffy conservatism and old-fashioned pretentiousness that would have no place at Le Relais.

Psst! Want a good deal?

Try shifting your fine-dining calendar from Friday or Saturday night to a weekday, and you'll discover that some of Louisville's best restaurants - even high-end spots with white tablecloths - are offering special bargains to lure you in on a Tuesday, Wednesday or Thursday evening.



As reported in my recent 2002 in review, although many local spots are doing well on weekends, the shaky economy has many restaurateurs worried about empty rooms on weekday nights, and quite a few local eateries are taking unusual steps to attract your business.



The folks at Kentucky Cove, for example, offer a coin-flip shot at a free entree for one diner in each party on Mondays. Steam Fire & Ice offers a special 3-course dinner for $20 on Tuesdays and Wednesdays, and Equus offers a special prix fixe dinner on week nights. At Azalea, it's cut-rate wine prices with dinner. Salsa Grill entices diners with weekday tapas nights, and Baxter Station is offering 10 percent off week-night dinners for participants in its E-mail list. (Contact the establishments directly for more information ... and give your own favorite restaurant a call to see if it has a similar offer, as many deals are available on request but not publicized.)



Naturally, when I learned about an enticing weekday deal at Le Relais - the fine French restaurant at Bowman Field that may just be the city's No. 1 place to dine these days - it didn't take me long to get over there. A group of eight revelers from our Louisville Restaurants Forum dropped in to take advantage of their weeknight prix fixe special, a cut-rate four-course dinner for $28.50 ... plus two glasses of wine to match for $11.



Reasonably enough, the "fixed-price" alternative forces some compromise, but it's a matter of selection and quantity, not in any way quality. Your selection is limited to two appetizer choices and two main-course options, and portions will be a bit smaller. And, though the prix fixe options are based on the regular menu, accompaniments and preparation may change slightly from the full-price meal.



The night we visited, the appetizers were arugula salad or a small smoked salmon plate.



The salad, a regular feature on the Le Relais menu, was really fine: Fresh leaves of arugula were tossed with cruncy pistachios, earthy bits of blue cheese and thin slices of roasted pears infused with tart lemongrass flavor, dressed with a sweet-tart balsamic-type emulsion laced with just a hint of something hot and spicy.



The other appetizer, an exceptional alternative presented on short notice when the caramelized onion soup on the evening's menu unexpectedly ran short, featured two pieces of tender, silken smoked salmon artfully arranged under a triangular portion of buckwheat crepe with a dab of creme fraiche topped with a tiny portion of black caviar, and accompanied by small mounds of finely chopped egg yolk, egg white and shredded red onion, garnished with a fresh chive.



Complimentary slices of Blue Dog baguette and pats of creamery butter were served throughout the meal; we chose two good French wines by the glass from a short list available with this dinner: Chateau Haut-Rian 2001 Graves, a crisp, herbal white Bordeaux; and M. Chapoutier 2000 Cotes-du-Rhone Belleruche, a good-value red from the Southern Rhone, full-bodied and peppery.



The meat entree was a small (4-ounce) but beautiful bacon-wrapped filet mignon garnished with a fresh chanterelle mushroom, perfect English peas, and a small but rich portion of scalloped potatoes infused with a lovely scent of fresh sage. The steak was butter-tender and served precisely medium-rare as ordered.



The seafood entree featured two giant prawns artfully garnished with two wedges of small, skin-on boiled potato, a perfectly grilled half of a Belgian endive split lengthwise, one tiny, perfect clam in its shell and two crisp-tender spears of fresh asparagus, served on a savory reddish reduction sauce that reminded me a bit of the sauce raito that I've enjoyed in Provence, one of the few red-wine sauces that work with seafood and fish. Whatever the technical details, it was a delight because it made it easy to enjoy the red wine with shrimp. (In one of the very few nits to pick over an otherwise 100-point dinner, this dish was served lukewarm to cool, hinting that the seafood plates may have had to wait for a few minutes while the kitchen finished the beef.)



As noted, the main-course portions weren't large, but neither were they unreasonably small. As it turned out, the cheese and dessert courses still to come would leave us more than comfortably full.



The cheese course was a turophile's delight, as the maitre d' turned cheese sommelier to describe about 10 outstanding French and Canadian cheeses borne on a cart - goat cheeses, sheep cheeses, blues - everyone picked two, and among us we tried just about all. My wife and I sampled a Burgundian Epoisses (perfect, earthy but not stinky in aroma and lusciously rich in flavor, just au point); a nutty, buttery and just slightly tangy Petite Basque sheep's milk cheese from the Pyrenees; a tangy chunk of Roquefort and a delightfully creamy and delicate Boucheron, a mild goat-cheese log lightly coated with wood ash. Extra Blue Dog bread was forthcoming, and another glass of Cotes-du-Rhone (for an extra charge).



A fine crème brûlée was rich and creamy and crisply glazed, garnished with a pair of delicate orange segments laced with an elusive marinade that no one could quite identify. In only the second nit of the night, though, it was served cold from the refrigerator, lacking the beautiful contrast of cool creamy interior and hot caramelized topping that comes when the torch is applied at the last minute before serving.



Perfect espresso, crema-topped and rich as dark chocolate, makes a fine ending to a leisurely meal. Service throughout the evening was fully up to Le Relais' usual high standard, and we weren't made to feel at all uncomfortable about taking the low-rent route. In fact, when we ooohed and aaahed over the cheese course, management confided that anyone would be more than welcome to drop by for a cheese plate and glass of wine alone ... or just coffee and a dessert.



Le Relais is still not cheap. With coffee, an extra glass of wine, and an 18 percent tip added to the bill (the restaurant's policy for larger parties) rounded up to the next round number, we spent $120 a couple. But the last time we dined at Le Relais at its regular prices (see adjoining article), we spent almost $175. For a leisurely dinner at one of the city's top tables, that's my idea of a bargain.



(February 2003)




The restaurant's happy setting in Bowman Field's historic Administration Building is thoroughly Art Deco and very French. As I recall, a French artisan was imported to fashion the wall decor, a subtle blonde woodgrain effect in varnish, set off with dark wood trim. Huge potted ferns, a gigantic flower arrangement and a few oversize wine bottles decorate large open spaces in the wall dividers that divide the large room into more intimate sections.

Framed airline posters of the '20s and discreet art deco light fixtures enchance the effect. Large tables are double-draped in white linen and set with good white-linen napkins and fine flatware, with attractive brass-shaded votive-candle lamps to add a cozy glow, making this one of the most relaxing and elegantly comfortable dining venues in town.

The menu changes from time to time, but it's consistently French-accented and eclectic. It currently features 10 appetizers, from $6 (for a mesclun salad or Caesar salad) to $10.25 (for prosciutto and black Mission figs with caramelized onions, Boursin cheese crostini and field greens with apple cider vinaigrette, a seasonal treat that will probably disappear from the menu when fresh fig season ends). Nine dinner entrees range from $17.50 (for a vegetable Charlotte of zucchine, French lentil ragout and tomato fondue with a wild mushroom "purse") to $26.50 (for a sherry Dijon-glazed veal chop with Yukon gold potato salad).

For a taste of Le Relais' pleasures at a moderated price, consider dropping in for lunch, where the starter menu is essentially the same, but a luncheon entree menu offers similar-only-different main courses from as little as $9.50 (for free-range chicken with whipped Peruvian blue potatoes, summer vegetables and a lemongrass-basil velouté) to a still-affordable $13.75 (for a lunch-size version of the filet). The lunch menu also features a daily pasta dish and omelet at market prices.

The wine list (which recently won Wine Spectator magazine's Award of Excellence) wins this wine enthusiast's praise on the basis of both selection and value. The well-chosen list features a couple of hundred wines, mostly American and French, with a lot of interesting wines that you won't find on many city wine lists; and the markup is well under the double retail (triple wholesale) that seems to have become the local standard. Most wines range from $25 to $85, and many of them are from small, well-chosen minor properties rather than the more pricey big-name producers. (There's also a less impressive list of comparatively mass-market wines by the glass from $5.50 to $8.50, and a few half-bottles.)

I studied the list for a long time before choosing an intriguing recent addition, 1995 Domaine des Gartieux Pauillac ($48). Made by Chateau Pichon-Longueville, one of the top properties of Bordeaux, this wine is made from younger vines not yet considered capable of producing the best wines. At a fraction the price of Longueville, it is a very fine Pauillac indeed, showing plenty of good currantlike fruit and the classic "lead-pencil" aromas of good Bordeaux; it's still young and showing some tannic astringency, but just mature enough to make a fine match with both the beef and the lamb.

Early on, a server brought us each a single slice of baguette and a pat of butter. In the evening's only service lapse, he then disappeared, leaving us idly wishing we had another piece of bread or two during the fairly long wait for our appetizer course. With that sole exception, however, the service was perfect throughout the evening; formal but not pompous, courteous but not intrusive.

Special selections of the day tempted us away from the regular menu for both starters.

The soup du jour, tomato bisque ($6), was creamy and rich, a smooth and fine marriage of fresh tomatoes, butter and cream, with a bit of crumbled goat cheese sprinkled on top and a flash-fried basil leaf as garnish.

My choice, a lobster tail ($15), was beautifully displayed on a white stoneware plate: a whole, large grilled lobster tail was perched on a pair of gallettes (homemade waffle-cut potato chips) topped with peppery fresh radish sprouts, plated on a pool of bright-yellow beurre blanc with a scattering of bright-green fresh English peas. Everything was done perfectly, from the steaming, tender lobster to the silken beurre blanc (butter whipped into a reduction of wine and citrus juices until it mounts into a rich sauce) to the perfectly finished peas. The flavors played a symphony entirely in tune, with a slight snappy orange tang in the sauce making a natural harmony with the impeccably fresh, rich and sweet lobster meat. Even the colors made an artful match, a feast for the eyes and the nose and the palate. I could easily have eaten two, but it was best to save room for the main courses ...

The lamb loin ($24) was a generous portion, cooked exactly as ordered with a warm-pink rare center. It was sliced into tender medallions spread in an arc over a mound of just-wilted swiss chard with a tangy balsamic flavor, and a dollop of gratin Dauphinois, thin-sliced potatoes baked in rich cream and butter, all plated on sauce Espagnole, a classic French brown sauce, winey and dark. A single clove of roasted mild elephant garlic perched on top as a flavor accent, with fresh green pea shoots and a trio of crisp potato galettes artfully arranged like a butterfly's wings.

The filet ($26) was just as fine. Le Relais is no steakhouse, but the chefs can make a steak with the best of them. A large portion, the size of a hockey puck or maybe even a baseball, at least 1 1/2 inches thick, was precisely medium-rare as ordered, seared and caramelized on the surface, beautiful hot-pink in the middle, with seared grill marks almost hidden under a mound of maitre d'hotel-style parsley butter and a spray of pea shoots. Tender, tiny fingerling potatoes were plated around the steak, clock-face fashion, on a rich brown sauce topped with a ration of firm, crisp-tender fava beans.

Desserts were presented with panache, using three dishes separated by lacy doilies where less classy service would make do with one.

The crème brûlée ($5.50) added no fancy frippery to the classic form: a thin portion of eggy custard was served in an oval ramekin, topped with a crisp, glassy caramelized surface, garnished with blueberries and a large but rather pale strawberry.

Homemade fig ice cream, a daily special ($5.50) was a triumph of the season. Ice cream for grownups, it's not too sweet and more elegant than rich, three big scoops of lightly creamy fresh-cream ice cream loaded with chunks of fresh black Mission fig. The figs were frozen a bit hard and icy when served, but a few minutes on the table brought them around. (The ice cream was topped with an artful arrangement of strawberries and blueberries coated with a dusting of powdered sugar, served on a wafer-thin sugar cookie in a pretty "vertical food" presentation.

Espresso ($2.50) was bitter but rich, with the foamy crema on top that signals a well-made "shot."

Dinner at Le Relais is not cheap, but it's worth it. With the wine, our filling and impressive meal came to $143.10, plus a $30 tip for extremely competent service. $$$$

(August 2001) <!REVIEW ENDS HERE!>
---