!REVIEW GOES HERE!>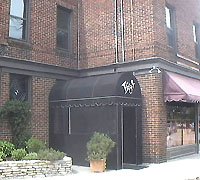 For the past couple of years, dining at Lilly's has been something like watching a skilled tightrope walker getting into trouble on the high wire without a net beneath. He tips, he totters, he almost falls. He manages to stay aloft, but leaves you holding your breath and hoping everything is going to be all right.

But now, I'm pleased to report, the tightrope walker has found his balance again. We enjoyed outstanding, creative dishes during a memorable dinner, and if it fell just short of perfection here and there - particularly in the dessert department - Lilly's overall performance is clearly back in four-star territory.

That's good news. Lilly's has been a favorite since it opened in the '80s, and it has consistently ranked among Kentucky's best and most creative restaurants. Its high art-deco style sets an upscale bistro feeling in its three dining rooms, with high walls in muted dark green, fitted out with modern art, a huge mirror, and, in the middle room, an odd, whimsical primitive-style mural of nudes at play.

Attractive little touches of elegance include sprigs of fresh rosemary in small clear-glass vases and attractive frosted-glass votive candle lamps on the tables, and burgundy napkins presented in heavy brass napkin rings. The tables are draped in light white cloth, not damask but something lighter, and furnished with reasonably comfortable art-deco side chairs.

The menu changes often to reflect the seasons and available produce (a combination of fresh local goodies and upscale specialty items from around the nation). At the time of our autumn visit, the two-page bill of fare featured more than a dozen appetizers, soups, salads and lighter bites, from $6.50 (for the soup du jour) to $14 (for Hudson Valley foie gras and caramelized quince on a Port reduction). A tray of select artisanal farmstead cheeses was $10, and an intriguing seasonal roasted-pumpkin salad with arugula and grits cake was $6.75.

Eight entree choices were $17 (for Lilly's chicken pot pie, a fancified version of down-home comfort food) to $36 (for grilled "Piemontese" beef tournedoes made with Georgetown Farms natural beef). Grilled domestic rack of lamb or Milbrook Farm venison saddle is $30.

Lilly's wine list has come a long way back since my visit last year, when I described it as "surprisingly unimaginative, dominated by mass-market domestic labels." Happily, it is now filled out with a much wider and better variety. Presented as an oversize manuscript tied at the top with ribbons, it features more than 150 selections, predominantly American but with good representation from around the world. Prices on the regular list range from $17 (for Rabbit Ridge White Zinfandel) to $195 (for the obligatory Dom Perignon). There's also a good, interesting selection of about two dozen wines by the glass from $4.95 to $12.75.

A "reserve" list offers three-dozen very-high-end choices, some of them cellar treasures, but it might help to bring a wine expert or reference book along to help sort out the goodies from the not-so-goods. The 1995 Chateau St. Jean "Cinq Cepages," for example, offered for $115, is the vintage before the bottling that Wine Spectator declared its "wine of the year;" and the 1989 Opus One ($255) is not a particularly good vintage, a wine that is past its peak and falling below $100 on the auction circuit.

The wine markup is a reasonably fair 200 percent on most items, though; and in a particularly interesting option for wine enthusiasts, Lilly's now offers wine-tasting "flights," groups of three glasses organized for compare-and-contrast tasting. The flights change every couple of weeks; at the time of our visit, three sets in the $12-$13 range featured such groupings as a German Riesling and California Chardonnay and Sauvignon Blanc; California Zinfandel and Merlot and Australian Shiraz; and a trio of Oregon Pinot Noirs from different Willamette Valley producers.

Lilly's full bar also offers a huge liquor selection including single-malt Scotch, Bourbons and Cognacs, and a shorter list of bottled beers.

Wine glasses are passable, but a bit on the heavy side to seem quite up to standard for luxury service. I wonder if they bring out fancier glassware if you order from the pricey reserve list.

We went the other direction and picked out a prize from the lower end of the list: Cavallotto 1999 Dolcetto d'Alba Bricco Boschis Vigna Scot, a luscious and fruity red from the same Northwestern Italian region evoked in my entree choice, the Piemontese beef.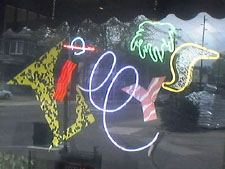 Our meal got off to a rousing start with a bowl of the day's soup, roasted heirloom pumpkin soup topped with a fig quenelle ($6.50). A bright-orange puree of pumpkin was so thick that it floated a ball of coarsely chopped dried figs and crunchy bits - nuts, maybe - in the shape of a small chartreuse football; it was billed as a quenelle, although that classic French preparation makes me think of something lighter and more ethereal than this earthy, peasant-style dumpling. That's being picky, though ... it tasted great, with lightly spicy autumnal flavors, and its flavor and texture made a nice foil to the creamy and slightly sweet soup.
My appetizer choice, duck confit spring roll ($7.25) featured fine-ground, delicate duck meat rolled in wonton-wrapper tubes and deep-fried glassy crisp, cut off at angles and displayed on a large white plate decorated with a thin, pale-green sauce and dabs of bright-red, fiery Vietnamese sriracha sauce. An undersize martini glass, of all things, was filled with sweet-hot Vietnamese dipping sauce with a subtle but beautiful touch - it was sprinkled with a few tiny sesame seeds, some pure white and the rest jet black. To be honest, it was hard to make out much duck confit flavor in the rather anonymous egg-roll stuffing, but taken as a whole, not deconstructed, the combination of savory and hot-sweet flavors and crispy, chewy textures turned this starter into a formula greater than the sum of its parts.
Roasted garlic ($6.75) brushed with Hart County rosemary olive oil (the rosemary was local, I presume, Hart County not being known for its olives) was an impressive presentation: A pretty blue-and-white tile trivet bore a generous wedge of Saga-brand blue cheese to accompany a whole, large head of garlic, roasted golden brown, and slices of crusty white artisanal bread.
A salad billed as Kentucky Bibb ($7.50) looked an awful lot like Boston lettuce instead, but wherever the greens came from, they were delicate and crisp, attractively composed with rations of tender shiitake mushrooms, bacon-like bits of crisp pancetta and dabs of goat cheese, with a small, perfectly round poached egg, hot but still properly runny at the center, perched in the middle of the display.
My wife chose another appetizer as her main course: Spinach souffle and crispy chicken livers ($7.50) was a filling choice, almost as big as my dinner: Five beautifully crunchy-crusted fried chicken livers were plated in a circle arond a small mold of spinach souffle topped with thin-shaved Parmesan and set on a circle of pureed bell-pepper sauce with a light spicy note, with dark-red streaks of hot sauce and a light sprinkle of chopped parsley to decorate the plate. The livers were excellent, but the spinach is one of the meal's few disappointments, strangely dry and flavorless, with an odd aroma reminiscent of freshly mown hay.
My entree, the beef tournedoes ($36) didn't appear particularly Italian despite the adjective "Piemontese" (the Alpine foothills wine country adjacent to Switzerland and France in Italy's northwest), but they were delicious. Two small but inch-thick rounds of beef ("tournedos" come from the pointy end of the tenderloin) came sizzling and striped with appetizing criss-cross marks from the grill. They were presented rare as ordered, seared on the outside and a beautiful warm pink at the center, tender as soft butter and napped alongside with a pool of buttery-tangy thick Bernaise sauce. A garnish of fine, thin haricots verts (oh, all right, green beans) were cooked just to the point of crisp tenderness, and a square of sweet, rich corn pudding featured crisp corn kernels in a pleasant eggy custard medium, pan-baked until the top was crusty and brown.
Things went perfectly to this point, but desserts ($7) let us down a bit. They were attractively presented, decorated with fine-chopped pistachio nuts and colorful accents of raspberry sauce and creme anglaise, but both showed some symptoms of inattentiveness or careless work in the kitchen.
Lilly's rendition of "classic crème brûlée" is anything but classic. It comes encased in a puff-pastry shell the size of a baseball, an affectation that adds to the luxury but also to the calorie count and isn't really needed. Crème brûlée is, or should be, about the contrast between silken custard and glassy-crisp caramelized coating, and adding rich puff pastry pushes it over the top. Worse, ice-cold custard and scorched black topping betrayed a dessert made early in the day, left refrigerated until serving time, then carelessly over-torched. A real disappointment.
Jamieson's chocolate souffle cake suffered a similar fate: Apparently baked earlier in the day and set aside until evening, its "warm liquid melted center" had solidified into something like a brownie and the surrounding cake was stale. Not a bad brownie, but unspectacular at best.
Unlike the entrees and appetizers, which consistently hit the mark, Lilly's dessert chefs seem to have a reach that exceeds their grasp. A couple of cups of espresso ($2.50) improved our attitude; properly bitter but not overly so, they were served with the attractive foamy crema that indicates a properly pulled "shot."
Dinner for two, with just one entree but a grazing field of appetizers, salads and desserts and a wine from the low end of the list, came to $112.89, and professional, unobtrusive service earned a $23.11 tip. $$$$
(November 2001)
<!REVIEW ENDS HERE!>
---