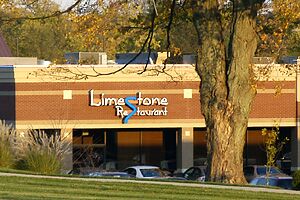 90

Limestone Restaurant
10001 Forest Green Blvd.
(502) 426-7477

Website: http://www.limestonerestaurant.net/


<!REVIEW GOES HERE!> To succeed in the restaurant business, as in any business, keep doing what you do best.

Chef Jim Gerhardt and his longtime cooking sidekick Michael Cunha have followed this simple formula with considerable success at Limestone, their hot new East End spot that opened in late summer 2003.

In one of the top two local restaurant news stories of the season (the other being the reopening of 610 Magnolia under new ownership), Gerhardt and Cunha have lifted the concept that brought them international culinary kudos at the Seelbach's Oakroom and put it down pretty much intact in the modern suburban quarters that had been vacant since the demise of Rick Dissel's short-lived Blue Parrot last year.

For all its earth-toned glitz and glitter, the gently remodeled new lodging can't match the century-old patina that informed the historic downtown hotel dining room. But everything else comes close, from generally careful service to a creative bill of fare built on regional produce to an impressive wine list that sets a high standard for both imagination and value.

I could nitpick a bit here and a little there: Service during our recent visit erred on the side of fawning, as a personal greeting upon my arrival from former Oakroom wine guy Adam Seger, who came back to town briefly to advise Gerhardt on matters vinous, made it clear that I had been recognized as a dining critic at work. Restaurateurs at this level generally know the local food writers, and there's no way around that. But I've had reports from consumers who are not dining critics that Limestone's service is always cordial but can be occasionally forgetful and even a bit addled at times.

Nor am I much impressed with Limestone's somewhat over-the-top emphasis on "Southern" character, an overlay of hominy-grits-and-collard-greens that bears little resemblance to the Ohio River Valley urban rustbelt city where I grew up. I like it that they offer Stonecross Farm meats from Spencer County, spoonfish caviar from Shuckmann's in Louisville, Sheltowee Farm mushrooms from Bath County in Eastern Kentucky, Judy Schad's Capriole goat cheeses from Southern Indiana, earthy Trappist monastic cheeses from Gethsemane and mild cheeses from Ken Mattingly in Barren County. But when they start talking about topping fried green tomatoes with aioli or, for cripe's ake, "grits du jour," it's hard not to snicker. If I want Atlanta, I'll get on Delta and fly to Atlanta, OK?

But let's cut to the chase: These guys earned a top four-star rating at their old job. Knock off a few grade points for nits and picks and to give them room to settle in and improve as they go, but they still earn an "A" grade, remaining safely in four-star territory.

There wouldn't have been much point in making extensive changes in the still-new physical plant, which is located along a modern stretch of Hurstbourne Lane north of Shelbyville Road that's populated by bland, glassy office complexes and could just as well be in Ann Arbor or Dallas as the Derby City. You still enter past a striking, circular bar room enclosed in curved glass to reach the main dining room, which has been repainted from Blue Parrot's tropical sea and sky to more discreet colors of dark burgundy and shades of gray, under a black ceiling so dark that the twirling overhead ceiling fans are almost invisible.

A long semi-circular banquette encloses the main dining room, topped with brightly lighted aquariums that catch the eye with their colorful seaweed and coral; they're inhabited by "indigenous" fish and shellfish, an almost museum-like display of what's on the menu, although unlike similar displays in some Chinese restaurants, the sea life in the aquariums won't show up later in the evening as your dinner.

The banquette, booths and sturdy art-deco side chairs are attractive but just firm and upright enough to become a bit uncomfortable over the course of a long dinner. Large tables are draped in white cloth with soft cloth napkins to match, and set with shiny stainless flatware, simple stoneware plates and tall Champagne flutes to suggest an aperitif. (If you decline, they're discreetly whisked away before dinner.) Heavy glass cubes hold flickering votive candles, and an antique butcher block in the center of the room bears a shallow bowl of ice filled with sparkling wines and aperitifs cooling for by-the-glass service.

Seger has put together a remarkable wine list that claims the city's top rank for imagination and, perhaps surprisingly, excellent value. This is the expert who put together perhaps the city's most magisterial wine cellar at the Oakroom; but, perhaps constrained by Hilton policy, the Oakroom's list exacts a hearty toll for the privilege of sipping the world's best wines. Seger has taken a different approach at Limestone, assembling a striking, interesting list that includes many offbeat beauties and plenty of exceptional values, with a large selection of well-chosen items under $50, and even surprisingly reasonable pricing on the relative rarities reserved for the upscale "Captain's list."

The main list is exceptionally user-friendly, with about 175 wines divided not by the usual categories of geography or grapes but rather by style, ranging from "crisp, food-loving whites" to "supple and voluptuous reds," with stops along the way for such niches as "pink N grin," "chocolate-loving reds" and "little bottles," an exceptional selection of half-bottle sizes that offer a good option if you're drinking alone, or if you want to try one wine with the appetizer and something else with your main course.

For the best values of all, though, look for the many items marked with an asterisk, which signals that they're priced at just $10 (approximately) above full-pop retail, and that makes them the best restaurant wine values in town. A few examples: The sought-after Marquis Philips 2002 Sarah's Blend from Australia, for instance, highly rated by the critic Robert M. Parker Jr. and just as ripe, overblown and gutsy as you'd expect of a Parker rave (and long-since sold out at local retailers), is listed for an affordable $25.39. To mention just a few others, El Coto 1999 Crianza Rioja is just $17.32; Adelsheim 2002 Oregon Pinot Gris is $25.52. A couple of French white delights, the 2002 Sancerre and 2001 Pouilly-Fumé from Pascal Jolivet are $21.76 and $21.24 respectively; and an Australian rarity, Pipers Brook Ninth Island Pinot Noir from Tasmania, the chilly island off the South Australian coast, is $26.36. Be more cautious about the asterisked Bordeaux: The Chateau Saint Sulpice 2000 is offered for $29, but it's a minor property with a generic Bordeaux appellation, an everyday wine that I've seen on sale by Internet retailers for as little as $8.99; and Chateau de la Cardonne 1996 ($21.04 on the list) is a mediocre vintage from a relatively mass-market producer.

I expect that Gerhardt and Cunha will follow the pattern of the Oakroom and change the menu seasonally. The current bill of fare, as noted, puts a distinct Southern accent on modern American cookery, melding regional traditions and quality local produce with upscale international style.

More than a dozen appetizers ("First Flavors"), soups and salads range in price from $4.50 (for chicken and dumpling soup) to $14.95 (for "jump-fried" foie gras on a savory pear-bread pudding with pear butter and pear chips. All the other starters are $8.95 (for shrimp'n'grits or seafood-stuffed sour mash crepes) or below.

Eleven main courses (assembled under the heading "Supper") are $12 (for a vegetarian item, canneloni pasta tubes filled with spinach, mushroom and goat cheese) to $25 (for a grilled lamb T-bone). Atlantic cod or braised beef short ribs are the low-end meat choices at $15, and steaks include Angus beef medallions for $21 and herb-seared sirloin for $23. (For crass comparison, note that this is well below the nosebleed level of the Oakroom's main courses, at the time of my last visit, would set you back from $20 to $38.)

A half-dozen a la carte side dishes - you really won't need them - are billed as "Southern Veggies" and are priced for your choice of an order for one or a larger shared portion, from $3 for a single order of grits to $9 (for asparagus with foie gras Hollandaise).

Finally, if you're feeling self-indulgent, it would be hard to go wrong with Limestone's prix fixe "Feed me Chef" dinner, a "spontaneous tasting menu" of five courses chosen by the chef. It's available for $50 a person, with the caveat that your entire table has to agree to take it - you can't order it for yourself while your companion goes with an app and a salad. Add another $25 and they'll match each course with wines by the glass. And here's a deal: Come in after 9 p.m. (reservation required), and get the tasting menu and the wines for $50! This has to be one of the best luxury dining deals in town. Seger confided that they're offering this special price, at least for now, in the hope of luring late-dining urbanites out to the 'burbs, where many residents appear to be in the odd habit of dining at 5:30 or 6 p.m., perhaps so they get back home in time to catch prime-time television.

Our dinner began with an amuse bouche, a complimentary pre-appetizer of lightly spiced Cajun beef on a Cajun-style spread of blue cheese with chopped pecans on a crisp bite-size round of Limestone's sweet brown sour-mash bourbon bread, a made-on-the-premises item that forms a recurring theme through meals at Limestone. (More bread came along in a basket shortly thereafter, a mix of the brown Bourbon bread and chewy white ciabatta, with a soft triangle of creamy butter.)

My wife's appetizer, bacon and eggs ($6.95), was a tongue-in-cheek variation on the traditional diner special. It featured light, fluffy golden eggs scrambled smooth as cream (just as well executed as the dynamic duo had done with the Oakroom's scrambled eggs and foie gras, a personal favorite), accented with a homeopathic touch of earthy black truffle and a hint of tangy vinaigrette, garnished with thick, crunchy smoky bits of locally produced bacon from Stonecross Farm.

My starter choice, the soup trio ($7.50), appeared to be based on the sampler concept inspired by Napa's French Laundry and Charlie Trotter's in Chicago, but a bit more dare-I-say Southern-style generous in its execution, served on a platter bearing three white bowls the size of handleless coffee cups. Seafood bisque was a pink and creamy puree of lobster meat, crawfish and freshwater shrimp with a few bits of shellfish swimming in it. Fresh shellfish flavors were accented with a faint herbal note. The mushroom soup was a thick brown puree to complement the pink shellfish. It featured Sheltowee Farm mushrooms - portobellos and farmed oyster mushrooms and shiitakes - elevated on a rich, creamy creme fraiche dusted with herbs. The chicken soup was a relatively light, country-style version, a clear salty chicken broth chock-full of long-simmered carrot, celery and onion and tiny bits of cauliflower. The dumplings had gone AWOL, leaving no trace of the "white truffle spaetzle" that the menu promised.

Salads were serviceable but fell just short of memorable. grateful greens ($5.95) featured a mesclun mix of oak-leaf and red-leaf lettuce and a few dice of earthy roasted beets, dressed with a simple vinaigrette and served with "croustade" rounds of that familiar sour-mash Bourbon bread painted with mild goat cheese. It was tossed with walnut halves coasted with Bourbon-flavored sugar, an eat-dessert-first creation that didn't particularly excite us. A Caesar ($5.50) consisted of whole baby romaine leaves painted with an attractive striped pattern of thick, garlicky-creamy Caesar dressing, garnished with two silvery fillets of fresh anchovies (another Oakroom tradition) and a couple of thin Parmesan shavings, with three thin-sliced rounds of sour-mash Bourbon toast on the side as croutons. It was an idiosyncratic Caesar, well evolved from Tijuana restaurateur Caesar Cardini's original, but a good one.

A minor but annoying nit: Limestone's salad and dessert forks (a legacy from Blue Parrot?) are oddly undersized, not much larger than seafood forks and a bit awkward for my adult-size paws to handle.

Main courses were fine, fully up to the Gerhardt-Cunha standard. My choice, the pork chop ($21) was a 1 1/2-inch-thick one-bone portion, billed as a 14-ounce chop and ample to provide a take-home ration for the next day's lunch. It was perched on a bed of coarsely ground, richly creamy grits studded with a few tender, sweet crawfish, and plated on a thick, clear reduction sauce just sticky-sweet enough to creep up the fork and get on my fingers, and topped with a green-tomato "salsa," a tart brunoise of crisp raw green tomato dice and a few red-tomato bits for accent. Veggie garnishes included white long beans, oval carrot slices and bright zucchini chunks, all barely blanched to the crisp-chewy stage, a tasteful approach though a significant departure from "old Southern" style, which would have simmered them into formless submission.

My wife's choice, braised beef short ribs ($15) hit the spot too. Three thick, meaty ribs pretty much filled a broad soup bowl. They were long-cooked to melting tenderness, as beef ribs need to be, tossed with dark, earthy collard greens and served on a ration of al dente white beans, both of which could have done well with just a bit longer cooking. The dish was plated on a rich beef reduction sauce and served with a crisp, golden sphere of "hot water" corn bread seemed a lot like a hush puppy ... a good hush puppy.

I chose an affordable Spanish red wine from the asterisked list, the Altos de la Hoya de Santa Ana 2001 Jumilla Ungrafted Old Vines Monastrell ($19.62). Dark and slightly tannic, so fruit-forward that it was almost sweet, it was listed under "robust and zesty reds" and that's a fair description. As I hoped, it made a good bridge between the beef entree and the pork. Limeston's wine glassware, by the way, is well above the median for local wine service: If not eggshell-thin, it's still elegant and oversize, and is offered in specific shapes chosen to complement each wine. We were provided pot-bellied Burgundy-style glasses for the Spanish red, and they showed it off well.

Six desserts ("Sweet decadence") are listed from $4.50 (for bread pudding) to $7 (for warm apple clafouti with Bourbon ball ice cream).

The Bourbon bread pudding ($4.50) took my fancy. Two dense triangles showed a subtle marble look that suggested they're made from a combination of that ubiquitous sour-mash bread and a white bread; it was plated on an artfully cut pattern of yellow and tan sauces that the menu described as sorghum creme fraiche. Chocolate chess pie sauce chocolate ($6) was a fine, straightforward example of the genre, served on a plate 'bammed' with powdered sugar and an artful flower painted with thick chocolate sauce. Rich and sweet, w ith a short buttery crust, it could have come straight from the glass-topped pie case at a roadside country eatery ... and that's a compliment.

The espresso machine, we were told, was out of service, but French press pot coffee made a clean and fresh alternative, along with a complimentary chocolate truffle to end the meal, dark and intense and slightly more calorific than a wafer-thin mint.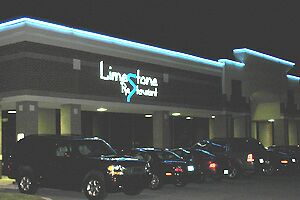 Very fine food and service doesn't come cheap, but the combination of fair dinner prices and the exceptional value wine list held an indulgent dinner for two just under $100, a feat that the city's other top tables will find difficult to match: Our dinner, including the wine, came to $97.53, plus a well earned $20 tip. (For comparison, our last Oakroom visit totaled $150 plus a 20 percent tip.) $$$$
(October 2003)

For a report on an inventive tea tasting lunch at Limestone in January 2004, with dishes specially crafted by Gerhardt and Cunha with tea as an ingredient, click here.
ACCESSIBILITY: Accessible to wheelchair users.
<!REVIEW ENDS HERE!>
---