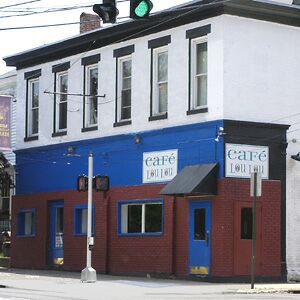 84

Café Lou Lou
1800 Frankfort Ave.
(502) 893-7776

<!REVIEW GOES HERE!> I'm getting increasingly excited about culinary developments in Clifton. This neighborhood at the inner end of the Frankfort-Brownsboro "Restaurant Row" houses a growing cluster of new restaurants, each with its own personality but sharing a surprisingly consistent look and feel. North End Cafe, Maido Essential Japanese, L&N Wine Bar, Caffe Classico and now Café Lou Lou form a diverse eatery set, yet they all leave me with a similar warm feeling based on a funky artsy ambience that walks a delicate balance between affordable and upscale, stylish yet comfortable. This is A Good Thing.
Café Lou Lou, the latest arrival, is located in the brightly renovated quarters that had formerly been primarily a bar and music venue - The Lighthouse on Frankfort, and Black Cat Cafe - diagonally across the intersection of Frankfort and Pope avenues from the historic Albert A. Stoll city firehouse, just a few doors east of Maido.
It's run by chef-owner Clay Wallace, once of Cafe Metro and Uptown Cafe, who recently came back home after working in New Orleans (hence the rhyming name that reflects both Louisville and Louisiana). It features mostly lighter fare, but it's much more interesting than the summary "sandwiches, wraps, calzones and pizzas" suggests.
There's a broad range of eclectic goodies, many items showing a distinct Greek accent, others Cajun and some just-plain American. There's plenty for vegetarians and plenty more for carnivores, with most sandwiches and lavash flatbread rolls from $7.75 to $9.75, calzones $8.50 to $9 (or build your own at $1 per filling item), and pizzas $10.75 for a 10-incher, $15.75 for a 14-inch item, plus a build-your-own option at $7.50 or $10.50 for the base plus $1.25 or $1.50 for each additional item taken.
The venue is bright and bold, chartreuse and dark red and sky blue walls loaded with fun and funky art in two main dining rooms, plus a cozy looking dark stained-wood bar at the back. Full bar service includes a decent range of beers (Newcastle Brown Ale on draft!) and a short but nicely chosen list of wines at affordable prices by the glass or bottle.
I expect I'll be visiting this friendly place often, but in a quick early visit I was impressed with the atmosphere, food and service, and feel comfortable recommending Cafe Lou Lou on the basis of a single lunch.
The meze platter, a Greek appetizer tray for two, is a filling vegetarian delight with some usual suspects (hummus and spinach and feta in phyllo) and some unusual ethnic treats (muhumarra, a sort of hot'n'spicy sun-dried tomato hummus, and an intriguing dish of cold shredded carrots with a dash of cayenne and cooling yogurt sauce), $9.50 for two.
Pizzas deserve special comment: The handmade crusts are incredibly good, right up there with the best in town: Crusty, chewy Italian-style bread, puffy and brown around the edges, paper-thin and crisp under the pie, with really interesting "gourmet-pizza" toppings as well as the traditional choices. We shared a small "Mediterranean pizza," more Greek than Italian with its earthy/savory toppings of grilled eggplant, fresh Roma tomatoes, tangy capers, black Kalamata olives, roasted garlic, a little mozzarella and a little feta and just a dab of marinara sauce.
Service was extremely good, skilled and friendly. Bottom line, this is an outstanding addition to the neighborhood, the kind of warm and friendly local eatery where I can see myself dropping in often for a casual meal - or a mug of cold beer. $$
(June 2004)
ACCESSIBILITY: Not accessible to wheelchair users: Two steps up and a tiny vestibule bar access.
<!REVIEW ENDS HERE!>
---