!REVIEW GOES HERE!> ** Molly Malone's
933 Baxter Ave.
(502) 473-1222
Website: http://www.mollymalonesirishpub.com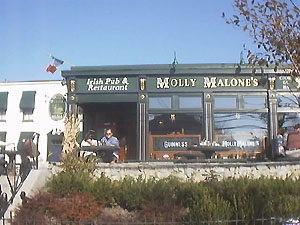 Molly Malone's got a somewhat unseemly introduction to our town in its early days, amid what looked like awfully heated competition between it and The Irish Rover, Louisville's other Irish pub; and The Courier-Journal's restaurant critic put her foot in it with the odd judgement that Malone's isn't authentic. In fact, it is, but it's modern urban Irish, the kind of pub you'd find in Dublin, in contrast with the Rover's rather nostalgic evocation of an Ireland that may have existed a generation ago. Let's bury the shillelagh, folks! Both pubs are worthy additions to Louisville's eating and drinking scene, and both are as authentically Irish as the Wearin' o' the Green.
Molly Malone's is a sizable room, or several rooms to be more precise; its oak paneling and booths and plank floors give it an all-wood ambience vaguely like the interior of a cigar box, but much more cozy, with stained glass and pub signs and shelves of knick-knacks with a musical motif, mandolins and drums and the like. The large, pub-style bar divides the main room into two sections, each filled with round tables, some tucked into booth-like nooks, others more in the middle of things. Other rooms in the main building and a white-painted, two-story structure at the back are available for private parties.
Malone's menu features modestly priced fare, with entrees ranging from $5.95 (for corned beef and cabbage) to $13.95 (for a pan-seared salmon fillet). Other favorites include Molly's beer-crisped fish-N-chips ($6.95), beef-and-potato shepherd's pie ($8.95) and an Irish breakfast of eggs, bacon, grilled tomato, black-and-white pudding and soda bread ($7.50). A half-dozen sandwiches ($4.95-$6.95) include corned beef, a turkey-and-ham club and the Dubliner burger. Munchies to accompany beer include a variety of appetizers (the Scotch Egg, a $5.25 delicacy featuring a baked, sausage-wrapped hard-boiled egg, is a cardiologist's nightmare), soups and salads.
The dishes are good-sized for the price, and the price is right; this is definitely affordable fare. Irish lamb stew ($6.50) was a bowl of long-cooked meat chunks, potatoes and carrots, all falling apart with long cooking, strongly herbal with aromas that might have included thyme and bay leaf. The meat was so mild that I could have sworn that they substituted stewing beef for lamb, but the server insisted that it went "baa" and not "moo." It was served with several slices of dense, dry but flavorful soda bread, both dark and white, and a foil-wrapped pat of butter.
Corned beef and cabbage ($5.95) featured a smallish portion of what appeared to be sliced deli corned beef laid out over a large portion of cabbage cooked until all its color had fled. It was improved by a tangy, creamy mustard sauce and small boiled red potatoes rolled in parsley.
It's pretty much what I'd call traditional pub grub: Throw everything together and cook it into submission. Delicate, it's not, but it does keep body and soul together and marries well with fine Irish beers.
And beer, after all, is what a pub is all about. The brews at Malone's are fine, although I find the draught-beer list much more interesting than the bottled beers, which feature mostly mass-market American beers and popular imports. Stick with draft Guinness, which Malone's pulls properly from the keg with a creamy dark-tan head so thick that you could float a farthing on it, or, if you're in the mood for something a bit lighter, Molly's Own Irish Red, a robust, fruity ale. Other draught specialties include Harp Lager (light and forgettable, Ireland's answer to Budweiser) and a variety of British ales, lagers and stouts, plus Blackthorn cider. All draught brews are $2.75 for a glass, $4 for a pint.
We finished with a shared bowl of excellent, rich and sweet bread pudding ($3.95) and a snifter of Connemara Single Malt ($4.25) from the extensive Irish whiskey list; much like a single-malt Scotch, with all the peat but none of the iodine, it made a warming finish for a crisp autumn evening.
Dinner for two came to an affordable $31.13, plus a $5.81 tip. $$ <!REVIEW ENDS HERE!>
---