!REVIEW GOES HERE!>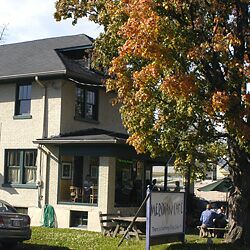 81

Meridian Café
112 Meridian Ave.
(502) 897-9703

<!REVIEW GOES HERE!> New owners and a new attitude have engendered a dramatic improvement in this little lunch spot in a cozy old house in St. Matthews.
Once the target of what may have been the most negative review I have ever felt compelled to write, Meridian Cafe's name remains the same, but just about everything else is far better under new management that took over in September 2003.
Let's leave the past behind us and move on briskly to an updated and much more friendly review. I'm delighted to report that the service is now competent and polite, the place is clean, and the food ranges from good to excellent, all of which moves Meridian Cafe well into my "let's go grab lunch" category from its former place on the list of spots that I would drive around the block to avoid.
Occupying two rooms and the sunny front porch on the first floor of a large World War II-era suburban frame house, Meridian Cafe still has a bit of the feel of a place where a bunch of buddies got together one day and said, "Hey, let's start a restaurant, it can't be that hard to do." There's still a certain feeling of casual informality that used to come across as incompentent but now just seems neighborly.
The significantly cleaned-up and somewhat redecorated quarters make me think of a tea room for graying baby boomers, maybe; there's a flavor of Sgt. Pepper's Lonely Hearts Club Band, but without the drugs. Bold sunflower gold colors make for a bright and cheery setting not diminished by the front room's dark, well-worn hardwood floor. There are a couple of funky old Asian-style red-lacquer shelves that might have come from Pier One, a white brick fireplace, bookshelves bearing art pieces made from gourds, and an assortment of modern art including several pieces that look a bit like screen shots from an early version of Sim City.
The rooms are crowded with undraped tables topped with pretty grapey purple laminate and surrounded by an assortment of sturdy wooden chairs; an attractive spot, bright and cheery on a sunny day.
The menu is loaded with interesting soups, salads, sandwiches and luncheon-style items, many of them bearing people's names ("Tristan's Crab," "Tony's Tuna," and sandwiches with monikers like "Jennie," "Brian" and "Richie"). There's a good selection of vegetarian choices under "Veggie Delicacies," and everthing is more than affordable, with just about every item tagged at $6 or less. In addition to the usual soft drinks, quality teas, coffees and espresso drinks are available, plus a good assortment of import and artisanal beers and a short selection of modest wines for $4 to $7 a glass.
We began a tasty lunch with a shared order of Tristan's Crab appetizer ($6), a composed melange of crab salad and raw vegetables served on a smallish ration of red and white corn chips on an attractive, oversize white plate decorated with a simple design of irregular black triangles circling the edge. The salad was really first-rate, an ice-cream-scoop mound of fresh and sweet and carefully picked-over crab meat, a delicious creamy salad that to its great credit was mostly crab and little filler, moistened with a little mayo and laced with a dash of poppy seeds to add color and texture. The accompanying vegetables were chopped raw white onion, shredded red cabbage, sliced cucumber and pale but juicy tomato slices.
It looked great, but how do you eat it? I spooned a dab of crab salad onto a chip and topped it with small rations of the crisp raw veggies, but if I had it to do over again (which I might, since it was a very good app, worth going back for), I think I might try mixing the crab and veggies together on the plate before scooping them up with chips. A few more chips would be welcome, too.
Lunches are served in traditional red-plastic lunch-counter baskets lined with wax paper and supplied with crisp red and yellow tortilla chips. Drinks come in retro-style translucent plastic tumblers that made me smile with their sunny pastel fruit colors of raspberry, orange, lemon and lime.
The Jennie sandwich ($5.20), one of the vegetarian choices, was exactly as advertised: Smooth, garlicky hummus was spooned into fresh pita halves along with crunchy raw onion and sliced cucumber, fresh tomato slices and alfalfa spouts, dressed with a light tahini sesame paste turned Cajun-style with a whiff of not-too-fiery spice.
The East Coast turkey sandwich ($4.95) scored very high on my sandwich-meter. Good, honest white bread sliced thick from a straightforward country loaf, light but pleasantly chewy, was stacked high with thin-sliced deli turkey white meat and a single paper-thin slice of scary bright-yellow process American deli cheese. A slather of cranberry sauce on one slice added a premonitory hint of Thanksgiving touch, and a couple of thin slices of Granny Smith apple provide a taste of fruit and a snappy crunch that took this fine sandwich well beyond the ordinary. My compliments to the sandwich chef!
Everything was good, very good, inspiring us to sample a dessert, and a shared order of Key Lime mousse ($3.75) sounded just right. Take it from a frequent visitor to Florida's Keys: Tangy and creamy, more tart than sweet, this citric smoothie came very close to replicating the authentic Key lime pie but without the pie ... in place of the usual crust, a scoop of graham cracker crumbs lined the bottom of the small glass bowl and provided a crunchy sprinkle on top.
We overate and built about as large a bill as it's probably possible to reach at Meridian Cafe, $24.65 for two, to which I added a $5.35 tip. You could easily get out for less. $
(October 2003)
ACCESSIBILITY: Completely inaccessible to wheelchair users. Several steps up to the front porch and another from there to the front room.
<!REVIEW ENDS HERE!>
---