!REVIEW GOES HERE!>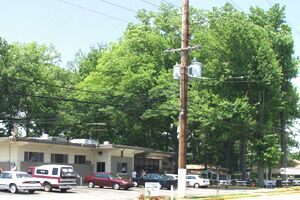 75

Mike Linnig's
9308 Cane Run Road
(502) 937-9888

Web: www.mikelinnigsrestaurant.com
E-mail: MikeLinnigsrestaurant@gmail.com

Nestled in a shady grove along the Ohio River (although it's separated from a river view by a grassy levee with a steep path to the top), Mike Linnig's has been dishing up tasty fried fish and seafood at family prices for many years. The family business goes back to a fruit and cider stand that opened here in 1925.

Although there's indoor seating (and a bar) for rainy days and colder seasons, we think it's the picnic grove with its giant shade trees that makes Linnig's a special place on summer evenings, when the hanging yellow lights swing in the rustling branches over the white concrete picnic tables. It's hard to imagine a much more pleasant setting for a hot fish sandwich and a cold drink.

Now, all that being said, on recent visits we've found the quality of food preparation seems to have diminished slightly, both here and at the restaurant's popular food tent at the Kentucky State Fair. Fried fare that's sometimes greasy, and dishes don't always get out while they're hot, offer a cautionary warning that things may be slipping a bit.

But let's be frank: If you want high-end seafood and a sense of luxury, go to Z's Oyster Bar and spend a hundred bucks for dinner. It's still well worth the long trip out to Linnig's at the end of Cane Run Road in Southwestern Jefferson County if you want fried fish and a cold beer in a nostalgic setting.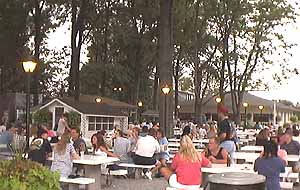 The menu hasn't changed much over the years, and even the prices will still remind you of an earlier generation, with massive portions and the signature fish sandwich just $4.50 (make it $7.30 on a plate with fries and slaw).
A broad selection of soups, appetizers, salads and side dishes range from $1.40 (for an order of slaw, potato salad or cottage cheese) to $4.95 for "Buffalo chili." The menu doesn't disclose whether it's actually made from American bison. Turtle soup, a signature dish, is $2.80 for a small bowl, $3.95 for large.
Seafood and fish dishes, in addition to the fish sandwich and plate, are $4.50 (for fish nuggets or batter-fried salmon) to $11.95 (for Alaskan snow crab legs with melted butter). Most dishes are available as plain orders or "plates" with fries and slaw for an additional $2.80. If you've got a serious seafood jones, the Seafood Lovers' seafood platter is $11.50, and the even larger seafood plate is $14.30.
If you find yourself at Mike Linnig's but don't like seafood or fish (although I can't imagine why), a selection of chicken items are $3.75 (for nuggets) to $5.45 (for half of a baked chicken), add $2.80 for a plate with fries and slaw. You can have a 14-ounce T-bone or 10-ounce sirloin strip steak for $12.25, and a half-dozen non-fish sandwiches are $1.90 (for grilled cheese, $1.95 for a hamburger) to $3.95 (for a rib eye steak sandwich).
Full bar service is available including a selection of mass-market beers plus Corona, Heineken and Foster's. Note that Linnig's pointedly does not offer free drink refills, another small hint that customer service may be on the slide.
We stopped in for lunch on an early summer Saturday and found most diners huddled inside under air conditioning. It wasn't all that hot and humid, though, so we ordered from the bar and took our seats at an outside table and waited for our name to be called, sharing the space with a handful of other diners and a crew of bored teen-aged bussers who sat in a corner ignoring uncleared tables and piles of litter.
It didn't take them long to whip up our lunch, an oversize fried feast, generous in quantity, without a green vegetable in sight. The fish sandwich, $4.50, consisted of two large fillets of mild white fish, cloaked in a thick batter that didn't stick to the fish, almost like a manila envelope that lets the flaky white fish slip out when you pick up a bite.
Fried clam strips ($5.95) were crisply breaded and fried, sizzling hot and glistening with oil, flavorful if just a bit rubbery with overcooking. Fried mushrooms ($1.95) weren't bad, fresh button mushrooms cloaked in a crusty batter and deep-fried. Onion rings ($3.40) were a real disappointment. A very generous portion looked appetizing, large and golden-brown and grease-free; but they proved to be lukewarm and chewy and tasted as if they had been cooked hours earlier and left to stand at room temperature.
Dishes came on cardboard containers - the fish sandwich, curiously, garnished with a leaf of green-and-lavender ornamental kale that seemed more suited to a Bardstown Road bistro - and was accompanied with nine (count 'em!) packets of ketchup but only one tub each of bland and sweet tartar sauce and barely tangy cocktail sauce in industrial-style plastic containers sealed with foil. Iced tea ($1.30 for large) was straightforward, plain and fresh.
Taken item by item, it sounds worse than it was. As noted, this isn't a gourmet-style spot. We enjoy the atmosphere and find our way out here a couple of times a summer just for fun. But I would really like to see the place get back on its old form.
A hearty lunch for two came to $19.51, with self-service pickup and throwaway providing no opportunity for tipping. $$
(Updated June 2002)
<!REVIEW ENDS HERE!>
---