!REVIEW GOES HERE!>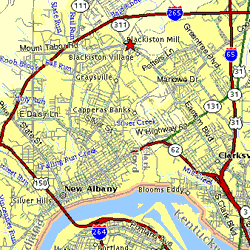 ** A Nice Restaurant
Old Mill Center
3129 Blackiston Mill Road
New Albany, Ind.
(812) 945-4321
It was a little bit like being stuck in an Abbott and Costello routine:
"Try a nice restaurant in New Albany," an E-mail correspondent wrote.
"OK," I said. "What's the name of the place?"
"A Nice Restaurant," the reply came flying back. "That is the name of the place."
Right! And Who's on first.
Actually, when we got over to A Nice Restaurant, which bills itself as "New Albany's Finer Diner," we found it, well, nice.
A big, sunny corner shop in the modern Old Mill shopping center at the corner of Blackiston Mill and Charlestown Roads - just off I-265 south of the Charlestown Road (Ind 311) exit - its high ceilings and big plate-glass windows, lemon-yellow walls, shiny white-tile flooring and bright lighting make the place warm and welcoming even on a cloudy day. White woodgrain tables and bright-green booth benches around the window walls add more color, as do the white-and-coral tables that fill the room.
Down-home and simple, it specializes in breakfast and lunch, shutting down every afternoon at 1:25 p.m. weekdays, 1:15 on weekends. I wish I had asked my correspondent why the management has this thing about the number five. Closing times end in five, not a handy top or bottom of the hour, and it's the same with menu prices, where most items end in 5 (from 1.35 for an order of hash browns to $5.05 for a Cajun chicken salad).
Lunch is available only weekdays from 11 a.m.-1:25 p.m., and features a standard diner choice including soups, salads and hot sandwiches, from $1.85 for grilled cheese to $5.35 for a turkey club. A ribeye steak grilled to order and served on a hoagie roll is $5.05, half-pound burgers are $3.60, and a BLT is $3.05. Don't forget to check the day's choices in the dessert case!
Breakfast is the big item here, though, and that's why we came. The breakfast menu offers a wide variety of choices, all of them affordable, from a single a la carte egg for 85 cents to country ham and eggs or steak and eggs for $7.05. "Pete's Platter" (three eggs and hash browns) is $5.05, and you can get three-egg omelets for $3.85 with cheese, $4.35 with ham, sausage or bacon. Egg platters with toast and ham, bacon or sausage are $4.05 with three eggs, $3.05 with two, $2.60 with one; add 35 cents to substitute cholesterol-free Egg Beaters for the henfruit.
But wait ... there's more. House specialties include French toast ($4.05); pancakes ($4.05 for a stack of three, $4.35 for blueberry pancakes); a big plate of biscuits and gravy ($5.05) or $5.05 for a scrambled-egg quesadilla. Add such fresh baked goodies as a cinnamon roll ($1.85), baked muffin ($1.25) bagel ($1.10) or English muffin ($1.35) or a breakfast sandwich on bagel, biscuit, toast or English muffin ($1.45 for an egg sandwich, $2.05 for bacon, ham or sausage and egg, with a 35-cent surcharge for cheese), and you've got a brakfast to tempt even the most avowed breakfast-skipper.
We let our fellow diners be our guide and chowed down heartily. My wife's choice, steak and eggs ($7.05) featured a five-ounce rib eye, thin cut and cooked through but still just rosy at the center, juicy and flavorful. The potatoes seemed more like parsley potatoes than customary hash browns: Large cubes of baking potato, appeared to have been baked or boiled, then passed quickly over the grill before serving. Never mind style points, they're delicious. The fried egg was straightforward, tender and over easy as ordered. The biscuit came pre-split and grilled with a lowfat margarine substitute. It wasn't a bad biscuit, sweet and tender and somewhat cake-like.
My choice, the egg quesadilla ($5.05) featured a large white-flour tortilla folded into a half-moon around tender, delicious scrambled eggs, a bit of mild American-style yellow cheese and a small ration of crumbled bacon. It was cut into four wedges and served with sour cream and mild bottled salsa in plastic tubs. It spoke more of New Albany than Nuevo Laredo, but made a pleasant and filling variation on more traditional diner dishes.
Coffee is what you'd expect in a diner, none of that fancy gor-may stuff but standard John Conti brand, well-made, fresh and strong.
A filling late breakfast for two, sufficient to encourage us to skip lunch, came to $14.70, plus a $2.30 tip for friendly and competent diner-style table service. $
<!REVIEW ENDS HERE!>
---