!REVIEW GOES HERE!>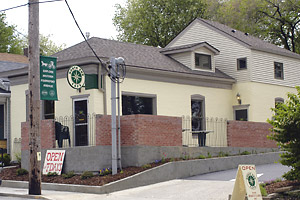 88

North End Cafe
1722 Frankfort Ave.
(502) 896-8770

I liked the North End Cafe the first time I saw it. Its artful setting in a well-renovated old camelback shotgun house in Clifton was a plus, and so was its affordable comfort-food fare. But it was initially open only for brunch and lunch, and while I thought it was good, I wasn't sure that it was up to its full potential.
That was then. This is now: Yeeeehaaaah!
North End Cafe is now open from breakfast through dinner, and Chef Christopher Seckman has put together a diverse and eclectic bill of fare that ranges from traditional Spanish tapas to a world-wide list of entrees - plus a dream wine list for bargain-seeking oenophiles, with a short but intriguing selection all priced at $15 (!) a bottle. Add pleasant and competent service to this Clifton spot's inviting atmosphere, and you've got an appealing, affordable dining experience that's right up there with the city's best.
As students of Louisville history will recall, the traditional "shotgun" house is a long, narrow frame dwelling so called because a shot fired from the front of the building would pass through every room on its way out the back. "Camelback" shotguns boast a second story over the back half of the building, rising up like a camel's hump. (Local legend has it that the "shotgun" style became popular because early property taxes were based on front footage, thus inspiring narrow-but-deep construction. This is probably untrue, however, not least because this architectural legacy didn't originate here but came up the rivers from New Orleans and may have arrived there from Africa and the Caribbean.)
North End Cafe has been made over with a bright, edgy two-room first floor, with light matte-finish wood floors. Exposed red-brick walls are accented with mustard-color stucco pillars and light butternut-squash-color trim. Blond hardwood tables are set with simple birch chairs, and oversize windows offer a view of the neighborhood, making the cafe a bright and cheery place on a sunny day.
High ceilings and large, striking works of modern art-for-sale by local artists add dramatic touches (one attention-getting painting depicts what seems to be a rough-hewn vision of a white-robed choir of chess pawns pulling a Conestoga wagon across a stage with a mandala backdrop while a giantess holds a naked baby overhead. Or something like that). A spacious patio offers outdoor dining when the weather permits.
The menu features a selection of appetizer-size tapas - originally conceived in Spain's Jerez region as wine-bar snacks, served on rounds of toast as edible lids to keep the flies out of your Sherry glass - as well as a frequently updated list of more substantial entrees.
Fifteen tapas ranged in price from $3 (for papas fritas [fried potatoes] with chipotle dipping sauce; anchovies with garlic aioli and tomato confit served on crostini, or lobster-and-scallop sausage with pepper sauce and potato gaufrettes) to $7.50 (for seared beef tenderloin with blue cheese and demiglace or serrano ham with apple puree on crostini).
So many tapas ... baby back ribs with Asian-style glaze are $6.50, crab cakes with avocado puree and cucumber fresca, $7. Some are ethnic - Arabian baba gannouj eggplant-tahini dip with tortilla chips ($4.50); some are down-home - potato, sausage and Cheddar melt ($4.75) or tuna cakes with sweet-corn vinaigrette ($4).
In addition to tapas, there are a half-dozen soups and salads and about 10 main courses to choose from. Soup of the day is $3.50, and salads are $4.75 for the house salad to $7.75 for a calamari Caesar. A half-pound cheeseburger is $8.50, then entrees range in price from $9.50 (for curry sautee, vegetables in curry and coconut milk with either chicken or tofu and steamed basmati rice) to $15 (for grilled salmon with white triple-oil infused custard and wild mushroom vinaigrette, a garlic-roasted half chicken with a potato gratin and roasted-garlic reduction sauce, or six tiger prawns with a coconut grits cake and grapefruit beurre blanc. Felafel with eggplant stew, basmati rice and tzatziki sauce is $11, and roast pork tenderloin with potatoes and a quince-cranberry compote is $14.50.
These are seriously interesting choices, eclectic and international, and I wanted to try everything. We came pretty darn close to doing it, too, during an evening of conspicuous but delighted over-consumption. Our friendly and exceptionally competent server advised that two tapas and a salad would make a nice light meal. We thought about that, and ended up ordering six tapas, a salad and a main course for the two of us to share.
Plus wine, of course. The wine list, as noted, is a real treat for the budget-minded wine enthusiast, offering a short (two dozen items) but intriguing international choice of modest but interesting wines priced to sell for $15 a bottle, flat rate. (A few are also available in generous glass-size portions for $5.) Extra credit for short but useful one-line descriptions giving a glimpse of what to expect in each.
I saw a half-dozen that I wanted to try: Guindon Cuvee Prestige Muscadet looked good on the white-wine list, and Remejeanne Cotes-du-Rhone Rosé would be an easy choice for me over Buehler White Zinfandel among the pinks. Red-wine standouts included Bodegas Bilbao Rioja from Spain; Altos Las Hormigas Malbec from Argentina; Laurel Glen Terra Rosa, made in Chile by a fine California producer, and my choice, I Campetti "Il Castruccio," an earthy, fruity Italian red from Tuscany's short seacoast region, Massa di Marritima. (If you're in the mood for a dessert wine, don't miss the exceptionally attractive Quinta do Noval LB Port, $5 by the glass only.)
Wine service was exceptional, casual but competent ... our server asked before pouring who should approve the wine rather than assuming that the man will do it. Then she filled the glasses properly, only one-third full, to allow plenty of room for swirling and nosing. (The glassware, too, is above average by local standards, not fragile but properly tulip-shaped and big enough to hold a decent portion.)
Dinner got off to a good start with a generous supply of thick-sliced Blue Dog bread and real butter, served in a napkin-lined wicker basket.
The first round of tapas came out fast, served in the traditional fashion on toasted slices of country bread. They're a little hard to cut with knife and fork, but there's no social rule against picking them up as finger food.
The anchovy tapa ($3) was no canned item but a good-size fresh, silvery fillet laid out along a long, oval slice of toast cushioned by chopped tomatoes with a tangy marinade, topped with a pretty swash of lemon-bright aioli (garlic mayonnaise).
The duck confit tapa ($3) became an instant favorite. Fine-shredded dark duck meat, juicy and rich, was served on a long narrow slice of crisply toasted rustic bread, topped with thin-sliced fresh scallions and a blend of dark-brown caramelized onion and, I believe, fine-chopped dates, a gently sweet addition that made a mouth-watering complement to the duck. I loved this dish, and idly speculated whether it would be possible to drop in for dinner and ask them to make me, say, $10 or maybe $20 worth of it. I'm sure they would ...
A larger tapa, seared beef tenderloin ($7.50) justified its price with generous proportions, perhaps enough for a light entree on its own. A thin slice of savory tenderloin was draped over a bed of sauteed onions on a good-size slice of coarse bread, topped with a smooth demiglace sauce and a sprinkle of melted, earthy blue cheese. The flavors went beautifully together and made a memorable match with the ripe black-cherry flavors and pleasantly "rustic" aromas of our Italian wine.
A shared house salad ($4.75) was straightforward but fine, a good-size mesclun mix of field lettuces tossed with a mild vinaigrette.
Another round of tapas? Don't mind if we do!
The potato, sausage and cheddar melt ($4.75) was a large enough portion to make a decent main course. A wide, shallow bowl was filled with chunks of tender new potatoes tossed with al dente squares of sweet red bell pepper and a rather stingy ration of sliced bratwurst-type sausage, all coated with a creamy mild white-cheddar melt.
The lobster-and-scallop sausage ($3) was a small but filling portion. Three thin oval slices of a white, silken "sausage" of lobster and scallop forcemeat were plated on a sweet red-pepper coulis and topped with three crisp gaufrettes, French-style waffled potato chips.
After all those tapas we still couldn't resist sharing an entree, and my head was turned until it spun by the wild mushroom lasagna ($12). It was a work of culinary art: bright red tomato puree painted on a wide plate with a circle of creamy bechamel as a bulls-eye upon which ws plated a thin but rich slab of vegetarian lasagna assembled from sheets of al dente pasta layered with ricotta cheese, chopped spinach and a few sliced wild mushrooms. It tasted every bit as good as it looked, with flavors and textures in perfect balance.
The desserts were inventive, too, the selection recited from a list that changes daily. I'm not usually a banana fancier, but a banana-chocolate won ton caught my eye, and I'm glad it did. Two good-size deep-fried phyllo packets surrounded a length of tender ripe banana coated in dark chocolate, plated on a chocolate and creme anglaise design and served with a creamy, not-too-sweet coconut sauce that perfected its flavors. It was a delight, one of the best desserts I've enjoyed for a while.
Oversize cups of foamy cappuccino made a perfect ending to an exceptional meal that came to $66.68 - probably double what a more normal dinner would cost here - to which we added a well-earned $13.32 tip. $$
(Updated December 2003)
ACCESSIBILITY: Fully accessible to wheelchair users.
<!REVIEW ENDS HERE!>
---