!REVIEW GOES HERE!>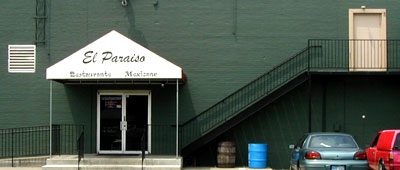 *** El Paraiso
6201-E Preston Highway
(502) 968-4873
On weekend nights, it's one of the hottest Latino spots in town, attracting Louisville's Hispanic community (and a lot of friendly Anglos, too) for salsa music and dancing. It's a much less frenzied scene by day, but if you like excellent Mexican food and you don't mind a bargain, it's well worth making the trip out Preston to El Paraiso.
It's not exactly easy to find it, though: The entrance to this popular spot is on the back side of the large, rather grim shopping-center building anchored by Benjamin's building supplies, requiring a couple of turns past looming block walls into a back parking lot. Where you might expect to find dumpsters and a loading dock, you'll discover instead the crisp white awning and bright-green wall facade of El Paraiso's front.
The interior, too, bears some resemblance to a warehouse that's been made over in a more welcoming style. Large, spacious rooms allow plenty of elbow room for dining or a dance. On the right, there's a large bar and dining area; straight back you'll find an even larger dining room. Compared with the rather exuberant style of many local Mexican restaurants, it's rather spare in its decor, with attractive adobe and sand-colored textured plaster walls and shoulder-high room dividers topped by artificial saguaro cactuses and real sombreros. A few attractive framed prints and a large mural or two complete the decor. Wood-grain tables are plain and undraped; western-style chandeliers hang from the high ceilings.
The menu offers a huge variety of close to 100 Mexican specialties, all in the affordable range with just about everything under $10, topping out with a couple of "loaded" fajitas for $11.50. At the budget end, "rapido" lunch specials (available 11 a.m.-2:30 p.m. Monday through Saturday) come as low as $3.50 for a variety of burrito, taco, enchilada, rice and bean specials. Dinner combos are $5.95 for about two dozen choices; Mexican entrees range from $6.99 (for most burritos) to $8.50 (for fried-pork carnitas).
The complimentary chips were excellent. They seemed to be homemade fried tortillas, crisp and salty, not at all greasy, with well-made salsas. The hot was not fiery enough to hurt but showed deep, vibrant and warm chile-pepper flavors; the mild was delicious, fresh and juicy tomato flavors laced with aromatic cilantro.
For a quick lunch, we stayed with the "rapido" specials. The "Speedy Gonzalez" ($3.50) included one of the best tacos I've ever eaten: A fresh, crisply fried corn tortilla was stuffed with juicy and flavorful ground taco beef, a bit of finely shredded lettuce, and a generous ration of grated white Mexican cheese. A small but hearty enchilada contained the same spicy beef rolled in a sturdy corn tortilla with a blanket of thick, mild reddish-brown enchilada sauce. Mexican-style rice was fine, too, cooked just right, each grain separate, with bits of onion and green pepper and subtle tomato flavor.
Lunch special No. 2 ($3.95) included a fat burrito full of the same savory chile beef, rolled in a flour tortilla and topped with a tasty and not overly fiery red-chile sauce. The accompanying refried beans beans were excellent, not hammered into a lardy mush but a textured delight, with tender individual beans retaining their integrity in a creamy sauce.
A filling lunch came to a bargain $10.28, and brisk but friendly service earned a $2 tip. It's definitely worth the trip around to the back of the building. $
(July 2001)
<!REVIEW ENDS HERE!>
---