!REVIEW GOES HERE!>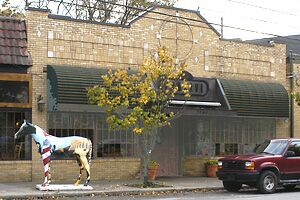 88

Porcini
2730 Frankfort Ave.
(502) 894-8686

<!REVIEW GOES HERE!> The recent arrival of Volare, the city's hot, trendy new Italian spot on Frankfort Avenue, prompted me to take a fresh look at Porcini, the still-hot, always trendy Italian spot that's been going strong for more than a dozen years just a few blocks east of its newer Italian neighbor on Frankfort's Restaurant Row.
A pleasant evening and filling Italian meal later, I'm pleased to report that Porcini is holding up very well in the competition: Crowded and emitting with a pleasant social buzz on an autumn week night, this local favorite fully satisfied with friendly service and a series of consistently fine dishes from Chef John R. Plymale. I found the dining significantly improved from earlier visits, and I'm delighted to upgrade my star rating and point grade accordingly.
Porcini's decor offers an appealing blend of Italian trattoria and upscale-casual Louisville neighborhood eatery, with a rustic Italian stucco-and-brick look along one wall and a head-high red-brick wall dividing the dining room from the bar section on the other side; an additional dining room and pretty outdoor patio have been added since my last review visit. Collections of wine bottles form the primary decoration, sitting atop antique shelves and standing along the irregular top edge of the brick divider. A red-brick grotto featuring an old-fashioned fountain (not unlike the landmark fountain at St. James Court) stands in front of the dining room.
A long banquette is upholstered in a bold, oversize floral pattern. Undraped black tables are closely spaced and furnished with simple wooden chairs; place settings feature good, heavy stainless flatware, white earthenware place settings and attractive tall water tumblers. Big cloth napkins are plum, or maybe pumpkin; it's hard to make out in the dim light. One thing's for sure, they're not-too-absorbent polyester, slippery enough to slide off your lap if you're not paying attention.
Overhead industrial-style hanging lights and tiny votive candles in small, clear glass globes on the tables provide tastefully dim lighting, to the extent that it can be difficult to make out the small-print menu and smaller-print wine list if you need bifocals. Servers dress in black slacks and shirts, with tasteful narrow ties.
The menu is appetizingly varied and reliably Northern Italian, with a good variety of seafood, fish and veal dishes and a somewhat narrower selection of red-meat choices to stand up to hearty Italian red wines.
A choice of seven appetizers range in price from $6.95 (for tortelloni alla matriciana or bruschetta) to $8.95 (for carciofi imbottini - shrimp-stuffed artichoke hearts - or our choice, calamari fritti). six insalata (salads) are $3.95 (for the verde or green salad) to $6.25 (for the mista or "mixed" salad).
Dinner dishes include eight pastas and 10 pranzo (main courses). The pastas range in price from $14.95 (for penne alla verdura, an appetizing vegetarian mix of summer squash, grilled wild mushrooms, spinach, tomatoes, roasted garlic, olive oil and Kentucky Asiago-style cheese over short penne pasta) to $19.95 (for cappelini con pesce, an equally appetizing combination of shrimp, scallops, mussels, fresh fish, clams and squid in a red clam sauce over thin angel-hair pasta). The main courses are $17.95 (for salmon with an orange-citrus sauce) to $29.95 (for a 14-ounce grilled veal rib chop).
One of these days I'll try a Porcini pizza. A menu of four, all $12.95, includes such gourmet-style goodies as carne (meat), pollo e carciofi (chicken and artichokes), and the "Giampaolo" ("John Paul") with fresh tomatoes, mushrooms and banana peppers.
Porcini really has two wine programs: A high-end Captain's List features well-chosen, impressive Italian and American wines, mostly, at breathtaking but appropriate prices for sought-after "Super Tuscan" wines and the like from good vintages, ranging up to $230 for the 2000 Ornellaia and $275 for the 2000 Antinori Solaia. A personal favorite, 2000 Tignanello, one of the grandaddys of the genre, goes for a special-occasion price of $135, a fair markup. Gaja 2001 "Promis" marks the low end of the reds on the captain's list at $65, an exceptionally fair markup for a wine that sells around $40 at retail shops.
Captain's list wines are served in good-size tulip-stype wine glasses, a presentation that unfortunately does not carry over to wines from the regular list, which are carelessly served in undersize, K-mart-style glasses poured brimful, leaving no room for swirling or sniffing.
I have no complaints about the regular wine list, however, which offers a reasonable collection of international wines by the bottle from $19 (for Beringer White Zinfandel) to $50 (for Raymond 2000 Napa Reserve Cabernet). Many are available by the glass from $4.50 for the Beringer to $10 for the Raymond, with glass prices set at one-fourth to one-fifth the price of a bottle. Ferrari-Carano "Siena," a California red made in an Italian style, is a favorite, worth the price at $8.50 for a glass, $40 for a bottle. I found an even better deal, though, in Monte Antico 2001 Toscano Sangiovese at $23 for a bottle (not priced by the glass).
We started, as we almost invariably do, with Calmari fritti ($8.95). All squid "rings," no tentacle-y bits, they're served sizzling hot and grease-free, crisply breaded in a light, tempura-like batter with a nice crunch that suggests the use of Japanese panko crumbs. Toothsome as well-cooked squid should be, not chewy-tough, it ranks among the city's top calamari starters; it's a Porcini signature dish, and rightly so. A large portion, plenty for two, comes with a bowl of glistening, translucent red chile sauce that's lightly spicy and, as in the past, infused with a dried-herb flavor that I'm not crazy about. It's easy to skip the sauce if it's not to your taste, though, and the calamari are perfect.
We split a mista salad ($6.25 on the menu but $3.50 each when split on two plates, a minor surcharge that we weren't informed about until the bill came). It's a well-made salad based on crisp, cold fresh arugula topped with a few thin-sliced red onion rings, a sprinkle of crunchy toasted pine nuts, a sprinkle rather pale tomato dice, a few bits of diced avocado and a mild, pleasant lemon vinaigrette, topped with a good ration of fresh, apple-sweet slices shaved from a block of Parmigiano Reggiano (and more is offered, if you like, along with cracked black pepper).
Warm Italian bread comes napkin-wrapped in a wicker basket. It's not Blue Dog, but a generous length from a decent Italian-style bread loaf with a tender-crisp crust and feather-light white interior with good wheat flavor. It was improved with a good-size dish of fruity golden olive oil and grated Parmigiano for dipping.
Dinners are served on large white earthenware plates, and we picked two good ones. (Recalling past disappointments, I erred on the side of caution by steering clear of tomato-sauced dishes.) The Vitello al Limone ($18.95) featured a very large scaloppine of veal, big as a flattened fielder's mitt (OK, I've been watching too much post-season baseball), tender as butter, coated with a glistening, sweet-tart, lemony sauce with plenty of tangy, salty capers. It was accompanied by a good-size portion of halved roasted fingerling potatoes and a pile of thin, crisp-tender, barely cooked haricots verts (I'm not sure why they used the French name to describe them) accented with sauteed strands of sweet onion strands and a pleasantly savory hint of something like bacon or maybe Italian pancetta.
Our other entree, Pollo alla Valdostana ($18.95), takes its name from the tiny province Val d'Aosta on Italy's far northern Alpine border, and like its namesake, it bridges the cultural and culinary gap between Italy and France. A small, tender chicken breast was semi-boned except for the attached first wing joint, slit open and stuffed with thin-sliced, salty prosciutto and a portion of earthy melted Fontina cheese, then grilled dark-golden brown. It was coated with a small portion of an intense red-wine reduction, billed as "Sauce Bercy," which seemed a bit odd since this classic sauce is traditionally a white wine sauce intended for fish. But this is mere food-geek nit-picking. Whatever it's called, the flavors worked, and the dish was memorable. It was accompanied by a small but rich portion of dense, creamy mashed potatoes and more haricots verts.
The previously mentioned Monte Antico 2001 Toscano Sangiovese ($23) went well with both dinners. Typical of the Tuscan style, it showed the mouth-watering tart black-cherry fruit that's typical of Chianti and its cousins in a food-friendly vino that was good for sipping between courses, too.
Desserts vary, so the menu is recited, not written down. The day's options included tiramisu, raspberry cheesecake, chocolate macadamia-nut torte, key lime Italian ice, raspberry sorbet, mixed-berry or Frangelico crème brûlée and a variety of gelatos. We shared a large scoop of cinnamon gelato ($5.95), which was served in a large wine glass - possibly the same glassware used to serve those who choose wine from the captain's list - decorated with several small slices of crunchy, anise-flavored biscotti. The ice cream has an excellent flavor, sweet cream with a haunting, not-overdone taste of chocolate, but it was on the dense and heavy side and granular with ice crystals, giving the impression of ice cream made in freezer trays rather than an ice-cream maker. It was good, though, and between us we made short work of our serving.
The espresso machine was broken, so we skipped coffee and ended up with a tab for two of $87.77 - almost exactly the same as our last review trip to Porcini - to which we added a $18.23 tip for professional and friendly but not intrusive service. $$$
(October 2004)
ACCESSIBILITY: The main dining room and bar are fully accessible to wheelchair users, but there's a step up into the new auxiliary dining room; and the newly constructed brick patio outside was built with two steps barring wheelchair access; a side gate has a steep ramp but appears to be kept closed.
<!REVIEW ENDS HERE!>
---