!REVIEW GOES HERE!> *** Rocky's Italian Grill
715 W. Riverside Drive Jeffersonville, Ind.
(812) 282-3844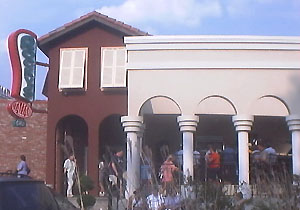 The booming Southern Indiana riverfront scene, with its river breezes and great views of Louisville's skyline and developing waterfront, got a boost a few months ago with the arrival of Rocky's, a dramatically expanded evolution of Jeff's old, familiar Rocky's Sub Pub, which closed its old quarters upriver (near the Jeffboat plant) and moved to the trendy riverfront.
This longtime Southern Indiana favorite has been popular for years on the basis of its fine pizzas (served atop Rocky's trademark stands that tower the pie over the table like a small umbrella), excellent bottled beer list and limited selection of Italian-American entrees.
I'm pleased to report that the pizzas are as good as ever and the Italian-style dishes perhaps just a little better. The beer list is a little shorter (but still has plenty of microbrewery favorites including Sam Adams and Sierra Nevada), and the atmosphere is still noisy and happy, if perhaps just a bit more uptown. (Don't worry, you'll still feel very comfortable there in a T-shirt and shorts.)
The new place is large, a stucco building with a peaked roof, shutters and pillars, with an outdoor bar and terrace that would do justice to a Roman villa. Inside, multiple rooms and a large bar spread through several levels, but just about every table is situated to catch at least a glimpse of the river view. Large tables are bright pastel to match the '50s style Fiestaware, and the food - well, let's say that food snobs might scorn it in favor of "authentic" Northern Italian, but for the rest of us, this hearty fare is the kind of Italian-American cookery that we grew up with and loved. The menus declare that it's "a taste of Little Italy," and I'd say this affectionate salute to New York City's old and now touristy Italian community is significant. Sure, it's more like Mulberry Street than Milan. What's wrong with that?
This is not just hearty but affordable fare: The entrees are all under $14.95, and pizzas start as low as $7.55 for a plain cheese 12-incher, adding $1 for each additional topping. The wine list, like the food, isn't gourmet-style but functional. I would avoid the few high-end bottles - $40 is a bit of a markup for Brolio Chianti Classico Riserva - but there's plenty to choose from in the under-$20 range, including a festive wicker-wrapped Ruffino Chianti for $15. Table wines are also available by glass or affordable carafes, and the beers range from $2.75 for domestics to $3.75 for most of the micros.
A small Caesar salad ($2.75) was fine, a reasonable portion of crisp lettuce topped with crisp croutons, shredded Parmesan and a light Caesar dressing, not particularly piquant but sweet and creamy. A house salad, which comes with entrees, looked pretty much the same, but was dressed with a house pesto sauce, flavorful with basil and oil. A crusty oval loaf of chewy Italian bread came in a white paper bag as if fresh from an Italian bakery; our friendly server poured a little olive oil onto a plate and showed us how to add Parmesan cheese and black pepper for dipping.
A lemon chicken entree ($11.95) was excellent, with several finger-size pieces of white chicken meat dusted with a light, velvety coating and sauteed, then placed over a generous mound of penne pasta with a tangy, light lemon sauce and capers.
A small pizza with onions, anchovies and Italian sausage ($10.95 with the toppings) was also first-rate, with generous portions of savory tomato sauce and all topping ingredients on a crisp but rather bready crust. (Whole-wheat crust is also available.)
The portions were so large that we took about half of our dinner home in carry-out boxes and still passed on the short dessert menu. All these eats came to an affordable $35.86 for two, and very friendly and helpful service (even if somewhat harried on a busy weekend night) earned a $7 tip. $$ <!REVIEW ENDS HERE!>
---