!REVIEW GOES HERE!>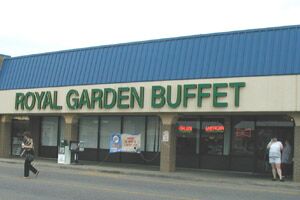 ** Royal Garden Buffet
5717A Preston Highway
(502) 969-3788
We realized that Royal Garden wasn't going to be your typical Chinese buffet just as soon as we walked up and saw the word "ITALIAN" in bright neon in the front window.
My wife fretted. "Are you sure this is the right place? The sign says 'Italian'! See, right there: 'Italian'!"
But it was the right place, all right, as the sign inside explained: Royal Garden features a Mongolian grill, seafood, BBQ, Chinese and American dishes and Italian.
It's a pretty good buffet, too, not quite as fancy in its decor as some of the East End eateries in this proliferating market niche, but it makes the right moves with a few massive crystal chandeliers and oversize illuminated pictures of Chinese landscapes. It's a large space in the Indian Trail shopping center, long and low, with pink and green indirect lighting overhead, and large tables with green marble-pattern formica in regimented rows, set with big red-lacquer chairs.
The buffet and associated service bars fill the back of the room, loaded with eight buffet tables highlighted with illuminated bright-green strips and drawings of pandas. The buffets offer quite a variety: Ingredients for the Mongolian grill; a raw seafood bar; a salad bar and a dessert bar; American-style and yes, Italian dishes; and the rest is a variety of Chinese, including stir-fries and rice, fried tidbits, soups and dim-sum-style buns and dumplings. Buffet dishes are labeled with casually scrawled titles, a few of them unintentionally chuckleworthy - steamed pork bans, for instance ... not to mention wanton soup.
I gluttonized joyously, cutting a swath through the buffets four or five times while my more delicate spouse confined herself to a couple of genteel passes. Here's my report on the items we tried, with the more memorable items highlighted in bold.
The raw bar features spicy, tender mussels and firm, sweet shrimp in the shell on ice, plus a small variety of sushi-style rolls. The sushi items were fresh but rather assembly-line in nature, featuring ersatz crab "shapes" and flattened shrimp on bland blocks of white rice and California-roll style rounds, carefully made if a bit routine. Typical of buffet sushi, there's no raw fish here, just crisp vegetables and cooked seafood on rice.
Won-ton soup was a startling bright yellow in color and very salty, swimming with bits of scallion and egg drop; the dumpling-like won tons are tender, with unidentifiable bits of mystery meat at the center.
Fried okra was fine, bite-size crunchy rounds with a nice, crisp cornmeal breading. Crab rangoon was well above the median, too, pretty four-pointed fried pastry rosettes with a steaming surprise of warm cream cheese and ersatz crab at the center, highlighted by a pleasant lemony tang; it was an unusually palate-pleasing combination of sweet, soft, crunchy and salty flavors.
A roast pork bun also passed muster: A tidbit of tender Chinese barbecued pork, sweet and savory and slightly spicy, forms a happy surprise in the center of a tender steamed wheat bun about the size of a golf ball. A "lobster roll" was soggy and greasy, though, a dab of unidentifiable seafood between layers of soggy streudel dough.
My wife's choice, steamed fish from the Italian-American table was boneless but overcooked and bland. Her stir-fried green beans were really excellent, though, tender and crisp. Sauteed button mushrooms, green-pepper chicken stir-fry, beef and peppers and a ration of white steamed rice were all straightforward.
Mongolian barbecue is a highlight of the Royal Garden experience. Select the ingredients of your choice from the buffet table - I went with a mix of thin-sliced beef, crab shapes, noodles, green peppers, a few peanuts and hot Hong Kong sauce - and the chefs cook it on a drum-like Mongolian grill until it's sizzling hot. This may be the best way to get a freshly cooked meal here, as it's done to order while you watch.
I couldn't resist an Italian course: Spaghetti was perfectly good, and the tomato sauce unusually light and fresh, a puree of ripe garden tomatoes, not the usual canned glop. The meatballs are amazing, as good as I've ever tasted, light and airy and full of flavor, with a hint of something Asian like soy and ginger - an Italian meatball made by a Chinese artisan who knows his way around the kitchen. We could eat a bunch of these. The other Italian dishes were less successful, though. A crab ravioli was soggy and fishy, and the good tomato sauce doesn't save it. A pizza slice was boring and flabby, like frozen pizza nuked in the microwave, then left to sit until it congealed.
So it was back to traditional chinese for the final round: Egg foo yung, a thin, leathery omelet studded with peas and carrots and served with thick, sweet brown gravy, whisked me on a nostalgia trip back to college days when foo yung and chow mein were about all we knew of Chinese. General Tso's chicken was tasty though, Chinese-style McNuggets in a slightly spicy reddish-brown sauce. Honey chicken also got two thumbs up, sweet-tangy chicken bits stir-fried until their edges turned crusty and brown.
It's mighty hard to complain about Royal Garden on the basis of value: The all-you-can eat buffet was just $5.50 each for lunch, plus $1 for iced tea, a total of just $12.73 for a mighty filling meal, and we left $2.50 for the friendly server who kept our table bussed and my tea refilled. $
(September 2001) <!REVIEW ENDS HERE!>
---