!REVIEW GOES HERE!> *** Santa Fe Grill
3000 S. Third St.
(502) 634-3722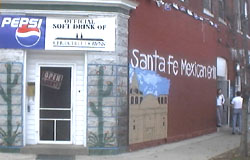 As Louisville's old South End quietly changes from an old, blue-collar Catholic neighborhood to the city's most vibrant multi-ethnic quarter, we all benefit from its growing array of genuinely interesting and truly authentic restaurants that range from Southeast Asia to Mexico.
One new arrival that really rings my chimes is Santa Fe Grill ("Taqueria y Tienda Santa Fe"). A tiny 10-table eatery in a century-old red-brick storefront across the street from one old South End institution (Holy Name Church) and just down the block from another (Churchill Downs), it never fails to satisfy with genuine Mexican tacos and other simple fare at prices that will leave you plenty of change for an exacta bet at the races.
Don't be daunted by its downscale appearance or the mostly Spanish-speaking clientele. It may be noisy, often featuring Spanish-speaking Univision on the television, Mexican music on the sound system and happy folks eating and chatting all at once, but it's sanitary and neat and the staff is invariably friendly, more than willing to meet you halfway as you seek to cross the language barrier. If all else fails, simply point to the wall-mounted menu with its assorted tacos ($1 each), burritos ($3.50), tortas ($3, when the bread is available), fajitas ($6.50) and a handful of other dishes.
We tried just about every taco on the list during a recent visit and loved them all, with al pastor (grilled lamb) and lengua (beef tongue) winning out as our favorites in a close race with also-excellent barbacoa (grilled beef), carnitas (long-cooked pork) and chorizo (spicy Mexican sausage). These appear to be Puebla-style tacos from rural Mexico, with the filling, lettuce and tomatoes rolled in two small corn tortillas and served with a pleasantly spicy green-chile salsa. They're a little harder to eat out of hand than hard-shell tacos, and the server will give you a fork on request, but this is finger food, and plenty of napkins are available.
Downscale or no, this currently ranks as one of my favorite Mexican eateries in Louisville, well worth a special trip to the South End. $ <!REVIEW ENDS HERE!>
---