!REVIEW GOES HERE!>

80

Sarajevo
3825 Bardstown Road
(502) 456-1919

A strong candidate for the title of tiniest eat-in restaurant in town, this four-table spot is more beer bar than eatery. But very fine meat-based Bosnian goodies like bureks (meat turnovers in flaky pastry) and cevapi (beef sausages) are worth a special trip to this ethnic enclave in Buechel. (For more about that, see below.)
And if you can arrange to get by when they're grilling a whole baby lamb over coals - an occasional weekend specialty worth calling to check out - based on the incredible aromas that wafted from the charcoal grill on the day of our visit, it will be an unforgettable eating experience.
The business is so small and informally operated that there's no sign over the door. Drive south through Buechel on Old Bardstown Road until just before Six Mile Lane, and watch for a short yellow-brick strip center on your left. Sarajevo is the last doorway back, with the patio tables out front and the barbecue smoker around the corner.
Inside it's dark and small, with an attractive little tile-topped bar angled across one side of the room and a large pool table taking up much of the floor space; two or three round tables draped in blue oilcloth and set with simple black dinette chairs fill most of the rest of the room. American pop music plays, and a few white patio tables shaded by bright green-and-white umbrellas are set up out front when weather permits.
The wall menu is brief: Bureks (pastry turnovers) are $3. Ground-beef Cevapi, Banjalucki Cevap and Cjleskavica are $5, Kovasice is $6, and a pound of Jagnjetina grilled lamb is $7. Don't know what they are? Neither did I, mostly, although I was able to guess at a couple based on visits to Bosnia's former Yugoslavian neighbor Slovenia. The friendly Bosnian proprietor, who speaks excellent English, will be happy to help.
We ordered two dishes and found them somewhat similar: Both consist of a round, white Bosnian wheat bun pan-fried until it's crunchy and hot, sandwiched with grilled beef. Cjleskavica is very similar to a lean hamburger, thin but meaty and flavorful; one large patty covered a big bun. Cevapi are small beef sausages roughly the size and shape of breakfast sausage links, about eight of them piled on to make a sandwich. Sandwiches are topped with a generous dollop of rich sour cream and served with a pile of rough-chopped raw white onions on the side. You could possibly pick them up and eat them out of hand, but cutting them up with a knife and fork makes more sense.
Mass-market American beers are available from the bar; we went with Segafreda brand Italian espresso, well-made and rich, and a blast-from-the-past Coke served from an old-fashioned 6-ounce green bottle in a classic Coke glass.
A leisurely Bosnian lunch was very filling indeed, a carnivorous midday repast that pretty much knocked out the idea of having much for dinner that night. And it all came to a thoroughly affordable $13.25, to which we added a $2.75 tip. $
(May 2003)
Ethnic Buechel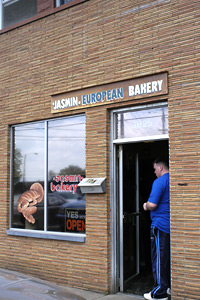 With the Buechel Bypass speeding Bardstown Road traffic around this Southeastern Louisville suburb's old commercial strip, many of us rarely get off the highway to explore what's new on old highway.



If you're a "foodie," I strongly recommend a detour the next time you're nearby, as this tree-shaded old neighborhood has taken on a distinct ethnic character that translates into good, and unusual, things to eat.



Right next door to Sarajevo, Jasmin European Bakery, 3825 Bardstown Road, (502) 458-0013 (same street address but a different entrance door), is an excellent, artisanal Bosnian bakery offering a handsome selection of large and small loaves, braided loaves and buns, presided over by a friendly and helpful Bosnian woman with excellent English.



A small back room turns it into a delightful little cafe with four or five round tables draped with floral-pattern cloths, simple decor including a painting of what looks like a Sarajevo scene on the wall. No menus, she said, just gyros carved from meat on a vertical roaster in the front room. It looks tempting, we'll give it a try another day. We took home a braided loaf, and they threw in two for the price of one (50 cents). It's fresh European-style white bread, crusty and simple, best to eat it up pronto while it's soft and fresh.



In the same block you'll find Dixie Oriental Grocery, 3900 Bardstown Road, (502) 473-1922, a Chinese grocery so ethnic that it could be in New York or San Francisco's Chinatown. Its cluttered shelves contain just about any Chinese ingredient you could want (including fresh produce and mostly frozen meat, fish and poultry at the back), although it's not always organized, and the staff's command of English is irregular at best.



And there's still more ... Golden Key International Food Market, a little storefront at 3821 Bardstown Road, (502) 485-9009, is a small but crowded specialty-food store run by a friendly and English-fluent Russian couple. It offers a variety of exotic goodies and specialty foods, primarily from Russia and other Slavic countries of Eastern Europe but extending also to France, Italy and beyond.


<!REVIEW ENDS HERE!>
---