!REVIEW GOES HERE!>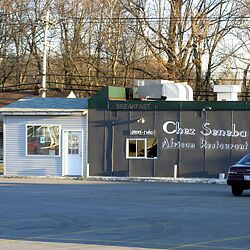 85

Chez Seneba African Cuisine
1215 Gilmore Lane
(502) 968-8659

If the idea of discovering a new ethnic cuisine appeals to you, and you don't mind traveling a little out of your way to find something unusual, or chowing down in a spartan setting to enjoy it, then you'll want to make the trip to Chez Seneba as soon as you can.
Chez Seneba adds an intriguing new ingredient to Louisville's increasingly international dining scene: You'll find friendly folks serving generous portions of filling, spicy Senegalese cuisine from West Africa.
It doesn't look like much from outside - the free-standing building looks like it might have been fashioned from the back end of an 18-wheeler with the wheels taken off, parked in front of a small shopping center at Preston and Gilmore Lane, about a mile south of the Watterson Expressway.
There's just enough room inside for three tables for four with heavy metal chairs, and a big kerosene heater that offers much-needed warmth on chilly days. The decor is low-budget but bright: The tables are draped with pretty batik-style African fabrics under well-worn protective plastic, and the walls are freshly painted a bold Pepto-Bismol pink, decorated with a few attractive pieces of African folk art. Afro-pop music in the background is fun, not too loud, but it sometimes conflicts unfortunately with local news on a small television in the corner, accompanied by ghostlike images pulled in, sort of, by a pair of rabbit ears.
A black-painted serving window remains closed, making the place seem a bit unwelcoming at first, but when I went up and stood nearby it popped open to reveal a friendly and helpful West African woman who smilingly explained the unfamiliar items on the menu.
Actually, although it seems intriguing and exotic, West African fare isn't entirely unfamiliar, given that a lot of American Southern cooking has at least some of its roots in West Africa. Most dishes are aromatic and spicy but not unbearably fiery (although they'll give you a little cup of harissa sauce that will make your eyes light up if you want to make that happen). It's not particularly vegetarian-friendly, as just about all dishes include meat, poultry or fish, but there's at least one meatless couscous option on the bill of fare.
Every lunch and dinner choice on the short menu is $7 or $8 save for one $10 braised fish dinner, and portions are so huge that a single lunch is plenty for two to share. The food is so interesting, though, that we can't help ordering way too much, knowing that we'll take big portions of leftovers home to enjoy another day.
No alcoholic beverages are served, but iced water is available by the pitcher, and a couple of West African beverages are appealing. A ginger-root drink ($1) seems to share its roots with Jamaican fresh ginger beer, and "bissap," made from the herb sorrel, is a dark, clear cherry-color drink with a minty aroma that bears an eerie resemblance to the Lavoris mouthwash my dentist used to use. It's good, though, sweet yet slightly bitter with an elusive hint of cinnamon, a surprisingly good and quenching accompaniment to the African fare.
A favorite appetizer, neems ($3, pronounced "Nem"), seems more Asian than African. They're small eggrolls made with translucent rice pastry rolled around ground meat and rice noodles and deep-fried, served over a salad. Another appetizer, Chawarma ($3), seems to trace its name and heritage to the Middle East, a flatbread dish stuffed with spicy ground meat.
Maffe ($7, pronounced "Mah-fay"), available only Mondays and worth a special trip, is lamb stew with big chunks of tender, long-cooked lamb with the bones in, plus cubes of potato and a whole cooked carrot. The savory peanut sauce is thick and slightly sweet, showing a little red oil that glistens on top, but who's counting calories? It seems right for the dish.
Thiebu Jeun ($7, sounds like "chebu jun") is another West African standard, Djolof rice (raw rice broken into tiny pieces in a mortar, then cooked with tomatoes and spices, bearing a close resemblance to couscous). A mound of this rice is topped with a big crosswise chunk of fresh fish, with the skin and a few sharp bones, plus carrot and yuca and a big chunk of cooked cabbage.
A gigantic serving of "African-style" Fried chicken ($7) includes a breast and wing and leg quarter. It's skinless, not breaded, simply seasoned with black pepper and spices rubbed on and poked into slits in the meat, then deep-fried until it's crisp, garnished with a hard-boiled egg and served with a bowl of cold, crisp onion slivers quickly "pickled" in tart-sweet vinegar.
Couscous is a standard rendition, a big bowl of the North African pasta studded with bits of peas and carrots, corn kernels and baby limas, garnished with half of a hard-boiled egg, sliced green peppers and tomatoes, and served with a bowl of coarsely chopped onions cooked in a tangy sweet-sour sauce to spoon over the couscous. The unexpected flavors work and play together well, making this one of those vegetarian main courses in which you don't miss meat.
Other interesting dishes include dibi ($8), grilled lamb on rice; and, on Sundays only, soup kandja ($7), mixed beef or lamb in a gold palm oil sauce flavored with chopped okra served over white rice. Not for the wary is soupou ($8), "soup of vegetable, lamb chops and cow feet with green onions."
As noted, prices here are downright cheap, particularly considering the vast size of the portions. We spent a little over $15 for dinner for two, and $14 even for lunch another day, and you've just about got to twist the gentle proprietors' arms to persuade them to take a modest tip. $
(January 2004)
ACCESSIBILITY: Wheelchair users should have no problems with this tiny restaurant's grade-level entrance door. There doesn't appear to be a public restroom.
<!REVIEW ENDS HERE!>
---