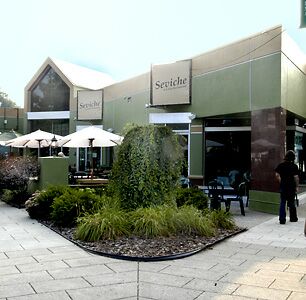 95

Seviche
(formerly Jicama Grill)
1538 Bardstown Road
(502) 473-8560

<!REVIEW GOES HERE!> I for one am absolutely delighted that Jicama Grill is open again, even if I do find it profoundly difficult to remember to call this popular Nuevo Latino spot in the Highlands by its new name, Seviche A Latin Grill, or just-plain Seviche for short.
After all, there was little reason for owner and Chef Anthony Lamas to make big changes in a wildly popular concept, which closed abruptly in March 2005 after Lamas and his longtime partner, "Jun" Eugenio, had an angry falling-out, much of it played out noisily in public in the LouisvilleHotBytes.com Louisville Restaurants Forum. A legal wrangle over the lease, followed by a mysterious midnight act of vandalism that destroyed much of the restaurant's interior, led to a long dark period as Lamas and crew put the place back together.
It reopened three months later, with cool, somewhat renovated decor, essentially the same menu, and a new name that honors Lamas's culinary specialty, seviche, a delectable Latino fish and seafood dish, about which you'll find more below
In its first month of resumed operation, Seviche has been "slammed" virtually every night with happy diners. I've been among them, repeatedly, and am delighted to report that Seviche still fully lives up to the four-star rating that I bestowed on Jicama; in fact, I've added a couple more grade points to honor both Lamas's growing sophistication and a perceptible improvement in the front of the house, which seems to have mastered service issues that frequently took the charm off otherwise excellent dining experiences at the previous operation.
When Jicama opened in 2001, I rated Lamas as one of the city's most promising young chefs. Now I'm ready to declare him one of Louisville's best chefs, period, without the generational modifier. I'm delighted that he's back.
As noted, there've been some changes in the decor, but they're subtle and evolutionary and don't really change the familiar mood, and that's good. The building, which housed the short-lived Ermin's and equally short-lived Aladdin's before Jicama's arrival, is relatively modern compared to many of its Bardstown Road neighbors, and its more recent construction pays off in large plate-glass windows that afford lots of light by day and good views of the happenin' neighborhood by night. Like other shops and eateries along this stretch, the lot lines aren't perpendicular to the street, so walls meet at odd, intriguing acute angles.
The rebuilt bar, which separates the space into two rooms, is faced with quarry tiles. Walls are textured gold-on-bronze and decorated with simple mirrors and a few good art pieces - the back, non-smoking room currently features an attractive impressionistic-abstract scene of a Mediterranean (or South American?) seaport village. Hanging lamps with artfully worked amber glass add an attractive touch.
Tables are spaced rather close to squeeze in crowds at this popular spot; they're turned diagonally, draped in light white tablecloths with yellow cloth napkins and furnished with attractive shiny red wood chairs. Servers wear all black, like kabuki stagehands.
Seviche is open for lunch and dinner, with an extensive selection of seviches, of course - nearly a dozen of them (plus daily specials) - appetizers and salads that appear to be identical at midday and evening, plus a somewhat abbreviated list of main dishes for lunch that becomes more expansive (and a bit more pricey) at dinner time.
SEVICHE: MAKE YOUR OWN?
In my excitement over the joy of seviche at Seviche, I was inspired to try making this Latino dish at home, and wrote about the experience - along with a mini-review of the restaurant - in my free-subscription E-letter, "The 30 Second Wine Advisor's FoodLetter" on WineLoversPage.com.



If you'd like to read the recipe, click here. To subscribe, full out the short form on this page.

As I recently wrote in my food-and-cooking E-letter (details at left), it's only half a joke to dub seviche "Latino sushi," athough it's not quite raw: In an ancient Peruvian and Ecuadorian tradition, fish or seafood is marinated in citrus juice, literally "cooking" in the sharply acidic marinade. It's pronounced "Seh-vee-che" and is alternatively spelled "ceviche" or "cebiche" - Lamas's menu offers all three choices.

If you're squeamish about sushi, you may gain reassurance from knowing that seviche turns firm and opaque under the marinating process, losing its raw translucency and texture. (It's only fair to point out that the seviche process does not eliminate the occasional parasite that makes sushi problematic for the cautious. Whether you're making your own or enjoying a restaurant meal, it's always wise to patronize quality, responsible vendors.) But if you love sushi, then I think you'll be smitten by seviche. It's a light, fresh and appetizing dish, cool and subtly complex in textures and flavors, perfect for summer but delicious year-round.

Lamas's selection of seviches range in price from $9 (for Ecuadorian-style rock shrimp) to $13 (for a variety of options that range from fairly traditional spicy blends of marinated fish, tomatoes, onions and piquant spice to innovative, out-of-the-box variations like an oyster "bloody Mary shooter" with tomato vodka horseradish broth ($11, and it doesn't mention whether they'll "card" you first) or a meat seviche, beef tenderloin with serrano chile peppers, red onion and toasted garlic mojo vinaigrette ($13).

The rest of the menu follows the same Nuevo Latino style, a creative blend of flavors from Spanish-speaking cultures throughout the Americas, kicked up with Lamas's own inventions. Ten aperitivos (appetizers) are $6 (for beef and potato pastry turnovers, empanadas) to $11 (for calf's liver with a demiglace of caramelized onions and Dijon mustard and Maytag blue cheese, garnished with giant Peruvian lima beans). Salads are $6 (for a retro iceberg lettuce wedge or an intriguing green-chile Caesar tossed with toasted pumpkin seeds) to $9 (for an Argentine-style treat, wild greens topped with bacon, crispy potato and a poached egg). A baker's dozen of main courses are $13 (for Puebla-style mahi-mahi tacos) to $29 (for macadamia-crusted sea bass or filete al Poblano, grilled beef skirt steak with chimichurri, a deliciously spicy Argentine vinaigrette.

The lunch main-course list drops to 10 items, most of them under $10, and including some interesting choices not available at dinner, including a lomito (Argentine steak and egg sandwich, $9), pulled chicken tostada ($9), and a great vegetarian option, a portabello torta with crispy onions, a roasted poblano pepper and cumin-lime aioli.

Like a lot of Louisville's other top chefs, Lamas is a strong supporter of local artisanal food producers, uses their wares and credits them by name on the menu: Sheltowee Farm mushrooms, Capriole goat cheeses, Creekstone Farm beef and more.

Seviche's wine selection appears little changed, with several dozen mostly New World selections at reasonable markups, about two-thirds of them available by the glass at a consistent one-fourth of the bottle price. It's a little less adventurous than I would really like - the list of whites is dominated by Chardonnay, for instance, and little more offbeat than Sauvignon Blanc or Pinot Gris/Grigio.

A few pricey items seem placed to attract unskeptical high-rollers ($300 for a Penfolds Grange, $170 for Caymus Special Select and $120 for Silver Oak Cabernet; no vintages were given, a serious lapse for wines of this level, but a server said that's a temporary issue related to the reopening and will be corrected soon.) Most of the list is more rational, with many serviceable options in the $20s, starting with Los Baldos Chilean Sauvignon Blanc ($5 a glass, $20 a bottle) to $7.50 a glass ($30 a bottle) for La Crema Sonoma Chardonnay, an upscale bottling from Kendall-Jackson's portfolio. For those looking for alternatives to the usual grape varieties, try Villa Maria New Zealand Riesling ($7 and $28) or, from California, R. H. Phillips EXP Viogier ($6.50/$26).

We've been so focused on seafood and fish in early visits that I haven't even ventured onto the red side of the list, but - excepting those high-end trophies - it looks promising, with Mondavi Cabernet Sauvignon at $52 for a bottle, and Beringer Knights Valley Cabernet Sauvignon topping the by-the-glass list at $9.50 ($38 for a bottle). DeLoach Pinot Noir looks like an attractive value at $5/$20, and it's doable with some seafood dishes including tuna, salmon and mussels.

The beer list includes a few good choices like Sierra Nevada Pale Ale on draft and Jamaican Red Stripe in the stubby brown bottle ($4.50), but Seviche's fine seafood dishes really call for a good white wine. I dithered for a while, not really excited about a Chardonnay or a Sauvignon Blanc and finally settled on a bottle of King Estate Oregon Pinot Gris ($24, or $6 for a glass), a relatively full-bodied and aromatic rendition of the grape, which went beautifully with a variety of seviches and other ocean-based goodies.

As I mentioned, between the seviches and appealing fish, seafood and vegetarian appetizers, we haven't even tested Lamas's mettle with red meat on several visits, but I wouldn't hesitate for a minute if I were in the mood. Among items we've tried:

Chino-Latino tuna seviche ($13) was served in a fried won-ton pastry formed into a cup and dropped into a martini glass. It consisted of fine, beef-red sushi-quality fresh tuna, marinated with red and yellow tomato dice and red onions in a tangy-piquant (wasabi lime mustard) marinade. It gained a nice texture contrast from crisp diced cucumber that I'd guess was stirred in at serving time.

A seviche special of the day, red snapper ($13) was served in a shallow dish garnished with an orange round, a long green chive and a pair of crispy-fried corn tortilla halves. The tender-firm off-white fish dice were marinated in tart citrus with neatly diced red and yellow tomatoes and sliced hearts of palm; its traditional seviche marinade added a gentle citrus snap.

Both were absolutely delicious, so good that I could hardly stand to leave the tasty juice in the bottom of my glass. (Actually, in Latin countries, this succulent liquid is nicknamed "tiger's milk," and it's considered entirely appropriate to lift the bowl and enjoy it, straight or perhaps enlivened with just a taste of tequila.)

All the dishes were artfully displayed on large shiny earthenwhere plates, some off-white, some black, a few in retro pastels, many garnished with a free-form stripe of thick red hot sauce.

A seafood main dish, Mahi Mahi tacos ($13) featured two Puebla-style tacos, grilled fish topped with a tart-tangy red-cabbage slaw and arranged open-face atop two pairs of small corn tortillas. On the side was served a simple mound of pale-tan rice studded with chopped scallions and a few niblets of yellow corn, garnished with a single grape tomato and a wedge of lime.

I settled on two appetizers in place of one main dish: The first was rocoto chile-rubbed shrimp ($10) consisted of five large shrimp, tails on, dry-rubbed with aromatic herbs and piquant Peruvian spice, grilled just so. They were served on a tangy chimichurri, a piquant coarse puree of parsley, garlic and onions, vinegar and something hot-and-spicy, garnished with a thick round of fresh yellow tomato and a dab of fresh salsa - red and yellow tomatoes and onions - framed by a small tent of crunchy strips of raw jicama. My other item, chicharrones de calamares ($8), a Latino take on fried calamari, came on a stylish black triangular plate. A good-size ration of lightly breaded and crisply fried tempura-style squid rings (and just a few tentacley bits) were tossed in a light, slightly spicy sauce with strips of red and yellow bell pepper and onions, a few black olives and a bit of chopped scallion. It was garnished with a peperoncini pepper and a lime wedge; small black bowls contained a thick spicy mayo (cumin-lime aioli) and a thin hot-sweet chile sauce for dipping.

It's worth noting that everything we've ordered is piquant, ranging from gently spicy to rather hot - not Thai five-pepper hot, but warm enough that if you're tender-tongued or wary, you may wish to discuss your order with a server before committing to a particular choice.

Everything else was so good that we had to try desserts, and we weren't disappointed. Chocolate tres leches ("three milks," $7) was served in a blue martini glass, a scoop of rich, dark chocolate ... umm ... bread pudding? Souffle? Something in-between ... sweetened with condensed milk and topped with fresh strawberries and blueberries, decorated with a crispy tuille cookie and a sprig of mint. Flourless chocolate cake ($7) was fine, too; a dense but delicate wedge topped with an odd but intriguing thick paste that seemed almost like a mix of caramel, coconut and rolled oats. It was hard to puzzle it out, but it was delicious, whatever it was.

Espresso ($2.50) was exceptionally good, rich, chocolatey and dark and searing hot, topped with a proper golden crema foam, as good a shot as I ever sipped.

An excellent dinner for two with a decent but affordable bottle of wine from the low end of the list came to $104.56, and cordial, competent service received a $25.44 tip.

It was so good that we couldn't resist going back another evening for more seviche, and as it turned out, other good things too. This time, through careful planning (no main course, a shared dessert, and a couple of beers in place of a bottle of wine), we managed to hold the cost to about half that of a full dinner, making for a relatively affordable upscale evening.

This time we decided to dine on Seviche's sprawling patios. Outdoor dining can be a little iffy during an Ohio Valley summer, but on an evening in the low 80s, it's livable, especially after the sun dropped behind the building and put us in the shade. If I were looking for nits to pick, I'd note that smokers congregate at the patio tables to the extent that the air can get pretty blue even with a summer breeze blowing. For some reason, outdoor diners also seem to feel more free than their indoor companions to jaw endlessly (and loudly) on their cellphones. And the occasional bellow of an unmuffled exhaust system or a pounding car radio (too seldom pursued by screaming police sirens, alas) can make conversation difficult. But all that being said, it's still pleasant on the patios as twilight falls and the setting sun lights up the billowing cumulus clouds that spread across the summer evening sky.

The patios resemble a suburban deck writ large. Most tables are placed a step up on wooden platforms bordered by low fences, broad boards painted dark chocolate with caramel-icing trim, shaded with attractive canvas patio umbrellas (you'll find no plastic Cinzano advertising bumbershoots here). The patio tables are heavily constructed from durable 1x4s, and scattered planters are lush with fresh herbs - basil, oregano and more. Inexpensive green plastic stacking patio chairs make a slightly incongruous touch amid the otherwise more stylish environs, but they get the job done.

A vegetarian appetizer order of wild mushroom and goat cheese empanadas ($9) came on a pretty seafoam green triangular plate. Two golden flaky pastries, baked in the classic half-moon empanada form with the seam turned into a neat braid by fork-tine imprints. They were stuffed with an earthy blend of local artisanal goodies: Indiana Capriole goat cheese and Kentucky Sheltowee Farm wild mushrooms, chopped fine and mashed into a coarse paste and plated on a circular swash of thick, spicy sundried-tomato-basil chimichurri that could have passed for a marinara sauce with a Latino accent, decorated with dabs of mild white Capriole goat cheese.

Tortilla soup, a soup of the day ($7), was served in a large, shallow white soup bowl. Tinted a pretty greenish-chartreuse, it was piquant but not fiery, accented with deep green-chile and olive oil flavors, and studded with julienne strips of toasted corn tortilla, diced red and yellow tomatoes and tender boneless chicken breast meat, bits of red onion and delicately earthy wild mushrooms and a garnish of fresh cilantro. It was a triumph, right on in flavor, so good that we were tempted to lick the bowl.

And of course there were seviches. First up was another daily special, corvina ($13), the tender, white-fleshed Pacific Ocean fish that's the traditional seafood base for the original Peruvian seviche. A small but ample mound of fish, soaked in a tangy, hot-and-spicy marinade just until it turned opaque (not more than an hour, I'd guess), was topped with red and yellow tomato dice, chopped red onion, a bit of minced cilantro and a few rounds of tender, sweet hearts of palm. It's garnished with an orange round and a single long chive, along with another variation on the crunchy theme, two half-moons of crisp Indian red-lentil pappadams.

Our other seviche, halibut tiradito ($13) could be called Peruvian sashimi: It's not marinated but sushi-raw, and that was perfectly OK with us. About a dozen thin, pure-white, paper-thin strips of perfectly fresh halibut were aligned in six neat rows on a black-and-white rectangular plate, drizzled with a gently spicy, aromatic Asian-style sauce that seemed to incorporate light soy sauce, maybe a touch of sesame oil, perhaps a dash of vinegar, and a sprinkle of very finely minced hot peppers and chives. As befits its Asian style, it was served with chopsticks, and it was a delight.

Dessert? Don't mind if we do! A large, thick wedge of flan ($7), a classic Spanish/Latino creamy caramel pudding with a dark-caramel coating, was garnished with fresh raspberries, strawberries and blueberries. It was creamy, silken but dense, pure essence of dark-cooked sugar and creamy condensed milk. Espressos were almost as good as the other night, maybe just a bit more strong and bitter this time, but who's complaining?

With two Red Stripe beers ($4.50 each), this lighter meal came to $53.52, to which we added a $12 tip. $$$$

(June/July 2004)

ACCESSIBILITY: Grade-level entrance is accessible to wheelchair users, but patio tables may partially or completely block access from Bardstown Road, a small but troubling issue that should be easy to correct. Only the larger (unisex) restroom has a toilet equipped for disabled guests. Smoking is permitted in and around the bar, and some tables in the purported non-smoking area are within feet of smokers; smoking is permitted throughout the patio. Ask for seating in the room away from the bar if smoke is a concern.

<!REVIEW ENDS HERE!>
---