!REVIEW GOES HERE!>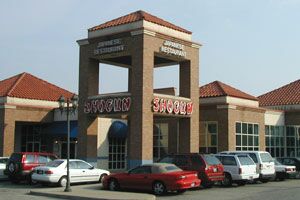 ** Shogun Japanese Steak House
9026 Taylorsville Road
(502) 499-5700
A rather typical shopping-center franchise Japanese restaurant in appearance, Shogun features several rooms including a cozy L-shaped birch sushi bar with about 15 seats; two dining rooms, one designated non-smoking; and a teppanyaki grill room where chefs juggle knives and pepper mills as they prepare your dinner.
The decor is attractive, with light birch wood trim and white paper shoji screens framed in black wood. In the entry area, a tinkling stone fountain tumbles down a wall that looks like bedford stone into a figure-eight-shaped above-ground pool (complete with white and golden koi carp) spanned by the short arc of a Japanese bridge.
It's pleasant enough, in short; unthreatening enough to appeal to those who find exotic cuisine "challenging," but good enough to satisfy just about anyone who has a craving for a Japanese dinner or a bit of sushi.
Grill room dinners are $8.95 (for a vegetarian dinner) to $22.95 (for Shogun steak or New York steak and lobster tail).
The a la carte Japanese dinner menu offers a couple of dozen assorted appetizers and sides, from $1.25 (for an order of steamed rice; $2.50 for fried rice) to $7.25 (for softshell crab, lightly battered and deep-fried). It's quite a diverse array, from tame (breaded deep-fried shrimp for $4.75) to challenging (shirashu oroshi, described as "dried anchovy over grated radish" for $4.25). Eight entrees are $9.50 (for tonkatsu, breaded pork cutlets) to $15.95 (for a sashimi plate). Five combination dinners are $14.95 to $19.95, and special dishes cooked at tableside for two include sukiyaki ($18 a person) and shabu shabu ($23 each).
The sushi menu includes about four dozen items and is essentially the same as most of the competition. I don't know who copies whom, but with the exception of the extensive menu at the new Bardstown Road Sapporo, just about every sushi bar in town seems to have the same menu these days. Shogun's rendition offers two dozen nigiri (fish on rice balls, served in pairs) from $1.25 (for quail egg sushi) to $6.50 (for the pricey sea urchin). A dozen maki (seaweed-wrapped rice rolls with fish or other ingredients in the center, served sliced into six rounds) are $3.25 (for cucumber kappamaki) to $7.50 (for a multi-ingredient, oversize Rainbow Roll). Conical, eat-from-hand rolls are $3.75 to $4, and full sushi (fish on rice) and sashimi (plain hand-cut raw fish) dinner selections range from $7.50 to $22.
In a nostalgic evocation of the '69s, Shogun's full bar service offers "house specialty drinks come in a takehome porcelain container for $7.95. We decided not to go there, opting for steaming green tea, which came in a pretty little turquoise pot with hefty ceramic mugs.
Dinners come with miso soup and Japanese-restaurant salad. Steaming cups of miso were "meaty" as you expect from this soy-based soup, full of delicate green seaweed leaves and tofu dice. Salads were crisp, cold iceberg lettuce and shreds of red cabbage and carrot, swimming in a tasty sweet-sour orange-ginger dressing.
We found a small sampling of sushi very well-made, with delicate and fresh fish. Yellowtail literally melted in your mouth; tuna was sweet and firm as rare beef. Octopus was appropriately chewy, with a good delicate flavor.
An appetizer order of gyoza (potstickers, $3.95) brought a half-dozen pretty little pastry halfmoons, pan-seared until crunchy on the bottoms, with a savory, fine-ground pork and cabbage filling and the standard soy-vinegar sauce for dipping.
Spotting one of the more challenging appetizers, shishamo ("boiled 'half-dried' sardines," $5), my wife exclaimed "I want that!", somewhat to my surprise. It proved to be four exotic looking fish, not the traditional canned sardine but larger, silvery baby herring, heads and all, broiled to a crunchy crisp. I tried half of one and found it interesting but a bit fishy for my tastes; my wife eats them like chocolate bunnies, starting with the heads.
A mackerel saba entree ($10.95) consisted of two grilled boneless fillets of rather heavily salted mackerel, an oily, strong-flavored fish that's not to everyone's taste; but we like it, and this is fresh and good. The accompanying mound of crispy vegetables was adequate if less inspiring. Chopstick-size pieces of yellow summer squash and green zucchini, carrot slices and button mushrooms and a few overcooked broccoli florets were tossed in a light soy-based sauce and a sprinkle of toasted sesame seeds, with a side garnish of iceberg lettuce and pale tomato slices.
Service was friendly enough but rather mechanical. Water glasses went unfilled; toward the end of the meal, we were asked if we wanted a green-tea refill, but it never came.
Dinner for two, including a fair ration of sushi (which builds up the toll fast) came to an entirely reasonable $43.35, plus a $7.65 tip. $$
(July 2001)
<!REVIEW ENDS HERE!>
---