!REVIEW GOES HERE!>

Perhaps they called it "The Summit" to evoke the metaphorical shining city on a hill, but there's no mountain peak within sight of this sprawling, upscale shopping center that seems to have sprouted almost overnight on the fringes of Eastern Jefferson County where Kentucky Highway 22 meets the Snyder Freeway. Maybe "Oz" would have been a more fitting term for the commercial wizardry that so quickly converted rural fields into glittering shops ... and greenback dollars.
Amid this vaguely jarring setting of mall-style stores around acres of parking lots dotted with spurting fountains and the occasional patch of grass, it's no surprise that The Summit's two large restaurants are not independent, locally owned eateries but outposts of a chain operation. Mitchell's Fish Market and Martini Italian Bistro are both "concepts" spawned by the restaurants' parent firm, Cameron Mitchell of Columbus, Ohio, a growing outfit that operates nine restaurants in Columbus, the Cincinnati area, Pittsburgh and now Louisville.
I'm frankly skeptical of chain operations, an attitude perhaps inflamed by having survived the Gannett takeover as an employee of the Bingham-owned local newspapers: In my experience, it's a likely bet that absentee, corporate ownership will be more focused on the bottom line and less concerned about customer service than an independent operator who has to look you in the eye, shake your hand and wish you a good evening when you enter his premises. Show me a franchised eatery, and I'll start looking for the telltale signs of bean-counting and corner-cutting.
To Cameron Mitchell's credit, though, at this point in its corporate development it's doing the job well. Both restaurants have been packing in crowds since they opened on Nov. 1 - we had to wait an hour for a table at Martini's on a Wednesday evening - and we enjoyed decent if not inspiring fare and friendly, competent service at both places during recent visits.
Anchoring an island in the center of The Summit's sprawling parking lots, Mitchell's and Martini occupy identical buildings topped with square Italianate towers. Turn right as you enter the plaza from the front, past a huge, silvery statue of a leaping marlin, and you'll enter Mitchell's; turn left, and you're on your way into Martini's Italian venue. And smack-dab between them, in a little altar-like kiosk under a shining golden dome, you'll find an ATM ...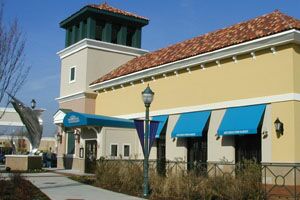 *** Mitchell's Fish Market
4031 Summit Plaza Drive
(502) 412-1818
The pledge to serve only "fresh fish flown in daily" may be more impressive to folks in the chain's headquarters in landlocked Columbus than it is here in fish-loving Louisville, where we would expect no less from any quality vendor. But I'll say this in Mitchell's behalf: Every seafood item we tried here was both fresh and well-prepared.
The restaurant's decor evokes the feeling of a large fish market. It's a large open room (seating 245, the management says), topped by an open ceiling with cream-colored rafters showing; around two sides of the room, glass windows are framed in dark green with milk-glass panes around the top etched with frosted-glass graphics including stylized shrimp and lobsters and tempting slogans like "eat oysters and live longer." The back walls are pale off-white, discreetly decorated with a few framed prints.
An open kitchen along one wall offers tantalizing views of chefs at work in tall white hats, with shiny glass-fronted display cases in front of the kitchen and near the entry where you can see the seafoods of the evening laid out in sushi-neat rows.
Undraped tables are red woodgrain, heavily coated with shiny polyurethane; rows of square booths are surprisingly comfortable, and freestanding tables are set with sturdy side chairs. With no tablecloths or curtains, it's surprising that the hard-edged venue isn't more noisy. Heavy stainless flatware comes rolled in large white polyester napkins, and the offwhite stoneware plates circled with thin green lines bear a cozy, comfort-food resemblance to '50s-era diner ware. Lighting from sconces in the booths and track lights overhead provides ample illumination over each table while keeping the overall scene pleasantly dim.
A large but cozy bar at one side of the room is decorated with faux portholes showing painted undersea views as if its inhabitants were sucking down martinis and beers in a submarine; it's hermetically sealed from the dining room by glass windows that work well to keep the noise and the smoke in.
The servers wear black with white aprons; their neckties are covered with neat rows of tiny fish. Well-trained and polite, they provide competent and friendly service even when burdened under heavy crowds.
The menu is almost entirely seafood and fish. It changes frequently depending on what's available in the fish market, but typically offers three dozen selections of fish, shrimp, oysters, lobster and crab, with entrees ranging from $14.50 (for Georges Bank cod) to $29.50 (for a 1 1/2 pound baked Maine lobster stuffed with crab). A surf-and-turf combination of charbroiled filet mignon and broiled lobster tail is $34.95. If your party includes anyone who can't abide fish, a short selection of steak and chicken dishes is available from $15.95 (for a roasted chicken breast) to $27.95 (for filet mignon Oscar).
The bar offers a huge variety of libations, including a good selection of small-batch Bourbon, single-malt Scotch and Cognac and a variety of import and artisan beers in bottle and on tap. The wine list is moderate in length and somewhat pricey at about 2 1/2 times retail; it ranges from $18 (for Beringer White Zinfandel) to $96 (for Far Niente Chardonnay, a label whose grasp so far exceeds its reach that I wouldn't recommend it for half that price). I took a long look at the excellent Grove Mill Sauvignon Blanc from New Zealand ($34) but decided that the Pepi Winery Pinot Grigio ($27 for the 2000, listed as the 1999 on the wine list) would make an even better match with a variety of fish dishes. Full-bodied yet crisply acidic, with appealing melon and citrus flavors, it was a fine choice.
A bread basket kept us busy with fresh butter and thick slices of fresh Italian-style bread, soft and warm with a light sourdough tang.
Then we got dinner seriously underway with a shared oyster sampler ($13.50). Eight oysters - two each of the four varieties of the day - were served in a large wooden bowl full of chipped ice, with a small metal tub of spicy cocktail sauce sitting on a nest of decorative julienned beets and carrots, a couple of lemon wedges wrapped in cheesecloth and a pair of cello-wrapped saltines tucked into the ice. They were all impeccably fresh, offering the delicate, briney flavors of perfect oysters with none of the fishiness that comes when you keep them longer than you should. We enjoyed discovering the differences between sweet bluepoints from New York, hearty Deer Creek oysters from Washington State with a fine "meaty" flavor; delicate Virginia Chesapeake Bay oysters with just a hint of brine; and sweet, oceanic Canadian Cove oysters, similar in flavor to the bluepoints but showing a firmer, almost chewy texture.
A salad of marinated beefsteak tomatoes ($5.50) featured three thick slices of perfect, ripe tomato (how do they DO that in November?) topped with tangy blue cheese and a creamy dressing billed as a "Cabernet vinaigrette," although any winey quality was difficult to discern.
A Caesar salad ($4.75) was a modest ration of crisp romaine with a creamy, garlicky dressing, crisp whitebread croutons and grated Parmesan; the plate was decorated with a shake of dried red pepper, a spicy if surprising garnish that lighted up an otherwise straightforward but somewhat bland salad.
My dinner choice, sea bass "saltimbocca" ($18.95) consisted of a fair-size fillet crusted on one side with a crunchy layer of sage-scented bread crumbs and garnished with a smallish ration of crisp-fried ham strips (I'll take their word that it was prosciutto, although it tasted a lot like deli ham), plated on a thick, sweet brown "balsamic butter" sauce. It was served with a generous mound of garlic mashed potatoes, creamy and rich if not overly garlicky, and a half-dozen pretty and pleasantly crisp-tender asparagus spears.
My wife ordered cedar plank salmon ($16.95). This dish, a Mitchell's "signature" preparation, is served on an oversize cedarwood plank with a recessed oval center cut out to hold the chow. Two large broiled salmon fillets were served atop the garlic mashed potatoes and garnished with diced tomatoes, green and yellow peppers and scallions, with a generous ration of bright-green, barely cooked green beans and sauteed button mushrooms on the side. The salmon was fresh and flavorful and came in a much more generous portion than the sea bass, which may reflect the relative retail prices of the fish.
Seven desserts range from $4.50 (for lemon sorbet or chocolate coffee crunch torte) to $5.95 (for sharkfin pie, a decadent concoction of butter-fudge ice cream, fudge and peanuts and whipped cream).
We shared a dish of ginger creme brulee ($4.95). Whoever operated the blowtorch stopped a little short of caramelizing the top, leaving it barely hardened and just barely gold; but the creme brulee beneath was great, creamy and not too sweet, with a delicious waft of lemony ginger flavor that was just sufficient to be seductive without becoming overbearing. It was topped with a sweet compote of blueberries and strawberries and came with a swirling turban of sweet whipped cream served on the side so you can take as little (or as much) as you wish. Completing the display was a pair of fresh, crisp Chinese-restaurant fortune cookies, complete with fortunes!
A cup of Illy brand espresso ($2.95) was one of the better espressos I've had at a Louisville restaurant, a properly vacuum-pulled "shot" with a foamy golden "crema," bitter but not burnt ... a civilized way to wrap up a filling meal.
It wasn't an inexpensive meal by any stretch: Dinner for two, including a relatively modest wine, came to $99.50, and attentive but unobtrusive service earned a $20 tip. $$$$
(November 2001)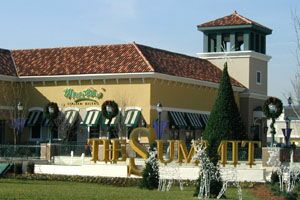 *** Martini Italian Bistro
4021 Summit Plaza Drive
(502) 394-9797
Two weeks after its opening and with very little publicity other than word-of-mouth, Martini's is attracting remarkable crowds to this suburban venue so new that it still has that new-restaurant smell.

We could tell something was up when we reported for dinner just after 6 p.m. at midweek and walked right into the back of a huge crowd milling in the lobby, an intimate space with a crowded bar at one side and a wall covered with an Italian wine-label mural on the other.

When I finally elbowed my way to the captain's station, I was handed a trademarked Jtech GuestAlert Glowster, one of those squarish high-tech devices that buzzes and blinks when they're ready to summon you to your table. We were told to expect a 30- to 40-minute wait, and actually got our table exactly one hour later. The device goes out of range if you get more than a few yards outside the restaurant, but the staff assured us that we'd have plenty of time to browse the nearby Barnes & Noble if we wished, as long as we got back before the flashing lights went off. (It's worth noting, by the way, that the big crowd here comes early, at least on week nights; there was a long wait for tables before 8 p.m., but it would have been possible to walk in and get a table without delay after that hour.)

It's interesting to compare the Italian restaurant with Mitchell's Fish Market, its seafood sister just across the plaza. The floor plans are similar, and the shiny oak floors are just the same; but where Mitchell's has a fish market feeling, Martini's room is decorated like a fancy, big-city Italian-American restaurant. Massive booths framed by shoulder-high wooden dividers topped with oversize potted palms form a long double row down the middle of the room, and smaller dining sections at the ends are set off by faux marble pillars. White fabric swags are draped from oversize brass chandeliers with amber lamps; beige and pewter-colored walls sport a few discreet fresco-style murals.

The tables are draped with light white polyester and topped with neatly folded parchment paper. White poly napkins are rolled around heavy flatware, just as at Mitchell's; and Martini's, too, lets you watch the chefs at work in an open kitchen at the back of the room, although here they wear berets. The servers here wear white shirts with their black slacks, and the staff's corporate neckties replace Mitchell's fish graphics with tiny martini glasses.

Cameron Mitchell's press release describes Martini as "an authentic Italian restaurant," but it's hard to fool a critic who loves Italy and has been there twice this year: The American-accented Italian fare here is closer to Bayonne, New Jersey than Florence or Rome. It's good, though, and the menu features a short but diverse selection of hearty and familiar pasta dishes, pizzas and Italian-style entrees.

Four pizzas are $9.95 (for tomato-and-cheese or mushroom pies) to $10.95 (for pollo al forno pizza, topped with marinated chicken breast and onions). Seven pasta dishes are $12.95 (for spaghetti and meatballs or a spicy chicken arrabbiata over short rigatoni pasta) to $16.95 (for salmone fresco, pan-seared salmon over spaghetti with a Sicilian herbal veggie sauce). About a dozen steaks and Italian specialties range from $12.95 (for a roasted vegetable plate) to $21.95 (for a 12-ounce strip steak grilled Florentine-style or an 8-ounce filet mignon topped with blue gorgonzola cheese and Marsala wine sauce). A lunch menu offers smaller portions of similar dishes for a few dollars less, plus assorted panini (sandwiches).

Martini's wine list is about half Italian and half American. Like the list at Mitchell's, it's a bit on the pricey side with a markup of 2 1/2 times retail for many items, topping out at $120 for the Mondavi-Frescobaldi "Luce." It does offer a good variety in the under-$50 range, and includes some unusually interesting choices among its roughly four dozen selections. Two that caught my eye among the whites were a Collio Pinot Grigio from Doro Polencic ($36 on the list, although you can get it for $14 at local retail shops) and a Gini Soave Classico ($30 on the list, about $11 at retail).

About a dozen wines are available by the glass, but I didn't find many that caught my eye; I finally went with Gabbiano Chianti Classico for $6.95 and got a rather stingy pour that appeared to be about one-eighth of a bottle that sells for $28. It's a decent Chianti, though, ripe and young, with a distinctly fruity black-cherry flavor and snappy acidity that made it sing like an operatic tenor with Italian fare.

Our meal began with a generous plate of rich, foccacia bread topped with dried herbs and Parmesan. It came with a shallow dish of light rosemary-and-sundried-tomato-scented olive oil for dipping, an "Italian" tradition that actually comes to us from California.

A half-dozen antipasti (appetizers) include such goodies as fried calamari ($7.50) and a massive antipasto platter of cheeses, peppers, olive and meats ($15.95), but I craved pizza, so we decided to share a Pizza Margherita ($9.95) as a starter. It was a good rendition, a not-too-thin, breadlike crust roughly 9 inches in diameter, pleasantly charred with dark streaks from the wood oven, covered with melted parmesan and fresh tomato slices topped with pools of molten mozzarella and a sprinkle of thin-sliced basil. We split half of it and called for a takeout box for the rest.

Minestrone Toscana ($4.95) was a delicious soup, served in a broad, shallow white bowl. This Tuscan variation was lighter in style than many traditional minestrones (it contained no beans or chickpeas), but it was excellent, a salty tomato broth loaded with tiny, long-cooked bits of carrots, celery and other vegetables and succulent fragments of long-simmered meat.

The Martini salad ($4.95) was good-looking and tasty, too, composed from a variety of crisp lettuces, reconstituted sun-dried tomatoes and pine nuts in a sweet-tangy vinaigrette.

A signature dish at Martini's is Pollo al Mattone ($13.95, literally "brick chicken"), a Tuscan procedure in which a marinated half-chicken is pan-grilled, then finished in a heavy pan in a hot oven while being flattened under a heavy, presumably foil-wrapped brick. It came to the table flat and crisp, golden-brown and herb-dusted, flavorful if none too tender. It was served with cubed roasted potatoes, skin on, and a garnish of sauteed red and yellow bell peppers.

My choice, Sicilian lasagne ($13.95), was a thin but large slab (5 by 9 inches, by my rough hand measurement) of tender wide egg pasta baked in sandwich layers with creamy mozzarella and savory sausage meatballs, served on a pool of creamy Alfredo sauce and topped with a chunky, bright-red marinara sauce, a savory and rich combination of sauces that you would be extremely unlikely to be served in Italy.

A shared dessert, tiramisu ($5.95) was a generous portion served in an oversize martini glass decorated with lines of hardened chocolate. An odd but appealing variation on the Italian original, it consisted mostly of clouds of creamy whipped cream and sweet mascarpone cheese swirled around a small portion of ladyfingers soaked in espresso and Marsala wine at the center.

A cup of Illy brand cappuccino ($2.95) was exceptional, a creamy, light cafe-au-lait so rich and fine that it tasted almost like cocoa.

Dinner for two, with two glasses of wine, came to $75.35, plus a $15.65 tip for friendly, professional service. $$$

(November 2001)


<!REVIEW ENDS HERE!>
---