!REVIEW GOES HERE!> CLOSED: Reported out of business in November 2002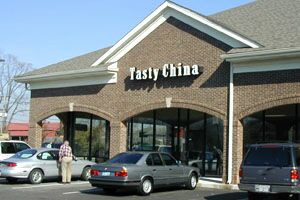 *** Tasty China
10000 U.S. Highway 22
(502) 412-4142
If you ever tire of the corporate sameness of The Summit and the surrounding "power centers" that are turning much of Northeastern Jefferson County from farmland into an anonymous suburban city that could be just about anywhere, I invite you to get back in your car and drive about a half-mile on out Old Brownsboro Road (Highway 22), where you'll find this inviting little spot.
Yes, it's in a modern shopping center, too. But it's a small one; and here you'll find appealing, hand-made Chinese fare in an inviting if modest setting, cooked and served by a friendly family that makes you feel at home.
It's a pretty place, much larger than most storefront Chinese eateries, with table service for dining in, and the meals are served on attractive china, not polystyrene takeout boxes, with sturdy simple flatware and wooden chopsticks available on request.
The room is airy and light, with floor-to-ceiling windows around two walls; the inner walls are pale buff color with a few attractive framed works of Chinese art.
It's simple, almost spartan, with undraped, large woodgrain laminate tables; wooden side chairs appear to be well-used, perhaps a legacy from another restaurant, but they're sturdy and comfortable. About three dozen tables are divided into separate islands by an angular walkway paved with blue and gold tiles.
Typical of Chinese restaurants, the menu is long and varied, offering more than 60 dinner entrees from $6.45 (for fried rice) and $7.45 (for vegetable dishes, chow mein and lo mein) to $25 (for a whole Peking duck). Most entrees are under $10 except for a handful of Chef's special dishes like "Happy Family" (with a little bit of everything) for $13.95, "Panda China's Lobster Feast" or "Panda China Seafood Splendor" for $15.95, and a spectacular called "Glistening Moon Surrounded by Seven Stars," a full Chinese banquet with lobster, scallops and shrimp for $20.95 for two. Family dinners are available from $10.95 to $17.50 a person.
We arrived at lunchtime and chose from the 20-item lunch menu, which ranges from $4.50 to $6.95 for entree, soup and rice.
Egg drop soup, a perfect Chinese remedy if you have a cold, was a thick, rich and salty cornstarch-thickened broth garnished with fresh minced scallion, so thick with "egg drop" that it stands somewhere on the edge between hearty soup and thin scrambled eggs.
Hot and sour soup was both hot and sour, with a tasty vinegary tang and enough cayenne pepper to leave a pleasant burn at the back of your throat. It was cornstarch-thickened, too, and loaded with strips of tender tofu, crunchy bamboo shoots, chewy black mushrooms and long-simmered chicken.
Pork with black bean sauce ($4.50) was well-made, with long, thin strips of savory pork and crisp-tender celery and carrot, stir-fried and tossed with earthy Chinese fermented black beans in a scanty, slightly hot-sweet brown sauce.
Wor sho gai ($4.50) was an unusual variation on the familiar Chinese-restaurant dish: Large, tender chicken nuggets were cloaked in a thick breading, crisply fried, and tossed in a sweet brown sauce with assorted vegetables - broccoli florets, artfully sliced carrots, thin-sliced zucchini and baby corn.
With hot jasmine tea ($1.25) and crisp fortune cookies, a filling lunch for two came to just $10.87, plus a $2.13 tip for the polite young man who kept our table served and our water glasses filled. $
(November 2001)
<!REVIEW ENDS HERE!>
---