!REVIEW GOES HERE!> (This is another in an occasional series of reviews of food-related consumer businesses other than restaurants on LouisvilleHotBytes.com. In contrast with our restaurant reports, these reviews are intended for information, but are not given a star or point rating.)

Whole Foods Market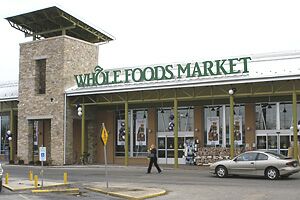 Whole Foods Market
4944 Shelbyville Road
(502) 899-5545
Website: http://www.wholefoodsmarket.com
Last year at about this time, the Wild Oats natural and organic-foods grocery chain, raised the competitive bar on the Louisville health-food scene, challenging the locally owned Rainbow Blossom and Health & Harvest stores with a large and apparently well capitalized natural-foods supermarket in the Shelbyville Road Plaza shopping center in St. Matthews.
This month the bar went up another notch with the arrival of Louisville's first property in the Whole Foods chain. In an in-your-face decision that seems unlikely to have been mere coincidence, Whole Foods' stylish new Louisville quarters are located just three blocks away from Wild Oats, in a similar shopping center on the same side of the city's busiest suburban strip.
The local competition mirrors an intense national competition, one in which Whole Foods appears to dominate. Whole Foods, based in Austin, Texas, started in 1980 and has grown into the nation's largest natural and organic foods retailer. It currently operates 148 stores in the United States and Canada, and it generated sales of $3.1 billion in fiscal 2003.
Based in Boulder, Colo., and started in 1987, Wild Oats ranks as the nation's second-largest organic and natural-foods grocer, but it has been struggling with Whole Foods for market share, laying off workers and closing under-performing stores (as well as opening new ones in Louisville and elsewhere) in recent years. Wild Oats now reports 101 stores in 25 states and British Columbia. Recent annual sales have been around $900 million, less than one-third of Whole Foods' sales.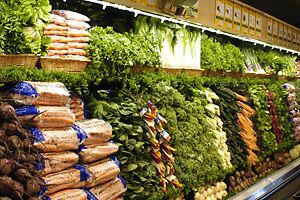 I've made repeated trips to Whole Foods during its first week in operation, and I have to report that, assuming Whole Foods doesn't let up from its pace in the early going, I'll have little difficulty choosing it as my grocer of choice.
Bright, high-ceilinged and airy, its retail space (renovated home of a former Drug Emporium) appears to be significantly larger than Wild Oats - media reports have been variable, but Whole Foods' total space has been reported as 44,000 to 50,000 square feet, compared with Wild Oats' reported 26,000 square feet.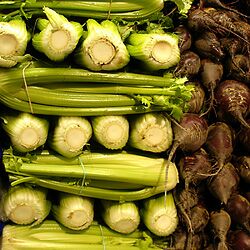 Management has made good use of that space, packing in a far broader selection of produce and specialty foods in displays so artfully arranged that one wonders if they hire "food stylists" to arrange the produce, as in the photos at right and above. The butcher shop appears much larger and more varied than Wild Oats, as does its fresh fish department, which actually approaches, if it doesn't quite reach, the breadth and quality of Louisville's own St. Matthews Seafood. The cheese selection exceeds that of any other Louisville source, although it will be interesting to see how specific artisanal items compare to those sourced by the turophiles at Lotsa Pasta.
More exciting still, Whole Foods boasts a remarkable selection of name-brand and high-end food items that haven't been previously available in Louisville at any price.
You can spot the "foodies" in the aisles by the gasps of amazement and whoops of joy that emanate from unexpected discoveries: "Hen of the woods" mushrooms (not to be mistaken for the more pedestrian "chicken of the woods") ... Eberly's true free-range chickens from Pennsylvania Amish country, buttery and tender birds that make the Bell & Evans brand taste like Tyson's in comparison (quickly sold out and now out of stock, although I'm told more are coming) ... Grimaud Farms free-range duck ... Niman Ranch natural meats ... and a remarkable selection of cheeses including such startling artisanal goodies as Spezia Tartufo from Italy, a soft natural cow's milk cheese scented with black truffles and dusted with cinnamon and spice.
Mark Whole Foods down just a bit for failure to carry local free-range eggs or natural meats (although to its credit, Whole Foods does stock Capriole cheeses from Indiana and Kenny Mattingly's from Kentucky). And, while you'll pay a price for some of these rarities - fresh Pennslyvania bluefoot mushrooms go for an astounding $35.99 a pound, and the delicious hen of the woods (try it as tempura!) is $19.99, a price tag somewhat ameliorated by the fact that a half-pound of this lightweight beauty is enough to feed two.
But you can't just assume that the competition beats Whole Foods for price. An Eberly Chicken might have seemed dear at $9 for a single bird, but it dramatically outperformed a $6 Bell & Evans bird, and was so rich that a single small chicken made leftovers for two lunches to follow.
A quick "shopping basket" check (detailed in the chart below) found Whole Foods' prices on five randomly chosen grocery items comparable to Wild Oats and significantly below Rainbow Blossom. Watch for sales, too: At 99 cents a pound on special offer, Whole Foods price for organic broccoli this week not only undersold the natural-foods competition but even came in under Kroger's conventionally grown product at $1.29. Wisconsin sharp Cheddar cheese was on sale for $3.99 a pound, the same as Kroger's store brand; and De Cecco spaghetti and linguine was $1.99 a pound at Whole Foods, a dime below Lotsa Pasta's price.
Here's a look at the comparative prices, based on actual advertised prices in mid-February 2004. See you in the aisles!
Whole Foods
Wild Oats
Rainbow Blossom
Capriole goat cheese
(4 ounce tube)
$4.99
$3.99
$3.99
Bananas (organic)
69¢/lb.
99¢/lb.
89¢/lb.
Broccoli (organic)
99¢/lb.
99¢/lb.
$3.99/lb.
Bell & Evans
natural chickens
$1.89/lb.
$1.99/lb.
$1.99/lb.
Free-range eggs (large)
$1.79/doz.
$2.19/doz.
$2.49/doz.
Shopping basket total
$10.35
$10.15
$13.35
<!REVIEW ENDS HERE!>
---