!REVIEW GOES HERE!>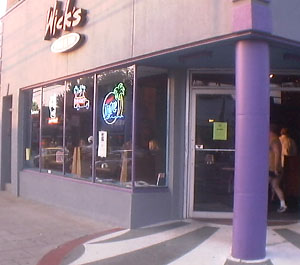 *** Wick's Pizza Parlor
971 Baxter Ave.
(502) 458-1828
Web: www.wickspizza.com/
Wick's is the kind of place that makes me feel my years. I walk in, survey the crowd, and rarely see a face over 30. In fact, though, everyone is welcome here: The other night I spotted a grandmotherly type in the corner, and a couple of families with pre-schoolers having a great time, proving that this is a family place despite its noisy beer-hall ambience.
Most important, the pizza here is very fine. It's a straightforward, middle-of-the-road pie, made without strong flavors or attention-getting herbs and spices, perhaps fashioned with a youthful clientele in mind: It's the kind of pizza that a teen-ager can love and that an adult with more sophisticated tastes won't dislike.
Long a neighborhood gathering place for the youthful Bardstown Road crowd, Wick's expanded some time ago from its original quarters to fill the space next door formerly occupied by Pit Stop Barbecue (which now vends its Texas-style 'cue downtown at 612 S. Fifth St.)
Accordingly, Wick's is almost two restaurants in one: The original facility is very dark, with cozy booths and a full bar along one side of the long, narrow room. The former Pit Stop is a larger room with a collegiate pizza-parlor style, lined around the walls with big, sturdy booths that look like they were whacked together out of handy boards. Gigantic murals, more enthusiastic than artistic, depict local scenes: Thunder Over Louisville, the Great Balloon Race and Churchill Downs. It's a smoky environment, with no separate non-smoking section that we could find, but to Wick's credit, the ventilation seems more than adequate.
As you'd expect of a popular pizzeria, pizza dominates the menu, but you can find a few alternatives here. Appetizers range from $2.25 for bread sticks to $7.99 for "cheese bread," which is actually a 14-inch pizza crust topped with melted cheese and served with marinara sauce. Salads are $3.50 to $4.50; a dozen "Sandwicks" range from $4.75 for a Stromboli steak sandwich (and others) to $5.25 (for roast beef). Four pasta dishes are $4.50 (for spaghetti with sauce) to $6.25 (for lasagna).
The pizza menu includes standard pies from $7.50 for a 10-incher topped with cheese to $13 for a 16-inch pizza with cheese; add $1 for each additional topping. An oversize 18-inch pie is $15.99 with cheese plus $2 for each topping. "Specialty pies" include Meatlovers and Veggie pizzas from $11.25 to $25, depending on size, and BBQ Chicken or Supreme pies from $12.25 to $27. The show-stopping Big Wick is $27 for an 18-inch pizza containing "everything but the kitchen sink," subject to the "strong-flavors" proviso mentioned above: Anchovies are not available at Wick's, nor will you find garlic toppings; and even such relatively non-threatening items as banana peppers are added only on special request.
That being said, our choice - a 12-inch "Supreme" ($15.25) - was really first-rate. The crust was relatively thin (but sturdy enough to bear a load of toppings) and crackery-crisp, the way I like it. Toppings included a mild tomato-paste sauce and fresh, high-quality rations of all the promised ingredients: Italian sausage, ground beef, pepperoni, green peppers, onions, black and green olives and mushrooms, all topped with a thick, chewy blanket of melted mild mozzarella. This size is billed as being enough for two or three, and it was large enough that the two of us got through only two-thirds of it before calling for a takeout box.
A shared garden salad ($3.50) passed muster, a generous ration of crisp, cold iceberg lettuce topped with shredded mild mozzarella and out-of-the-bottle "bacon" bits, a couple of ripe and juicy tomato wedges, and really good, garlicky croutons.
Wick's boasts a decent beer list, with about 14 brews on draft and more than three dozen bottled beers, including mass-market industrial beers as well as a fair selection of imports and microbrews. We enjoyed pints of Harp Lager ($3.25) and Red Hook ESB ($3), then took refills of Dundee Honey Brown ($2.50) and Sierra Nevada Pale Ale ($3). A filling dinner of pizza for two (with enough left over for lunch the next day) was $31.63, plus a $5.37 tip. $$
ANOTHER LOCATION: 2909 Goose Creek Road, (502) 327-9425
READER NOTES: Doug W. observes: "During a recent visit to Wick's Goose Creek location I discovered that their beer selection leaves a lot to be desired. Rather than the broad selection offered at the Baxter Avenue site, Goose Creek has Fosters, Rolling Rock, Bud Lite, Coors Lite and I believe Budweiser. While these are all offered on draft, no alternative bottled beer was available. The Red Hook ESB or Sierra Nevada would have made a nice contribution to the meal." <!REVIEW ENDS HERE!>
---