!REVIEW GOES HERE!>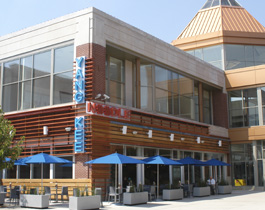 90

Yang Kee Noodle
Oxmoor Center
7900 Shelbyville Road
(502) 426-0800

Over all the years that I've been reviewing restaurants and writing about food and wine in Louisville, I've always argued that an establishment needs neither white tablecloths nor a high-end menu to earn four-star status. Whether it's a luxury spot, a barbecue joint or an ethnic eatery, if food, service, atmosphere and value add up to an "A" grade, it earns my ultimate praise.
And so it is with Yang Kee Noodle, a bright new arrival in Oxmoor Center that's already drawing crowds for its quick, affordable and almost always tasty takes on hearty noodle dishes from all over Asia. Quick, convenient and fun, Yang Kee raises the bar for fast-food to a higher level than it's been set before.
Under the competent if not exactly Asian hand of Chef John Castro of Winston's at Sullivan College, Yang Kee got off to a flying start, showing flawless food preparation and service even on its first day of operation (Aug. 19), and has maintained this level on several repeat visits, both for reviewing and for just plain good eating.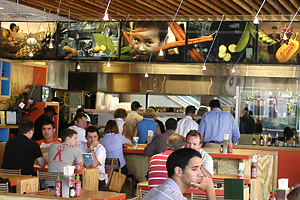 Although locally owned and operated, it displays the slick, colorful appearance of an upscale fast-food franchise (in the best sense - think California Pizza Kitchen with an Asian accent). Shiny polyurethaned plywood tables, bright blue and orange accent colors and high-tech lighting provide a glitzy feel that reminds me a bit of Sapporo on Bardstown Road. There's plenty of indoor seating, plus tables shaded by canvas umbrellas in the patio just outside.
The menu is truly pan-Asian, featuring noodle (mostly) and rice dishes prepared fast-food style - order at the counter, then take a colorful flag to your table and stick it in one of the upright chopsticks holders so the speedy servers can see where to bring your order.
About a dozen noodle dishes range in price from $6.45 (for Shanghai-style "Long Life" wheat noodles with pork and long beans in black-bean sauce) to $8.95 (for Kyoto-style miso soup from Japan, loaded with shrimp, black shiitake mushrooms and brown yakisoba buckwheat noodles). A shorter list of "Not Noodles" options are $5.95 (for Golden ginger chicken with cilantro and ginger over jasmine rice) to $7.95 (for Island green curry, a Thai-accented chicken dish with green chiles and lime on rice).
"Small dishes" can serve as appetizers or light meals, ranging from $2.75 (for two crispy Vietnamese-style spring rolls) to $4.95 (for Vietnamese lettuce wraps).
On the Atkins diet and can't handle the noodles or rice? "Nirvana noodles" options allow you to pick and choose your own combination, with or without the carbs; and vegetarians may substitute tofu, edamame beans or a pineapple skewer for the meat in most dishes.
Commercial soft drinks are available from self-service vending machines, but you can also enjoy all-you-can-drink Thai iced tea ($1.99) or Vietnamese iced coffee ($2.25) laced with sweet condensed milk, or hot tea ($1.75) steeped at your table from high-tech silver-foil tea sticks from Japan.
If you're hard-nosed about absolute authenticity, you may find more precision in Vietnamese dishes at a Vietnamese restaurant or Thai entrees at a top Thai spot. But for multi-ethnic Asian eats, dishes here are surprisingly close to authentic and very well made, served in generous portions at affordable prices.
Yang Kee might come as a bit of a surprise to folks who wander into the mall looking for Chick-Fil-A, as hot-and-spicy flavors may turn up unexpectedly even in dishes not so marked on the manu, and there's no holding back on exotic ethnic ingredients like fish sauce and fresh cilantro. Chopsticks are available on the tables, but you have to round up knives and forks from the serving bar if you prefer to dine Western-style.
We've been back several times and tried much of the menu. Some favorites include:
Cool lettuce wraps ($4.95). Finely-chopped, lime-scented chicken and crisp fried rice noodles are served with crisp, cold iceberg lettuce leaves. Grab a leaf, load it up with chicken and noodles, roll it into a bite-size portion and enjoy. Another appetizer, Shanghai steamrolls ($3.25) are dim-sum-style steamed wheat buns, golf-ball-size, light and white, stuffed with a ration of sweet-savory Chinese-style barbecued pork.
Pad Thai ($6.95) was very good and seemingly authentic, the classic combination of crisp, raw bean sprouts and steaming, tender rice noodles, tossed with tender boneless chicken, crisp green pea pods and cubes of fried tofu; sauced with not-too-fiery flavor, fish sauce and cilantro, and garnished with chopped peanuts and a wedge of fresh lime.
Thai tomato-basil beef ($7.45) featured wide chow fun rice noodles - an Asian cousin of fettuccine - with stir-fried sliced beef, thick-sliced onions, fresh chopped tomatoes and spicy-crunchy Japanese wasabi peas in a light Thai-style sauce with fragments of fresh basil.
Firecracker chicken ($7.45), a Korean-style specialty, may be the hottest dish on the premises - spaghetti-style lo mein noodles were cloaked with a thick, fiery-sweet red-chile sauce and loaded with tender chicken bits, crisp walnut halves and fresh broccoli florets.
The Lime Tree chicken salad ($6.95), conversely, turned out to be the mildest and perhaps the least "challenging" dish on the menu. It was good, though, featuring shredded chicken topping a fresh green salad dressed with a mild lime-ginger vinaigrette.
Island green curry ($7.95) featured bits of tender, sweet pumpkin-like kabocha squash stir-fried with boneless chicken and sugar-snap peas, dressed with a very hot-and-spicy green-chile sauce with exotic hints of lemongrass and lime leaves, with jasmin rice on the side.
We tend to over-order at Yang Kee because everything always looks so good, which pushes our typical bill to $20 or so; but portions are so large that an appetizer and entree is really too much, so you can easily get a filling meal for less. $$
(August 2003)
<!REVIEW ENDS HERE!>
---