!REVIEW GOES HERE!>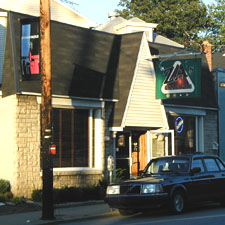 *** Za's Pizza Pub
1573 Bardstown Road
(502) 454-4544
Web: www.zaspizza.com/
In a quick front-door appraisal, the "pub" element of Za's seems to weigh more heavily than the "pizza" aspect: Walk in, past the oddly shaped little fireplace foyer and up two steps made out of an old-fashioned shiny stone that reminds me of old-time elementary schools, and you're in a large, spartan room that looks a lot more like a bar than a pizzeria.
But I recommend that you persist: Despite the large, well-stocked bar that dominates the room (not to mention the prominent sign warning that no one under 21 is allowed past it into the back room), the main dining area is not only open to, but welcomes, children of all ages. We spotted a couple of kids having a great time with their parents and grandmother the other night.
More important, based on a recent analytical expeditions, Za's may just be making the best pizza in town right now ... a noteworthy accomplishment in a city where there's plenty of worthy competition for that title.
I'm talking about a thin crust that's snow-white, dense, somewhere between bread and cracker in texture with a "short" quality that's almost like pastry; thick, flavorful tomato sauce with good herbal flavors and just a homeopathic taste of something hot'n'spicy to wake up the taste buds; thick, creamy mozzarella that melts down over the toppings like a cozy blanket; and fine ingredients on our standard test pie of Italian sausage, green peppers and onions. This is one estimable pie.
The menu is straightforward: Pizzas come in four sizes from 10-inch ($6.25 with cheese) to 16-inch ($14.50), plus 90 cents to $1.95 per topping depending on size. The requisite anchovies, artichokes and jalapeñoes are available here, as are such unusual toppings as yellow squash, broccoli, zucchini or pineapple. Za's is known for its vegetarian options, with a half-dozen meatless pizzas from $9 for a small veggie model with the basics to $22 for a large "super veggie" pie with nine meatless toppings. "The Works," an all-but-the-kitchen-sink item with everything in the house, tops out at $22 for large; those with the stomach for it may choose the "Aloha ZA," a pizza topped with ham, pineapple and barbecue sauce, for $9 to $19.50.
Calzones ($4.75 to $7.95), subs ($4.95) and salads are also available, and the aforementioned bar offers more than 60 bottled beers (mostly $3 to $5.50 plus a couple of pricey rarities) and a half-dozen brews on draught ($3 to $3.50 for pints, $7.50 to $10 for pitchers).
Our 12-inch pizza with three toppings came to a reasonable $12.75, a tab that we ran up with three pints of beer (a Harp lager, Sierra Nevada Porter and Bass Ale), bringing our total to $24.01 plus a $4 tip. $$
<!REVIEW ENDS HERE!>
---