!REVIEW GOES HERE!>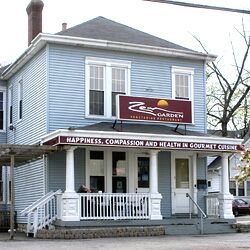 86

Zen Garden
2240 Frankfort Ave.
(502) 895-9114

For an omnivore like me, a vegetarian restaurant must pass one simple test: At the end of the meal, I must not miss meat. Too often, much as I try to like it, an all-vegetable meal leaves me feeling vaguely dissatisfied.
Please be assured that Zen Garden, the latest venture of longtime local restaurateur Huong Tran, passes this test with flying wok and chopsticks. I would defy anyone to tuck into a dish as savory and filling as Zen's Eggplant in Curry Sauce, to choose just one example, and even think about whether any animals were sacrificed to fashion this delight.
Tran makes good use of tofu as an analogue for meat, variously pressing, sauteeing, fermenting, marinating and otherwise chopping, slicing and dicing the healthful but bland-to-Westerners soybean "curd" product of Asia to turn it into almost credible imitations of chicken or even beef. But culinary fakery is not really what Zen Garden is all about. Delicacy, subtlety and balance are the names of the game, as a short poem by 14th Century Zen Master Muso Soseki on the menu's front cover attests:
All worries and troubles

have gone from my breast
and I play joyfully

far from the world
For a person of Zen

no limits exist
The blue sky must feel
ashamed to be so small



BRIEF RANT:
WHAT WAS THE CJ THINKING ABOUT!?

As former occupant of The Louisville Times and Courier-Journal's restaurant-critic seat, I try to go gently on my successors, even with the much deteriorated coverage that Gannett Corp. provides. But it's hard to keep my mouth shut after reading the previous critic's report on Zen Garden, in which she trashes the restaurant because she hates tofu!

Basing a review on the critic's personal likes and dislikes just isn't the right thing to do, even if the dislike focuses on such a bland and benign vegetarian substance as Asian bean "curd."

If you enjoy Zen Garden half as much as I do, I hope you'll drop by for a meal some time soon ... and let the management know what you think.

Zen Garden occupies the main floor of a frame house on Frankfort Avenue, the former home of CoCo's Bakery and Camille's Sandwich Shop, now turned into a simple, rather spare dining room - as befits the Zen theme - with pale walls, a bit of Asian art - one wall holds a large Japanese kimono on display - and undraped wooden tables.
The menu, which is the same for lunch and dinner, is fairly extensive; and although the restaurant is billed as all-Asian, just about all of the dishes appear to be as Vietnamese as is the owner.
Appetizers are $2.50 (for vegetarian egg rolls) to $4.95 (for a Vietnamese Banh Xeo crepe filled with mushrooms, tofu and bean sprouts). Soups are $1.95 (for mixed vegetable or vegetable and tofu) to $9.95 (for a dinner-size Vietnamese Hot Pot with vegetables and tofu, big enough for two). There's also a selection of salads and sandwiches in the $3.95 to $5.95 range for such goodies as mixed green salad, cold noodles with tofu, a grilled tofu sandwich or a meatless "garden burger."
Entrees are affordable, with some 20 items (plus daily specials) ranging from $5.95 to $8.95 for a wide variety of Asian fare like Quang's Traditional Noodles ($5.95, rice noodles with mushrooms, tofu and bean sprouts); Northern Noodle Soup ($5.95, rice noodles with soy protein in a star-anise-accented broth); Soft Tofu in Black Bean Sauce ($8.95); Orange Tofu ($8.95), citrusy and tart-sweet, with carrots and peppers; and many more.
We filled up with a dinner-size lunch, starting with both Crispy Egg Rolls (cha gio, $2.50) and Soft Spring Roll (goi cuon, $2.95), two of each, the former being crisply fried and stuffed with shredded celery, carrots and cabbage; the latter tender rolls of rice noodles, lettuce and tofu wrapped in edible "paper" made of rice, served with a thick hoisin sauce with chopped peanuts.
A cucumber and peanut salad (goi dua leo, $3.95) brought a generous portion of cucumber, carrots and celery on a bed of salad greens with peanuts and a savory sauce.
Udon noodle soup (ban canh, $5.95) featured meatlike tofu, some of it firm and white like chicken and some soft and silken, with mushrooms and fat white Japanese udon noodles in a delicious vegetable broth.
My choice, eggplant in curry sauce (ca tim xot ca ri, $8.95), was filling and delicious, featuring two Japanese-style eggplants, long and narrow, cooked to creamy perfection inside their papery but edible purple skin, topped with a thick brown sauce, warmly spicy with curry, and a ration of tofu treated in some mysterious way that made it almost indistinguishable from shredded beef.
Service was a bit tentative in the English department, making it difficult to get clear descriptions of dishes, but was friendly and got the job done; the order of arrival of dishes from the kitchen was also a bit jumbled, with appetizers, salads and main courses arriving quickly but in no particular order, all ending up on the table at the same time. So I took several deep breaths, visualized a candle flame and meditated briefly until I relaxed. It's a Zen thing.
Tran, who arrived in Louisville as a refugee from the war in Vietnam in 1975, had owned a fine French restaurant in Saigon; she first opened the Egg Roll Machine here, followed on with Cafe Mimosa, Louisville's first fine Vietnamese restaurant, then added more Egg Roll machine branches and sandwich shops. She has sold them all in recent years, however, and thought she had retired ... until the inspiration for Zen Garden brought her back to the local restaurant scene.
She calls it "compassionate cuisine" and hopes Louisvillians will come to support vegetarian cookery in recognition that it "not only delights but will also make your body and spirit stronger." To that end, she proposes to hire and train inexperienced staff ... and to donate a portion of the restaurant's profits to help feed hungry people, at home and around the world.
It's a gentle dream, one worth supporting. I'm glad Zen Garden is in my neighborhood and look forward to dining there often.
Our meal, a bit more than we really needed with appetizers, salad and entrees, came to $27.35, plus a $4.65 tip. $$
Closed Mondays and Tuesdays. No liquor license.
<!REVIEW ENDS HERE!>
---