Older Archived Reviews
This is an older archived review. The Search Feature on this page may not work. To search this site, please return to our Home Page and try your search from there.
---
<!REVIEW GOES HERE!>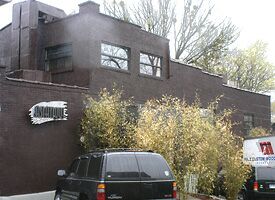 89

Asiatique
1767 Bardstown Road
(502) 451-2749

Web:
www.asiatique.bigstep.com
Asiatique's move from its longtime location in a bland suburban strip off the beaten path in St. Matthews to a renovated building on busy Bardstown Road in the Highlands came off without a hitch this month, and Chef Peng Looi and his staff have picked up the pace in their new quarters without missing a beat.
If anything, Louisville's most innovative Pacific-Rim fusion chef seems inspired by his new location to create eclectic and interesting dishes that, as the Iron Chef says, rank as "new original cuisines which could be called true artistic creations."
With its entry in a small, parklike path just off the street, the new Asiatique sprawls through three floors and the basement of an old red-brick commercial building that was originally built as the Highlands Dairy and more recently housed decidedly modest apartments and a tattoo parlor.
The thoroughly renovated building is spacious and open, with black tables and chairs, cafe-au-lait and dove-gray walls and little decoration beyond a large, trapezoid-shaped pane of art glass with an impressionistic wave design that was brought over from the old place. It is spare, minimalist decor similar to the style of Peng Looi's August Moon. Those who fancy paisley, plaid and black-velvet Elvis paintings might call it bland, but I find it Zen-like and appealing.
Entry is through a stylish bar with pale blue-green rippled art glass top and a colorful booze-as-art display of liquor bottles displayed on shelves in front of a softly back-illuminated pane of frosted glass that lights up the liquors in their natural colors.
The main dining room, an intimate space with just eight tables for four in black, upright booths, is up a flight of stairs on the second floor (with a small wheelchair-accessible seating section past the bar on the main level). Smaller rooms are available for private parties or overflow seating on the third floor and main level, while a small, comfortable lounge in the basement offers a new late-night dining alternative, as it's open until 4 a.m. with a special extended menu of appetizers and light bites. (Smoking is permitted only in this section, I'm told, except that smokers may indulge in the bar only after 10:30 p.m.)
Simple, attractive flatware has a hint of Asian style. Chopsticks are also offered if you wish, but don't mistake this for a Chinese restaurant - it's all Peng Looi, a globe-trotting blend of styles and flavors that's truly international, if naturally influenced by his Asian heritage.
The crisp parchment-paper menu changes frequently to take advantage of seasonal produce. Happily, Asiatique does a good job of keeping the menu up-to-date on the restaurant's Website, linked above. At the time of our visit to the new facilities in early spring 2004, it featured a dozen starters and salads, from $4.50 (for the soup of the day) to $9 (for hoisin-marinated duck breast with organic spring mix, a papad-style chip and hoisin-balsamic vinaigrette).
A dozen entrees ranged in price from $18 (for a herb-scented chicken breast and grilled tiger prawns with fresh-fruit chutney, sauteed vegetables and a sweet-chili-basil jam) to $24 (for three impressive goodies that among them give a good sense of Peng Looi's Pacific-Rim style: rosemary-infused New Zealand spring lamb chops with sauteed grilled vegetables, Thai cucumber salad and a passionfruit-balsamic soy reduction sauce; ginger-crusted sea bass on a noodle pancake with shiitake-scallion cream sauce, or char-grilled lemongrass-scented black Angus beef medallions with wilted grilled vegetables, spinach and a rosemary-balsamic vinaigrette).
The wine list includes some well-chosen and interesting items, although I was a little disappointed by higher-than-average markups that approach 2 1/2 times retail price for some lower-end wines; and it's stronger on the New World - West Coast U.S. and Down Under - than Europe. It also neglects to list vintages for most wines, a failing that won't bother most casual diners but frustrates wine "geeks."
On the plus side, the list is particularly consumer-friendly in the by-the-glass section, with a short but nicely chosen selection for $6 a glass, and unusually fetching "house pours" for just $5. We went that route for our first glass, with Folie a Deux "Menage a Trois" white from Napa, a golden, dry but fruity white redolent of apples and peaches, with a slight, pleasant bitterness in the finish.
With my second course, I went back to the by-the-glass list for Crosspoint Monterey Pinot Noir from California ($6 a glass, $25 for the bottle), a simple, soft and fruity red with the distinct "cherry cola" character of Central Coast Pinot Noir.
Asiatique's wine glasses, by the way, are of exceptional quality, good-size and stylish, luxuriously thin crystal from the German crystal producer Schott Zwiesel.
The soup of the day ($4.50) was potato-and-smoked-salmon, a delicious pure dairy base (a relatively light blend of 2 percent milk and half-and-half, a sane option that was plenty creamy enough without being oppressively butterfatty), served steaming hot and filled with bite-size chunks of delicately smoked salmon and tender thinly sliced potato.
My appetizer choice, spiced tempura scallops ($7.50) was a winner, too. Six perfect scallops were cloaked in a light, paper-thin tempura batter touched with just a hint of exotic spice and flash-fried until the coating was golden brown and the shellfish just cooked through. They were arranged around an intriguing tropical fruit chutney, tiny dice of ... mango? strawberry? Hard to be sure ... infused with a distinct sweet/garlicky/spicy taste of Southeast Asian red-chile-garlic sauce, garnished with crispy shreds of fried leek. It came in a white bowl on a napkin centered on a larger square white serving plate decorated with a colorful swash of herb oil.
The server informed us that bluefin tuna was in stock, a rare and seductive replacement for the usual yellowfin. My wife gleefully chose it, selecting an appetizer sashimi order ($8.50) as her main course. It was beautifully presented, four thin but good-size sashimi slices arranged at the four compass points, rich as rare beef and soft as butter, with a dab of crisp and intensely flavored Japanese seaweed salad (green hijiki and ponzu) dressed with sesame oil and sesame seeds at the center of a large red plate decorated with red and yellow bell pepper dice, a parsley "bam" and a sprig of cilantro.
My entree, hoisin-marinated Pekin duck breast ($23) continued at the same heady pace. A clock-face circle of a dozen thin-sliced medallions of dark, savory duck breast, cooked just a hair past the rosy-pink stage that would have been perfect, were arranged over thick, artfully carved chunks of "Thai cucumber salad," a quick home pickle of fresh cucumber marinated briefly in rice vinegar and spices, all surrounded with a Peng Looi invention, a sweet-tart reduction of Cabernet Sauvignon wine and strong espresso coffee. Its barely sweet dark-chocolate-and-fruit flavor evoked a hint of Mexican molé fused with an Asian accent and went perfectly with the duck. The dish was garnished with three fat shrimp on a skewer, dusted with a spicy barbecue rub and perfectly grilled.
Asistique's dessert list is one of the city's most exciting, because of its pure creativity. Bosc pear beignets, a special, were mighty tempting, but the regular choices were even more so. A selection of tiny creme brulees in a variety of flavors almost demanded my attention, and so did banana lumpia (a Filipino egg roll) made with Belgian bitter chocolate on a raspberry sake compote.
I finally settled on something even more alluring, lemongrass panna cotta with fresh fruit relish and a sesame tuile. More airy than creamy, the panna cotta was a silken and delicious round of feather-light gelatinized milk scented with just the slightest citric whiff of lemongrass; it was topped with thin, crispy shreds of lemon and lime zest and perched on a crisp, thin sesame cookie over a portion of diced watermelon, strawberry and mango.
Not to be outdone, my wife had her own dessert-and-a-half. Lemon-poppyseed cake featured three layers of tender, tangy and not-too-sweet cake layered with rich, sweet rum buttercream, poised vertically for display (although it's OK to knock it over to eat it), plated on yellow and red stripes of creme anglaise and strawberry sauce ... and a tiny dab ($1.25 for a sample portion) of homemade ginger ice cream on the side.
Espresso ($2.75) was dark and bitter, not bad even if it lacked the traditional crema foam. Cappuccino ($3) was fine, too, served in a clear glass mug with a dash of cinnamon.
Our dinner for two came to $66.62 including three glasses of wine, with a tip for courteous and professional service to round the total up to $80. This didn't seem like quite enough for the dinner we had, but a close study of the receipt revealed that management had "comped" the appetizers, apparently an opening-days treat. With the full charge, dinner and tip would have just gone over the $100 mark. $$$$
(April 2004)
ACCESSIBILITY: Most of the multi-level restaurant, including the main dining room, is up or down flights of stairs. However, the bar, dining sections, entrances and rest rooms on the main floor are fully accessible to wheelchair users.
<!REVIEW ENDS HERE!>