!REVIEW GOES HERE!>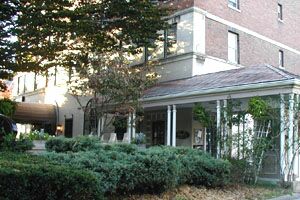 *** Buck's
425 W. Ormsby St.
(502) 637-5284
The dining room in Old Louisville's genteel old Mayflower Hotel has housed quite a collection of eateries over the past 40 years or so, from Chinese (the short-lived House of Bing) to Italian (Alioto's, which quickly segued into Alicia's) and even Ed Garber's lovably tongue-in-cheek Hamlet's, never to be forgotten for its flying-pig decor.
After all those changes, though, Buck's seems here to stay, as it approaches the 10-year mark. Although ownership has changed during that period, its name and its style have been steadfast, and it has earned its longevity the old-fashioned way, combining a welcoming attitude with high-quality fare and atmosphere that's frankly stunning.
The decor is not quite all black, but it looks that way at a glance. The walls are a dark greenish-gray with jet-black trim; carpeting covers the floors with squares of dark gray, and even the baby grand piano is jet-black, as are the small side chairs. Against this background, the double-draped tablecloths stand out in brilliant white.
A gigantic brass chandelier hangs from the center of the main dining room, and Victorian-style objects - wall sconces, a gilded corinthian pillar, a marble angel holding up a candelabrum - add touches of humor and fun. Flickering Victorian candle lamps with shades and fresh white flowers in bud vases grace every table, and a profusion of beautiful white-flower arrangements adds grace to the stylish bar, an island of light and creamy white amid the grays and blacks.
The tables are set with a Buck's trademark - an antique-shop assortment of china and silverplate, no two dishes or utensils quite alike, but all bearing a cozy resemblance to Mom's old special-occasion place settings.
In short, it's eclectic Victorian with tongue slightly in cheek, pleasant and not overstated; Buck's makes a good fit with its attractive Old Louisville environs.
The only jarring note - and it's a small one - comes when you take a close look beneath the tablecloths and realize that the tables and chairs themselves aren't quite up to standard; you don't really notice it at first because it's well camouflaged, but they're surprisingly inexpensive diner-style furniture. The tables sit on chrome-plated bases, and many of them are wobbly; and the smallish, hard and upright side chairs are just uncomfortable enough that they don't encourage lingering over coffee and desserts.
The menu has seen some changes in recent months, and a couple of interesting items (a grilled asparagus and brie appetizer and a Singapore beef kabob) are gone from the bill of fare. It still offers a good variety, though, rooted in familiar American traditions but ranging through an international melting pot of culinary inspiration.
A half-dozen appetizers range from $2.25 (for a cup of soup, $3.25 for a bowl) to $10.95 (for shrimp scampi cocktail), and salads are $4.25 (for the house salad) to $7.95 (for Kentucky bibb lettuce with sun-dried tomatoes, pine nuts and fontina cheese). Fourteen entrees run the gamut from $17.95 (for wild mushroom ravioli with roasted peppers) to $27.95 (for a New York strip steak).
The less pricey lunch menu has appetizers, an extended salad selection and a half-dozen sandwiches (from $5.95 for a grilled chicken breast, avocado and cheese on a toasted croissant to $9.35 for a crab cake sandwich), plus eight entrees (from $5.95 for a Hot Brown to $8.95 for beef Stroganoff au poivre).
The wine list offers about 30 selections for the glass, but it's a little short on artisanal or unusual selections, featuring mostly mass-market labels from $4.50 for a glass of Beringer White Zinfandel to $8.50 for Joseph Drouhin Pouilly-Fuissé. About 60 items on the by-the-bottle list include a couple of high-ticket items of interest, topping out at $216 for Krug Champagne, arguably the world's best bubbly, and Caymus Cabernet Sauvignon ($112), possibly a "cult" item, although unfortunately vintages aren't listed, so it's hard to evaluate the list.
Most of the choices are in the under-$50 range, which is admirable, but the mostly American selection, like the glass list, features a lot of standard brands including a lot of all-too-familiar Brown-Forman imports, and the markups are rather high. Louis Jadot Beaujolais-Villages is $24, for instance, fully triple its $8 retail price at Party Source; the forgettable Brown-Forman import Michel Picard Bourgogne, under $10 at retail, is $25 on Buck's list, and the low-end Rosemount Shiraz and Mondavi "Coastal" Pinot Noir are $27.
I contemplated the Zaca Mesa "Z Cuvee," an attractive California red for $32 (it's $14 retail), but we had our taste buds set for seafood and fish, so I went to the by-the-glass list for a white, Wild Horse Pinot Blanc ($6). It was served in a decent if not oversize glass filled almost to the top, a generous pour that left little room for swirling. It was a pleasant item, aromatic with tropical fruit and spicy oak flavors, a close stylistic cousin of California Chardonnay. My wife diverted to beer, a bottled Beck's ($4), figuring that her spicy entree wouldn't be friendly to wine.
Warm, fresh rolls, two white and two dark, come in a napkin-lined wicker basket. They seemed a bit bland at first, but deliciously garlicky whipped butter brought them around nicely.
A shared appetizer got our meal off to a flying start. Pork and rice pot stickers ($7.95) were impressive in both looks and flavor. Five sizable Asian pastry pillows, dumplings folded into half-moons the size of golf balls, were stuffed with a tender mix of fine-chopped pork and rice that resembled a mild Chinese sausage, topped with lots of fresh scallions and a sweet-savory hoisin sauce with a sprinkle of sesame seeds. The sauce imparted a definite sweetness, and the flavors played together like a skilled jazz combo. This item would be enough for a light entree for one ... and a good one.
Buck's salads are works of visual art, stylishly arranged and each topped with a flower. The house salad ($4.95) was a crisp mix of fresh lettuces - redleaf and frisee and a bit of arugula - with ripe tomato wedges and thick cucumber slices, with a tangy-smoky sundried-tomato vinaigrette on the side as requested.
A Caesar ($5.75) featured a generous portion of crisp romaine, dressed with a creamy, garlicky Caesar dressing with a hint of anchovy or maybe Worcestershire sauce; it was topped with mild shredded Parmesan and a few good-size, crunchy white croutons.
My wife's entree choice, crispy fish with hotsweet chili ($20.95) whipped around the Pacific Rim to the Asian side, served on an octagonal black-lacquer plate that looked as if it might have been borrowed from Asiatique. Two large boneless cod fillets were sauteed, then finished with a drizzle of searing chile oil that results in a remarkably crisp exterior around steaming, delicate fish. The chile oil left a dangerous red stain on the plate, signifying a delicious if fiery heat. "This is too hot," my wife kept complaining, but I couldn't help noticing that she didn't stop eating it, making it difficult for me to nab more than my share. It was topped with sliced red bell peppers and green onions and served with rice.
My choice, the Key West seafood dinner ($23.50) came on an oversize white plate shaped like a scallop shell. It needed a large plate, as it was overloaded with huge portions: Slabs of savory salmon and mild grouper, three grilled scallops and two fat jumbo shrimp, all grilled and coated with lots of black pepper and minced dried parsley; plus two large oysters, coated in a coarse batter with an odd tangy flavor - parmesan cheese? - and deep-fried. This collection of seafood was served atop a sizable mound of coarsely sliced onion, long-sauteed to buttery, caramelized sweetness, and was accompanied by savory basmati rice with its characteristic nutty flavor, each grain smooth and separate, studded with tiny red, green and yellow bell pepper dice, a ration of crisp-tender but not undercooked broccoli and cauliflower, and a ramekin of thick, spicy red cocktail sauce that wasn't really necessary.
It was filling and flavorful, but in one of the evening's few real lapses, the The fish, particularly the shellfish, was overcooked; the shrimps and scallops almost to the rubbery stage, the fish well past the point of flakiness. They still tasted fine, but the texture could have been improved by a more watchful eye in the kitchen.
Just when you think you're filled to the gills and can eat no more, the server walked us up to the dessert table - a much-needed walk after all that food - for a briefing on the options of the evening: Mocha cake, tiramisu, pineapple-rum cheesecake, and, of course, the signature dessert of Buck's chef Gerard, the mocha dacquoise ($6.50), a confection that has been a long-standing favorite here through several changes of name and management.
We shared a slice, and it was a beauty, three layers of baked almond meringue with mocha buttercream between the bottom layers and creme chantilly in the top, all drizzled with chocolate sauce and dusted with powdered sugar. It made a stunning interplay of textures - chewy, crisp, soft and creamy - and delicate flavors, the kind of dessert I call "white on white."
Espresso ($2.50) came in quaint little antique cups. It didn't appear to be a true vacuum-pulled espresso shot - it lacked the foamy golden "crema" of the real thing - but it was dark, bitter and strong and made a good finish to a really fine (but not inexpensive) meal. Even though we held costs down by sharing an appetizer and dessert and having drinks only by the glass, dinner for two mounted to $89.15, with an $18.85 tip for excellent, unobtrusive but careful service to bring the total well over the century mark. $$$$
(October 2001)
<!REVIEW ENDS HERE!>
---