Older Archived Reviews
This is an older archived review. The Search Feature on this page may not work. To search this site, please return to our Home Page and try your search from there.
---
<!REVIEW GOES HERE!>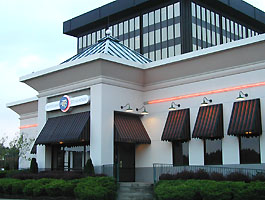 87

Z's Oyster Bar & Steakhouse
101 Whittington Parkway
(502) 429-8000

Operating in much-renovated quarters that once housed a forgettable franchise eatery called Cooker Restaurant, this exciting spot has undergone a massive personality transplant ... and that's good.
I couldn't help overhearing an awed local couple near us the other night, a bit underdressed for Z's classy atmosphere and obviously having dropped by in the belief that Cooker was still on the premises, mutter, "Why, it's just like Ruth's Chris!"
Not quite, Bubba. You can take my word on this: Z's Oyster Bar and Steakhouse is much, much better than Ruth's Chris.
Under the administration of Mehrzad Sharbaiani (also the former owner/chef of the old Indigo Bistro before it was sold to new management), who spent three months on a major renovation of this large, free-standing restaurant building in a Hurstbourne-area office complex, Z's brings a level of fine dining to the suburbs that's previously been hard to find outside the city.
Although the excellent, oversize steaks, clubby ambience and, to some extent, the prices might put a casual observer in mind of Ruth's Chris, Z's thoroughly outguns the competition. Call it Ruth's Chris without the pretentiousness, adding extraordinary seafood and, if we must seek comparisons, Vincenzo's-style service and the creative spirit that Sharbiani refined at Indigo.
The building accommodates a sizable bar area and substantial dining rooms. The back half of the dining area is clubby and dim, with rows of heavy, square mahogany booths that remind me of cubicles in an unexpectedly luxurious dot-com. Shiny mahogany table tops are undraped; the booths gain comfort from tweed and leatherette inserts that look strangely like the seats from a vintage '50s sedan. Pale greenish-gold walls the color of a young, buttery Chardonnay and artsy glass sconces add accents that keep the dark wood construction from seeming overwhelming. The front section of the dining room is more open, furnished with large tables draped in white, separated into more intimate sections by a waist-high room divider and a large, lighted aquarium.
The rooms are beautifully lighted, with pretty indigo-shaded lamps illuminating each booth and strategically placed spotlights dotting the black ceilings, providing light just where you need it to see what's on the menu -and your plate - while leaving the rest of the room romantically dim.
Tables are simply set with heavy flatware and simple off-white earthenware plates, large but somewhat unabsorbent white polyester napkins, man-size drinking tumblers and heavy but serviceable wine glasses. Fresh flowers in pretty cobalt-blue bud vases add an attractive finishing touch.
The oversize menu is so big that it's hard to get it unfolded in the cozy quarters of a booth. It's worth persisting, though, as you'll find a vast array of both steaks and guaranteed-fresh seafood within.
Oyster-bar appetizers include such goodies as a half-dozen oyster "shooters" for $6.95, as many shrimp on ice as you like for $1.65 each, lump crab and scallop ceviche for $8, cornmeal-fried oysters for $9.95 or a dab of caviar for ... market price. Starters are $6.95 (for onion rings, calamari and such) to $9.95 (for a variet of items including red ahi tuna sashimi). A half-dozen salads are $4.95 (for several choices including a small plate garden salad or beefsteak (tomato) and onion to $7.95 (for a well-made Caesar, among others).
The menu breaks into two parts: A seafood selection that changes daily, depending on what's available (Z's boasts that all its seafood is flown in overnight, although that's not a hard claim to make in Louisville, with our quality seafood suppliers), and a substantial steak-and-chop menu.
The seafood side (which will eventually be featured on "blackboard specials," a work still in progress at the time of our early visit) is subdivided into many categories: "small plates" from $4.95 for chowder to $16.95 for crab cakes; "crustaceans" such as oysters Rockefeller ($9.95), Florida stone crab ($16.95) and fresh oysters on the half-shell ($2.25 each for Pacific oysters, $1.95 for the Atlantic variety). "The Pacific oysters are good if you like a salty oyster," our helpful server explained.
Other categories include the day's choice of freshwater lake and stream fish, live lobsters ($19.95 for a pound-and-a-quarter beauty) and ocean fish (topping out, at least on the night of our visit, at $32.95 for Dover sole with lemon butter).
The main menu features roasts and chops (plus an $11.95 grilled-vegetable plate) from $15.95 (for prime beef tips) to $32.95 for an 18-ounce "cowboy steak" blackened with Cajun spices. I don't think so. Other options range from $17.95 (for a 12-ounce rib eye) to $27.95 (for "the best filet in town," a 12-ounce prime filet mignon.
Side dishes are $3.95 for a rock salt baked potato (loaded with sour cream, cheese, bacon and green onions, more than I want) or $4.95 for such options as spinach Florentine, potatoes au gratin or a wild-mushroom ragout.
The wine list is similar to Indigo's, featuring more than 100 selections, many of them available by the glass from $5 to $11. Wines by the bottle range from $18 (for Bonny Doon Pacific Rim Riesling, $5 a glass, a good choice with seafood) to several California reds for $112 and a celebratory bottle of 1992 Dom Perignon Champagne for $198. You'll find plenty in the $20 to $40 range, though, on a list that's strong on California with a fair choice from Australia and New Zealand but almost nothing from Europe; a brief "old world red" section is embarrassingly slender, with just three mass-market choices, none of interest.
An appetizer order of cornmeal-fried oysters got our evening off to a roaring start. A generous portion came fish-and-chips style, served wrapped in a piece of printed paper (actually, we note, an obsolete menu page) tucked into a shiny "bucket" that looked a lot like a julep cup. They were just perfect, more than a dozen fresh, tender shellfish coated with a crisp cornmeal breading and fried just right, served with citrus wedges and a chunky, savory homemade tartar sauce.
We also ordered a half-dozen Wallapa Bay oysters from Washington State ($2.25 each), served in their shells on a bed of ice in a round pewter tray. They were excellent, fresh and salty, with a particularly earthy, "oystery" flavor that may put off the uninitiated; if you like your oysters on the mild side, stick with the Atlantic varieties. They came with a serviceable red cocktail sauce, but please don't use it: There's no point in masking the delicate, seabreeze subtlety of excellent fresh oysters with the moral equivalent of spicy ketchup.
With this course we chose two New Zealand white wines by the glass: Grove Mill 1999 Sauvignon Blanc ($6.75) and Sanctuary 1999 Sauvignon Blanc ($6). The Grove Mill had a lot of the odd, appealing "chile pepper" aromas that make New Zealand Sauvignon Blanc a sought-after choice. The Sanctuary (actually a less pricey "second label" from the same winery) was simple but crisp and fresh, tangy with a lemon-squirt of natural acidity that made it a delight with the oysters.
A bread basket wasn't delivered until after the oysters were down the hatch. It was decent bread, more mass-market than artisanal but pleasant enough, a seeded baguette with poppy, sesame and a few anise-flavored fennel seeds, and a mild and rather chewy white sourdough.
Steak au poivre ($21.95) was very tender, cooked a bit past the short-of-medium-rare that we ordered, just barely pink in the middle, but still a delight; dusted with a few whole green peppercorns and finished at tableside with a simple Bordelaise sauce that's a bit on the sweet side.
A whole boned trout ($15.95) was flour-dredged and fried, then re-assembled with a whole crab cake stuffed inside, with a delicious brown-butter sauce flavored with a taste of sweet-tart balsamic vinegar and chopped pecans. Delicious!
Everything on Z's menu is a la carte and entrees come unadorned, so if you want side dishes - even vegetables and potatoes - you must order them for an extra charge. With the server's assurance that the sides are large, we decided to let the bread serve as our starch and split a spinach Florentine ($4.95), a gussied-up version of old-fashioned creamed spinach. It was a hearty dish, plenty for two, spinach long-cooked with onions and mushrooms and a few stray bits of bacon, topped with what was billed as Mornay sauce but appeared to be melted Gruyere cheese. It wasn't bad, but to be honest, I'd just as soon have had a bowl of simple, fresh green spinach cooked just until it wilted. Next time, I think I'll go with a Caesar rather than a cooked-greens dish.
In fact, this leads to one of my few consistent complaints about Z's: The steak would have been very good without the sauce. The trout would have been very good without the crab cake. The spinach would have been very good without the fixin's. A wise philosopher once said, "Less is more." Sometimes it's best to quit while you're ahead.
Our wine choices with the main course were Beaulieu Vineyards (BV) 1997 Napa Cabernet Sauvignon ($7.50), one of my standards for affordable Napa red, showing full and tart blackcurrant flavors; and an Australian red, Greg Norman 1998 Shiraz ($7.75), a straightforward table wine with good crisp fruit and a spicy taste of black pepper.
Lured by the menu's accolades, we succumbed to temptation and ordered a chocolate souffle ($5.95), a Z's signature dish that must be ordered before the meal to give them time to prepare it. It took a little longer than expected (under our friendly grilling, the server admitted that the first effort had failed in the kitchen, requiring a re-make), but was worth the wait, perfect on the second try. A chef's hat of golden-brown, airy chocolate rose high above a white ceramic ramekin; it was finished at tableside, flamed impressively with a ladle of heated Cognac and creme anglaise stirred in while it was still flaming. The result was feather-light and delicately flavored, a triumph of the dessert-maker's art.
With cups of espresso ($2.50) to finish, dinner for two came to a pricey but not quite breathtaking $111.57, and friendly, almost earnest service earned a $22.43 tip. $$$$ <!REVIEW ENDS HERE!>