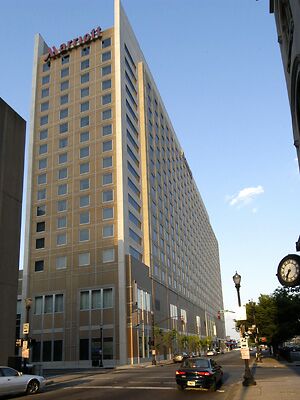 86

Blu Italian Mediterranean Grille
Marriott Louisville Downtown
280 W. Jefferson St.
(502) 627-5045

Hotel Website: http://marriott.com/property/propertypage/sdflm

<!REVIEW GOES HERE!> The new Marriott Louisville Downtown reportedly cost a cool $110 million to build, and I'm sure every one of the 616 rooms in the city's grandest new hotel is a classy place to stay. But let's be brutally frank about this: Man, it's ugly!

Jutting 17 stories up from the corner of Third and Jefferson streets, it rivals the Galt House in the city's rogue's gallery of design hee-haws: It looks like nothing so much as a chocolate ice-cream sandwich standing up on end, and the inclusion of a few preserved 19th century building facades pasted on the lower reaches of its otherwise geometrically spare exterior do little to save it.

But this is a food review, not an architecture review, and the news from within - particularly the Marriott's signature eatery, Blu Italian Mediterranean Grille, is mostly good.

A few grand hotels set out to position their top dining rooms as dining destinations, four-star establishments that attract visitors in their own right. Most, however, don't place as high a priority on dining, offering straightforward food service that seems primarily intended to serve hotel guests who lack the time or enthusiasm to go out in search of something more interesting.

The new Marriott appears to be shooting for a higher mark with Blu, and if it falls just a bit short of the Seelbach's Oakroom or the Brown's English Grill, it's certainly making a noteworthy effort. Given time and a continued commitment to quality, Blu could earn a place in the city's upper tier of restaurant destinations.

The dining room is very large (2,800 square feet), spread out across three good-size public rooms separated by low wooden dividers topped with panes of frosted glass, plus a more intimate private space in a wine-cellar setting behind pretty art-deco doors paneled with pale green and pale gold glass.

The main center space is defined by a high, rounded overhead vault, discreetly illuminated by indirect light (blue, of course) with a couple of giant, medieval-looking black iron chandeliers with frosted-glass chimneys. The blue also shows up in the servers' shirts, tablecloths and an attractive Pompeii-style mosaic above the open kitchen; but blue is an accent, not a dominant theme. Separate dining rooms on either side have lower ceilings and an affectionately retro art deco look in beige and dark wood that reminds me somehow of the cover of an Ayn Rand original like Atlas Shrugged.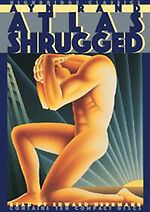 Large, comfortable booths boast tweedy upholstered backs and naugahyde-look seats; free-standing tables are furnished with comfortable upholstered armchairs. Tablecloths are a deep ultramarine blue with white cloths turned diagonally atop. Tables are set with white cloth napkins, shiny, heavy stainless flatware, heavy white plates and good quality glassware. Live desert-type plants sprout from simple, attractive squarish ceramic pots. Discreet background music fits the restaurant's Mediterranean theme - Spanish flamenco music was pleasant and, happily, turned down low enough that it doesn't interfere with conversation. I wish we could have turned down a more intrusive aroma of scented candles that was vaguely reminiscent of a Pier One shop. The soft, burnished, dark-wood flooring adds an attractive note.

MARRIOTT DINING
In addition to Blu, the Marriott's signature restaurant, the hotel also houses Champions, a 34-property sports-bar chain originally developed in Washington, D.C., and now owned by Marriott; the local branch offers pub fare and has been "localized" with Kentucky Derby, U of L and UK memorabilia. The Bar at Blu offers drinks and appetizers, and there's also a Starbucks. All four food-service operations are housed on the hotel's main floor.


The executive chef at Blu is Jay Denham, a Louisville native who recently served as executive chef at Viand Bar & Kitchen in Chicago and was a sous chef at the Oakroom under Chef Jim Gerhardt. The bill of fare, as the name of the restaurant suggests, is predominantly Italian, but expands beyond Italy to encompass tastes of the broader Mediterranean, from Provence to Spain and maybe a hint of Greece.

The menu will change seasonally. The spring edition current in April 2005 offers about a dozen appetizers (ranging in price from $2.95 for olives Provencal with lemon and olive oil to $7.45 for iron skillet fennel-roasted mussels with lemon-brandy aioli). Four of the starters are billed as "antipasti" and are available singly or on a combo plate for $7. For lighter appetites, three pizzas and three pasta dishes are available. The individual-size pizzas are $8.25 (for a margherita-style pie with fresh mozzarella, basil pesto and fresh roma tomatoes) to $9.50 (for a pizza topped with shrimp, oven-dried tomatoes, blue Gorgonzola cheese and arugula). The pasta dishes are $8.75 (for wide pappardelle pasta with a hearty Bolognese-style meat sauce) to $12.50 (for linguine with clam sauce with bacon and onion compote).

A relatively short list of entrees is subdivided into "Meat and Fowl" (four items from $15.25 for a rotisserie-roasted half chicken with polenta and frisée white-truffle-oil salad to $29.50 for lemon-grilled lamb chops with broccoli rabe pesto and Mediterranean couscous) and "Fin Fish" (three choices, from $14.50 for roasted halibut with a shallot-spring onion ravioli and sugar snap peas to $18.50 for a Provencal-style bouillabaisse of bass, shrimp, clams and mussels).

A prix fixe dinner offers a choice between two appetizers (smoked salmon or fresh mozzarella) and any of three entrees (grilled steak, halibut or rotisserie chicken) plus the dessert cart. It's $27.50; add $15 or $25 for a "flight" of wines by the glass to match your courses.

The wine list is fairly extensive and well-chosen, and the markups are fair by the standard of hotel dining rooms, typically about double retail (which is three times the wholesale price that management pays). It features separate pages for categories including American and Italian reds and whites, "wines of the world," half bottles, and table wines and dessert wines by the glass. In the back, a short list of 16 wine terms, called "geek speak," takes a stab at wine education with somewhat mixed results.

About 30 wines are available by the glass, from $6 for Beringer White Zinfandel or Rex Goliath Cabernet Sauvignon to $17 for Gregory Graham Viognier from California and a stunning $35 for a celebratory glass of high-end bubbly, Heidsieck Monopole Diamond Blanc Champagne. Particularly interesting bang-for-the-buck choices are Altos Malbec from Argentina ($7 for a glass) and Banfi Sant'Angelo Pinot Grigio ($8 for a glass).

Barring a few high-end outliers (like Banfi 1999 Brunello di Montalcino for $122, a bit more than double retail, and Treana California Meritage for $110, marked up a bit more aggressively), most wines listed are under $50 and you'll find quite a few decent values in the $20s.

My usual advice is to aim for the most interesting wine at the same general price point as your entree, and I spotted several interesting possibilities on the list, including Red Diamond 2003 Washington State Merlot ($23), Santa Maria la Palma Aragosta Vermentino and Michele Chiarlo Barbera d'Asti (both $27), Terruzzi & Puthod Vernaccia di San Gimignano ($35), and my choice, Boccadigabbia 2002 Rosso Piceno ($25). Order a bottle of wine and the smallish glasses at your place will be whisked away and discreetly replaced with a larger, good-quality wine glass.

Our meal began with a generous portion of sliced, crusty rustic bread that appeared to be either Blue Dog's olive bread or a very good imitation. It was served with real butter rolled in tasteful balls and a three-segment white relish dish loaded with pitted olives, a thick intense puree of sun-dried (or maybe oven-dried) tomatoes, and a couple of chunks of hard Parmigiano.

We split an antipasto order for one ($7), which proved to be plenty for two. It consisted of two slices of fresh smoked salmon garnished with tiny lemon segments, and two slices each of three thin-sliced meats: mortadella with pistachios (the original Bologna sausage), a large salame, and prosciutto, tender and delicate, with a dark color and mild flavor that suggested it was domestic, not Italian. Filling out the large oval antipasto plate were canteloupe and honeydew cut into tiny dice the size of corn kernels; vinegar-marinated cucumbers and onions with tangy capers; radishes and a bit of fresh fennel sliced paper-thin and dusted with black pepper, and a little dish of mixed, pitted olives marinated in a lemon and olive oil vinaigrette.

Our wine choice was the good-value Bocadigabbia 2002 Rosso Piceno, a Chianti-style red from le Marche in Central Italy. A blend of the local grape Passerina with Sangiovese and Montepulciano, it was young and hearty, full of black fruit, plums and pepper. Rather international in style, it was a bit reminiscent of an Australian Shiraz, but tangy acidity and a touch of pleasant earthiness with hints of minerals and leather held true to its Italian heritage and made it a better companion with our dishes than a big Aussie red would have been.

Dinners are served on large, glossy white plates. The tomato-and-mozzarella pizza ($8.25) was a comfortable size for one, maybe 8 inches in diameter, topped with thick-sliced fresh plum tomatoes and an intense basil pesto, with creamy, molten whole-milk mozzarella on top. The toppings were good, but the crust was disappointing: It was thin, rather bland and very soft, almost like a round of Wonder Bread pressed thin. I took half home for closer analysis, which reinforced this unhappy conclusion.)

There were no complaints about the ossobuco ($25.75), though. It was a great one, as good as or even better than I've enjoyed at full-Italian eateries: An oversize shank so big that we joked it must have come from a cow, not a mere calf; a good 2 1/2 inches thick, it had been long-braised until it was tender enough to eat with a spoon ... indeed, it came equipped with a little silver spoon to dip the rich marrow out of the center bone. It was braised with mild domestic pancetta and a discreet amount of a rich tomato sauce. It was plated atop a decent portobello mushroom risotto and surrounded by a choo-choo train of crisp, barely cooked sugar snap peas lined up end to end in a perfect circle around the plate.

Desserts are served from a cart that's rolled out to tableside. This night's selection featured tiramisu; angel food cake with fresh strawberries, raspberries, blackberries and blueberries; a fruit tart with the same selection of fresh berries, and a New York-style cheesecake. We went with the cheesecake ($5.50), and it was a good one, a proper balance of sweet and tart, with a crunchy crumb crust and an aromatic dusting of cinnamon on top. Our server, Jerry, a jovial gent who might have fit in as well at Cunningham's as Blu (and that's a compliment to his friendly, attentive yet laid-back service) was happy to divide our single order between two plates, artfully swashing each with a free-form stripe of thick, sweet blackberry glaze.

Palate-cleansing shots of Illy-brand espresso ($2) topped off an indulgent meal. The coffee was deep and rich and almost chocolatey, properly pulled with a rich, golden crema on top, a simple art that too many of Louisville's top restaurants have failed to master. Bravo!

By splitting an appetizer, substituting a pizza for one entree (and leaving enough to take home in a doggie box), dividing dessert and cherry-picking a particularly good-value bottle of wine from the lower end of the list, we were able to put together a luxurious dinner for two without having to pay a luxury price. Dinner came to $80.03, including the wine, plus a $20 tip for excellent service. $$$$

(April 2005)

ACCESSIBILITY: With the exception of a side entrance to Champion's that incorporates the facade of the historic Coleman Building, with two concrete steps, all the Marriott's facilities appear to be fully accessible to unassisted wheelchair users.

<!REVIEW ENDS HERE!>
---