!REVIEW GOES HERE!> CAUTION! Executive Chef Walter Leffler resigned his post at the Seelbach in February 2005, marking the Seelbach's second loss of its key executive since Jim Gerhardt and Mike Cunha left to open Limestone in the autumn of 2003. Patrons should note that the four-star experience related in this review is based on visits under Gerhardt's and Leffler's tenure. We'll update this review after a new chef is on board.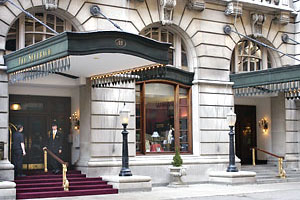 Opened in 1905, the Seelbach was featured, pseudonymously, in Fitzgerald's The Great Gatsby.

97

The Oakroom
Seelbach Hotel
500 S. Fourth Ave.
(502) 585-3200

Website: http://www.seelbachhilton.com/hoteldining.html


The Seelbach Hotel's Oakroom is not just one of the best restaurants in Louisville but one of the best-publicized.

It goes after, and wins, awards for its menu, its wine list, and the fine original cuisine of Chef Jim Gerhardt. And thanks in no small measure to the Hilton hotel chain's well-oiled public-relations machine, just about everybody knows it.

Whether it's another invitation to James Beard House in New York, or another entry on Wine Spectator magazine's annual winelist awards, the Oakroom turns up frequently in the news, and the news is always good.

SeelBACK or SeelBOCK?

Brothers Louis and Otto Seelbach, who had operated an earlier Seelbach Hotel at Sixth and Main streets (later called The Old Inn), built the 15-story Seelbach at the corner of Fourth and Walnut (later Muhammad Ali) in 1905. It was considered the city's finest hotel of the era, although the Brown Hotel gave it a run for its money when its then-more-lavish quarters opened in 1923.



The author F. Scott Fitzgerald, who spent time in Louisville as a soldier at Camp Taylor during World War I, included a Seelbach reference in The Great Gatsby (1925), writing, "In June she married Tom Buchanan of Chicago, with more pomp and circumstance than Louisville ever knew before. He came down with a hundred people in four private cars, and hired a whole floor of the Seelbach Hotel, and the day before the wedding he gave her a string of pearls valued at three hundred and fifty thousand dollars."



Gatsby (and the Seelbach brothers themselves) almost certainly pronounced the name of the hotel "SeelBACK," in Louisville German-American fashion, as generations of Louisvillians have said it for most of the century. The folks who answer the phones under Hilton management seem to prefer an affected Germanic "SeelBOCK," but this pretentious alternative doesn't have tradition on its side, and I'm agin' it.

Does the Oakroom live up to all the hype?

As a matter of fact, yes. A recent re-visit - my first in several years - found a near-perfect dining experience that ranks among the best dinners I've enjoyed in Louisville or just about anywhere else, a flawless evening with hardly a slip in food, atmosphere or service. Whether you're entertaining Derby guests, business clients, family or friends or just plain indulging yourself and your sweetie, an evening at the Oakroom shows our city's dining and entertainment at its finest.

(I should disclose at this point that [former] Oakroom maitre d' Jerry Slater, who had met me coincidentally during a television appearance a few days earlier, spotted me toward the end of dinner and rushed over to say hello and offered a complimentary taste of several artisanal cheeses. But my critical anonymity had held until late in the meal, and this timing - along with discreet observation of the food and service at neighboring tables - satisfies me that this glowing report wasn't influenced by any special "let's impress the critic" treats or service.)

The Oakroom is somewhat similar in style to the rival Brown Hotel's English Grill, with dark oak walls and square carved pillars. If anything, the Oakroom seems a bit darker in color and tone. Its ceiling is dark wood in contrast with the English Grill's white, and the ceilings of this room on the Seelbach's mezzanine aren't so high; heavy wooden shutters shade the semicircular windows, and the impressive overhead light fixtures shed a relatively dim light (although there's plenty of focused lighting to illuminate the tables).

A heavy antique wood table near the entrance displays a iron statue of a horse in the Frederick Remington style and an impressive floral arrangement. A black grand piano in the lobby offers discreet standards, its player-piano keys mysteriously moving though no one is at the keyboard; in the dining room the piped-in background music is unobtrusive jazz.

Large, heavy tables are double-draped with heavy white linen, with oversize white napkins to match. Side chairs are comfortable armchairs with high backs, some upholstered with discreetly striped maroon, others with a greenish diamond pattern. Heavy, high-quality sterling flatware and quality place settings are accented with old-fashioned votive-candle lamps with gauze shades, and fresh red roses in a silver julep cup. (It's intriguing to note that neither the Oakroom nor the English Grill sets the tables with salt or pepper shakers. If you want them, you have to ask.)

The menu is a knockout, a lengthy, diverse and interesting selection of well-chosen and thoughtful dishes featuring (but not limited by) local artisanal produce and ingredients, a creative bill of fare that's hard to match in Louisville and equaled by few high-end eateries anywhere.

Eight appetizers (cutely dubbed "Great Beginnings") range from $6 (for a mother-of-pearl spoon full of fresh caviar) to $30 (for a full ounce of Kentucky paddlefish caviar on crystal service. "Oakroom ravioli" with red peppers grilled over Bourbon-barrel staves is $8. More below about our choice of starters, the spectacular triple-scrambled free-range eggs with truffles and foie gras ($18).

Four soups are $9 (for roasted Silver Queen corn and crawfish chowder or Showalter Orchard apple butter soup) and $12 (for bisque of Kentucky-grown freshwater shrimp and coldwater lobster soup or a French Laundry-style trio offering small portions of all three soups).

A quartet of salads include Kentucky limestone bibb lettuce or a Oakroom baby romaine Caesar ($9 each); local greens and house-made duck prosciutto ($10) and a fancy spinach salad prepared at tableside ($12). (Only a couple of items are made at tableside, which is just as well - it's a bit pretentious and oh, so '70s. But the salad is an exception, and when someone orders it, everyone gets to share the delicious, tempting and extremely dominating smell of frying bacon that fills the room. There's not much wrong with that ... but it could be problematical if your neighbor gets the service while you're enjoying a delicate fish dish or maybe one of those $2,500 Bordeaux.)

À la carte side dishes carry out the fusion of Kentucky and international culinary themes, from $6 for fried green tomatoes ... with roasted garlic aioli ... to $10 for, I am not kidding about this, lobster grits.

Fourteen main courses ("specialties of the house") range in price from $20 (for sweet-potato, forest mushroom and Capriole Farm goat-cheese strudel with house-made tomato jam and ice wine balsamic pink basil oil, the menu's sole vegetarian entree and a very appealing one at that) to $38 (for a coldwater Maine lobster "deconstructed and served on a bed of tarragon tagliatelle with Kentucky forest mushrooms, roasted corn and fresh peas, or grilled rack of Kentucky lamb).

Other appetizing dishes further demonstrate the blend of local and global flavors: Ahi tuna, lobster and Hudson Valley foie gras are served with a Buffalo Trace Bourbon reduction ($34). Spoonfish is hominy-crusted and Southern-fried, and Atlantic salmon is broiled over a fire of Bourbon-barrel staves (both $24). Even a simple filet mignon gains a local artisanal flavor with a wine-and-shallot sauce made from the Cabernet Sauvignon produced at Broad Run Vineyards, Louisville's only working winery ($33 for the 7-ounce petite filet, $39 for a 10-ounce steak).

A tableside selection of local, domestic and imported artisan cheeses served from the glass-domed cheese cart is $12, and so is the top-of-the-line dessert, a souffle finished at tableside.

If you prefer to let the chef make your dinner choices, there's a series of tasting-menu options that range from $50 per person for a three-course meal ($75 with wines chosen to match) to $75 for five courses ($115 with wines) or $100 for seven courses ($150 with wines). Or go for the blowout, the Ultimate Kentucky Fine Dining Tasting, an eight-course meal with caviar and the works, a $150-per-guest that's only available if all the diners at your table agree to order it. (If you're bargain-savvy, ask about pre-theater dinner specials, which provide a taste of Oakroom glory at a significantly reduced price.)

Now let's talk about the Oakroom's wine list. For Louisville, it's one of a kind, a book-length document that without question offers the city's broadest and deepest selection. It includes some very high-ticket items and a few cellar treasures, up to and including 1961 Chateau Mouton-Rothschild, a mature Bordeaux from a great vintage that is arguably one of the world's finest wines. It can be yours for a cool $2,500. This is the kind of list that will be nominated for a top rating from The Wine Spectator, and will probably get it. But it suffers from the same winestyles-of-the-rich-and-famous attitude that has cost The Spectator much of its credibility among serious wine lovers in recent years and has diminished the value of its wine-list awards: It's a list for high rollers, for conspicuous consumers who can justify spending hundreds or even thousands of dollars for a bottle of wine, sometimes not so much to enjoy it as to be seen enjoying it.

When it comes to affordable wines that the average family will be willing to spend for dinner, the Oakroom's list falters a bit (although not so badly as the English Grill's). Only a handful of wines are available for $40 or less, and even fewer under $30; and to make matters more problematical, more than a few of the budget-level wines appear to be old stock: dusty bottles that should have been drunk up or discarded years ago. (A six-year-old Beaujolais? Or 1995 Bonny Doon Big House Red, a fun wine, but a cheap quaffer that should have been drunk up five years ago, still on the list at $25? You've got to be kidding.)

Don't get me wrong: This is an amazing wine list. As a "wine geek," I can get vicarious enjoyment out of leafing through its pages and wondering what the 1996 Chateau Lafite-Rothschild ($1,800) or even the '78 Chateau Petrus ($1,400) might taste like. A few of the jewels are within reach, at least for a special occasion. I might consider forking over $225 for 1989 Chateau de Beaucastel Chateauneuf-du-Pape, $285 for 1982 Chateau Meyney or $300 for 1990 Bruno Giacosa Barbaresco Riserva for a birthday or anniversary or other celebratory event. Others might find their heads turned by the cultish Gaja Barbaresco ($600) or some of Helen Turley's Zinfandels (in the $300 range). And coming down the list, my California buddy Steve Edmunds' Rhone-style bottlings under the Edmunds Saint John label aren't bad values in the $45 to $75 range.

But I wish sommelier Robert Munson would devote half as much attention to filling the bottom of the list with affordable, artisanal country wines of value as he and his predecessors have given to loading the top of the list with big-name delights. My wine-list rule is this: A great list should have a solid core of interesting wines that sell in the same general price range as a main-course food offering. And by this criterion, the Oakroom falls sadly short.

Gini Soave Classico appears to be the least pricey wine on the list at $20, and it's not a bad Italian white, a cut above mass-market Soave. But it gets pretty lonely in that neighborhood: On a quick run through the massive book I couldn't find another wine of any real interest for less than $30, and only a few under $40.

I ponder the list, frustrated. I want something French, but it's just not happening. I want a "better" wine to go with this memorable dinner, but I don't really want to spend $50 for it. I reject a simple Bourgogne Aligote ($30) and a low-end Rodet 1997 Bourgogne Pinot Noir (no value at $35). The California pages offer little more: Beringer Napa Sauvignon Blanc is $30, as is the slightly better Ferrari-Carano Fumé Blanc; Kunde Sauvignon Blanc is $35.

I finally settled on Vigna dei Prey 1998 Dolcetto di Dogliani ($30), a Northwestern Italian wine from a village that I love, a good red wine with characteristic blueberry scents and tangy acidity plus a touch of tannic astringency to make it food-friendly. It's a nice wine, and the double-retail price is fair. But it's a shame that I was able to find just one wine out of 1,200 that really suited me for both quality and price.

The Oakroom's good-size wine glasses are more appropriate than the tall, skinny goblets at the English Grill; but they're on the heavy, dishwasher-safe side, a step down from the glassware at Le Relais or Equus. This is a bit surprising given the Oakroom's luxurious and pricey wine list, for which it seems reasonable to expect serious crystal.

As the dinner production began, we were offered sourdough wheat bread with butter and an oversize whole bulb of earthy roasted garlic to spread on it, followed quickly by an amuse-gueule that went beyond "amusement" to "awe" - beef tartare made with Kobe beef. I have my doubts that the beef came all the way from Japan, but it's surely the almost-as-good Wagyu, Kobe-style beef from Texas, which is plenty impressive enough. A dab of buttery-rich red meat with the texture of whipped cream was perched on a tiny toast triangle with a field-lettuce leaf for garnish. One bite and it was gone, but the memory lingers.

Can a regular appetizer top that? Yes, it can. The Oakroom's triple-scrambled free-range eggs with shaved black truffles ($18) are now enshrined in my personal all-time restaurant Hall of Fame. Light and airy, creamy and rich all at the same time, fluffy scrambled eggs were accented with just a taste of black truffles shaved into thin fragments and a drop of earthy, perfumed white truffle oil. It was topped with a small but just-as-rich round of silken foie gras, pan-seared on the edges and rare within, all piled on a baguette round. It came with a smile-provoking garnish, a locally grown trumpet mushroom breaded with cornmeal and fried crisp, just like a fried green tomato. This dish was so rich that it easily served as a starter for two ... but so good that I could have happily eaten it all myself. If you're dining on a budget, I could make a case for choosing this appetizer as a light entree, accompanied with a salad, a glass of wine, and maybe a dessert, if you want to get out of the Oakroom on the cheap.

Salads were also excellent. "Local greens" and house-made duck prosciutto ($10) consisted of a generous, fresh ration of mixed field lettuces in a light sweet-tangy dressing (billed as "toasted beechnut vinaigrette and Indiana apple cider reduction"). Several slices of salty, dark-purple duck prosciutto - chewy in texture and almost beefy - and a sprinkle of crunchy hazelnuts added dimension to the plate.

The Oakroom Caesar ($9) featured beautiful round, tender leaves of baby romaine, spread on the plate and painted with a thick, tangy Caesar dressing with a couple of little silver-skinned fresh anchovies that never saw a can. Rich, short toasted brioche triangles made an appetizing alternative to the usual croutons.

In a vaguely theatrical Oakroom tradition, main courses are delivered by a team of servers who dramatically lift silver domes to reveal your dinners in a synchronized pas de deux.

Braised lamb ossobuco($28) was a full shank, long-braised and tender, served on a savory reddish-brown sauce with a wintry mix of potato wedges, chunks of sweet potato and a root veggie - maybe rutabaga - from Field Days Farms. Homemade German-style spaetzle noodles were pan-fried buttery and crisp; the menu described them as "preserved lemon spaetzle," a nuance that wasn't immediately obvious to my taste buds.

Venison, a daily special ($30), was a 1 1/2-inch boneless steak grilled, then cut into five thin slices. The end slice was charred with tempting grill marks, the center blood-rare, just the way I like it - a good thing, since they didn't ask me how I wanted it. The accompanying shallot risotto was comforting if a bit unusual, rice and delicate onions simmered so long that it melted into a thick mass with a puddinglike texture that almost resembled grits. The dish was garnished with a trio of tender green thin-stemmed baby Asian cabbages with a delicious salty-smoky taste from the grill, and a whole cooked mild red cherry pepper.

Just as the meal was winding down, maitre d' Slater arrived with the cheese service and insisted we try a few at the restaurant's expense. (The cheese service is normally $12.) The glass-domed wagon bears more than a dozen artisanal cheeses, mostly from the United States with a tilt toward the Southeast; a couple are from France. We sampled a trio of sheep's milk, goat's milk and cow's milk cheeses from domestic cheesemakers, all mild and pleasant if not overly challenging, served with brioche triangles, dried figs, dried apricots and an unusual bite, a soft, translucent diamond of sweet-potato jelly.

Seelbach pie ($10) is the house translation of (and a considerable improvement on) the trademarked Derby Pie™, loaded with pecans and rich chocolate filling touched with a hint of Bourbon that imparts a whiff of maple-tinged caramel flavor, mounded in an excellent short-and-flaky crust. An oversize serving looked like enough for four, but the two of us managed to put it all away. It was plated on a chocolate-and-creme anglaise design almost suitable for framing and hanging on your living room wall - a food-as-art design that's also painted across the tines of the dessert forks.

Coffee ($2.25) is poured dramatically from a silver pot held a foot-and-a-half above the table so it comes cascading down in a stream. Cappuccino ($2.95) is served in a coffee cup, frothy milk foam atop a good, rich coffee-and-milk base.

One of the most memorable dinners of the year came to one of the most memorable prices: $148.61 for two, including only a decidedly modest bottle of wine, plus a well-earned $31.39 tip.

For interest, here's how this $180 total for dinner for two with wine, tax and tip stacks up against my last visits to some of the city's other top-tier eateries: $200 at Morton's of Chicago, $175 at Le Relais, the English Grill and Vincenzo's, $160 at Ruth's Chris, $150 at Equus, $135 at Z's Oyster Bar and Steakhouse and $125 at Lilly's. $$$$


(April 2003)

CHEF FOR A DAY: Read about Seelbach Executive Chef Walter Leffler's "Chef for a Day" program, in which interested food enthusiasts can spend an afternoon in the hotel kitchen, watching and helping as chefs prepare the evening meal. Click here for Robin Garr's report.

<!REVIEW ENDS HERE!>
---