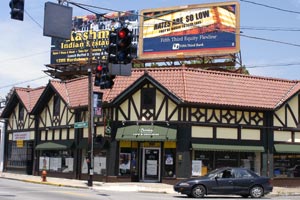 64

Bombay International Market
1591 Bardstown Road
(502) 473-2077

<!REVIEW GOES HERE!> The Bonnycastle Pharmacy has definitely changed. The familiar old landmark Tudor-style commercial building at Bardstown Road and Bonnycastle turned into an ethnic convenience store with Asian groceries and an all-you-can-eat Indian buffet? Who knew!
It's an attractive makeover, too. New management has scrubbed the dark old pharmacy building bright and clean, with shiny white tile on the floor and bold primary colors on the blue and yellow serving counter up front.
Primarily a convenience store with an Asian accent, rows of shelves contain mostly imported specialty foods - bulk rice, curry powders, Chinese ingredients, ramen noodle packets and jars of soy sauce, even such culinary exotica as Vietnamese rice-paper spring roll wrappers, are stacked alongside liter jugs of Coke and Pepsi. Along the back you'll find deli meats, cold cuts and cooler boxes filled with soft drinks, milk and beer. In a corner, a doorway leads to a "Bollywood" library of Indian videos and DVDs.
Up front, there's an Indian lunch buffet and a half-dozen tall round tables to eat it on. If you want to dine in, you'll have to hoist yourself up to high barstools, a move that might be troublesome for short folks and impossible for wheelchair users.
I'm told that Bombay International is under the same management as Kashmir up the street, one of the city's best Indian restaurants. But to be blunt, the fare is not up to Kashmir's standards. The problem is not in preparation so much as presentation: Curries are flavorful, but tend to be soupy, requiring you to spoon around the bottom of warming pans to find scant bits of meat drowned in pools of soupy sauce.
Indian breads tell the same sad tale. Pappadums were soft and stale, a disappointment; naan and paratha-type bread showed more potential, particularly one filled with potato curry, but they consistently displayed the familiar chewy texture that results from warming in the microwave. Tiny puris the size of golf balls should have gone well with spicy chickpea curry, but they were dried out and crunchy, shattering like potato chips when we tried to tear them open.
There are no posted descriptions of the dishes, so you have to guess what you're eating ... chickpea curry, spinach curry, something that looked like chicken tikka and a similar vegetarian dish with chunks of yogurt cheese in place of the poultry. The buffet also included a very basic salad bar and four trays of tasty chutneys - tart-sweet tamarind sauce, mild and hot green sauces and a fiery reddish onion chutney.
The buffet lunch is $5.83 (including tax) for all you can eat. Water pitchers are available on the tables, or you can buy bottled soft drinks. $
(June 2003)
<!REVIEW ENDS HERE!>
---