!REVIEW GOES HERE!>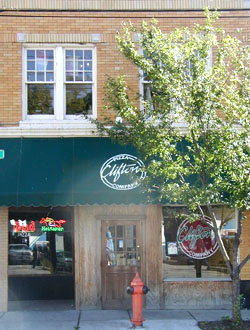 *** Clifton's Pizza Company
2230 Frankfort Ave.
(502) 893-3730
Website: www.cliftonspizza.com
As many of us who like to analyze and dissect Louisville's buzzing social scene have often pointed out, there's a distinct generational difference between the city's two major restaurant, nightlife and boutique corridors: Bardstown Road is Generation X; Frankfort Avenue is Baby Boom.
Nowhere is this more evident than in the comparison between two of our town's top pizzerias: The recently reviewed Wick's on Bardstown Road, a place where the median customer is probably just old enough to buy beer legally, and Clifton's Pizza Co. on Frankfort.
My wife and I took our salt-and-pepper heads into Clifton's the other day, and while I won't say we felt out of place at the Bardstown Road spot, we just somehow feel more contemporary at Clifton's. The pizzas at both places are very fine, but Clifton's pies have a more adult style, it seems to me, with bold flavors of herbs and spices. And call me a geezer, but I like the kind of grown-up toppings like anchovies and artichoke hearts that you can't get at the young folks' place.
Clifton's pizzas come on a thin but sturdy cracker-like crust and are piled generously high with topping ingredients; our 10-inch sausage, onion and green-pepper pie ($10.50) had to be at least an inch thick at the middle, most of it tangy tomato sauce, silken melted cheese and quality topping ingredients.
Like its cross-town rival, Clifton's has grown to absorb two adjacent restaurant spaces now merged into one. It's a large space, with the westernmost room up an impressive ramp; the decor is funky and fun, more like a much-cleaned-up '60s hippie's pad with its old photos, pictures of Elvis, remarkable collection of clocks, Italian flags pinned to the ceiling and, in the front room, a continually-under-construction mural of a vaguely European village in a faraway kingdom with a name like Psychedelia. You're more likely to catch folk music or blues than rock, and live music is on tap every night but Tuesday (and Monday, of course,when the restaurant is closed).
The "Build Your Own Pie" menu offers pizzas from $6.50 for small (10-inch) with cheese to $15.50 for large (14-inch) with four toppings; extra topings are 65 cents to $1.45, depending on size, and a whole-wheat crust option is available for an extra buck. A half-dozen specialty pizzas are $11.50 (for a small "Clifton's Special" with five toppings for the price of four) to $16.95 (for any a large combo pie such as "9 for 5" or "Eight Cheese."
Non-pizza-eaters will find a variety of options here including calzones (a pizza in a turnover, $6.35), pasta (three choices from $5.95 for oven-baked spaghetti to $6.95 for chicken tetrazzini) and a half-dozen sandwiches from $3.75 for hot ham and cheddar or $3.95 for a hot Italian sub or meatball sub to $4.75 for baked chicken or chicken parmesan, not to mention a good selection of appetizers and salads.
A hefty pizza that proved to be enough for two and a light lunch the next day, plus a couple of pints of hearty Bass Ale, was $15.51, plus a $3 tip. $ <!REVIEW ENDS HERE!>
---