!REVIEW GOES HERE!>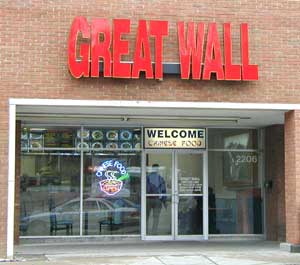 ** Great Wall
2206 Brownsboro Road
(502) 891-8881
It's hard to keep up with the ever-changing scene at the city's growing collection of fast-food Chinese eateries. A good chef moves on to greener pastures and quality falters; a talented new arrival just off the boat from Hong Kong turns up cooking at a place that failed to pass muster the previous week.
But that being said, I've never been poisoned at a Chinese restaurant yet, and in the fast-food genre, particularly, you don't have to spend much money finding out what's currently hot and what's not.
So, after watching the paper-covered windows of Great Wall in the Clifton Kroger's shopping center on Brownsboro Road for what seemed like many months of "opening soon" promises, I was delighted to notice that it had finally opened for business, and dropped right in the other day for a quick lunch.
My conclusions? Not bad! Within the diminished expectations that I bring to fast-food Chinese, this one currently ranks well up there, offering friendly service and steaming-hot, competently prepared and flavorful fare. It is also surprisingly well appointed for a storefront fast-food eatery: Although it's tiny, with room for just four tables in the dining area, it appears to have been furnished from the standard Chinese-restaurant supply catalog, with shiny white tile flooring, a huge, backlighted photo of the Great Wall of China in an ornate gold-plastic frame; impressive green-marble tabletops and, in a truly unexpected touch, the exact same black-lacquer, turquoise-upholstered chairs as those at the fancier Double Dragon Buffet on Hurstbourne.
The menu promises "New York Taste," an odd slogan that I'd have found more reassuring if they had offered "Beijing" or maybe "Hong Kong," although I've had some pretty good Asian fare in Gotham. Curiously enough, the menu is also almost identical to Double Dragon's, without the buffet but at least 95 percent congruent through the 100-plus soups, appetizers, fried-rice and noodle dishes and stir-fries in the under-$10 department, plus more than two dozen daily lunch specials, all $4.25 or $4.50 with main dish, fried rice and egg roll.
Service was friendly (nothing New Yorkish there!), and as a "foodie," I got a kick out of being able to stand at the counter and watch the chefs work their woks, idly wondering why there appeared to be a half-dozen cooks and cooking stations for an eatery with just four tables.
It took a team of two to make my order, General Tso's Chicken ($4.50); the woman at the deep-frier station took charge of cooking a generous ration of breaded chicken bites and giving a pre-fried egg roll another pass through the hot fat. A guy with woks made a thick brown sauce with a few whole chile peppers, and stir-fried a ration of broccoli, both of which he poured over the fried chicken nuggets in a large, white styrofoam box. A quick toss with some peas and carrots and soy sauce turned a scoop of white rice into quite a tasty rendition of fried rice, flavorful and grease-free, and the job was done. The chicken dish was pretty good, too, with crispy, tender nuggets and crisp-tender broccoli, although the very thick, shiny brown sauce was a bit starchy. I could have done with less of it.
Still, on the whole, it was a decent quick lunch, and it was hard to complain about the under-$5 tab. $
<!REVIEW ENDS HERE!>
---