!REVIEW GOES HERE!>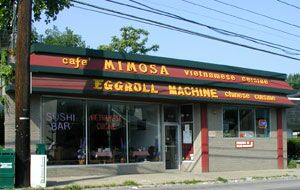 ** Cafe Mimosa
1216 Bardstown Road
(502) 458-2233
Local demand and a change of ownership prompted this friendly spot to pull back from its original status as the city's first serious Vietnamese restaurant in the French-Viet tradition of its original owner, Huong Tran, who now owns Zen Garden. But the current owners still provide a short selection good Vietnamese food and Chinese-American fare, as well as one of the city's more interesting sushi bars.
The dinner menu nowadays seems to focus more on Chinese dishes (mostly about $7.50-$8.50 for assorted stir-fries and combination dinners for $11.95) than Vietnamese, with about 10 Vietnamese dinners from $8.95 to $10.95, eight Vietnamese "light meals," $5.95 to $7.95, and $2.25-$3.95 for Vietnamese soups; the menu is all in English. We're a long way from the city's delicious and more ethnic South End Vietnamese restaurants here, but it's still a pleasant introduction into Southeast Asian cuisine.
We chose the sushi bar on our most recent visit. To the right as you enter, with the larger dining room on the left, it's a converted regular bar, a turquoise-laminate and blond-wood serpentine affair, curling around in a shape vaguely resembling a capital S. It seats about 15 on high, comfortable chairs, along with a few tall bar tables for the overflow.
Actually, it's not a converted bar, it's a dual-purpose bar, serving both sushi and drinks, with raw fish laid out in the usual clear cooler boxes across the front, and liquor bottles arrayed in the back.
As an apparent apology for a moderate wait on a crowded Saturday, we were offered complimentary bowls of squid salad, tasty raw calamari bites on a bed of crisp and fresh edible seaweed laced with sesame flavor. It was delicious.
Big bowls of miso soup were excellent, too, so thick and rich that it almost tasted like peanut butter, with generous rations of tofu, scallions and green, leafy seaweed.
The sushi menu is just about like most of the others in town, three-dozen nigiri and maki items from $3 (for ika (squid) or tamago (omelet sushi) to $7.50 (for softshell crab "spider roll").
The sushi were carefully made and neatly formed, fish slices carefully wrapped around rice balls in tasty, bite-size pieces. Saba (mackerel, $3.25) was impeccably fresh and flavorful, garnished with a sprinkle of finely minced scallion. Delicate hamachi (yellowtail, $4.50) and sweet tai (red snapper, $3.25) were also fine.
Eel roll ($6.50) consisted of dark, intensely flavored bits of flaky eel meat rolled with silken avocado, with a sweet-savory molasses-soy sauce drizzled over. A tempura roll ($4.75) was very nicely done, crisp batter-fried shrimp and crunchy cucumber strips rolled in seaweed-wrapped cylinders of sushi rice with enough hot-pepper sauce to provide an unexpected flavor jolt.
Rank this one well above the median in the city's sushi-bar standings, and a relative dinner bargain; sushi for two came to $26.23, plus a $5 tip. $$
(July 2001)
<!REVIEW ENDS HERE!>
---