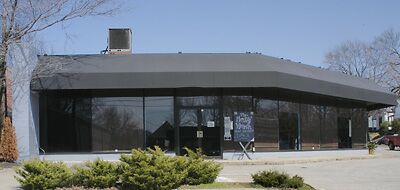 89

The Monkey Wrench
1025 Barret Ave.
(502) 582-2433

<!REVIEW GOES HERE!> An innocent victim of collateral damage in the regulatory wars between the NIMBY neighbors in Louisville's Old Highlands and the nightclub zone on nearby Baxter, The Monkey Wrench has been a long time coming, reportedly having endured nearly eight months of red tape and bureaucracy before getting its licenses in order for a quiet opening in March.
But this thoroughly renovated spot (in the former home of the short-lived Pita Delights) has been well worth the wait, and the quality of food and service we've found on several recent visits suggests that co-owner and host Denny Humphrey and Chef Scott Brummett used their down time wisely to get everything just so. Even in its first week of business, The Monkey Wrench was showing the kind of quality cooking and attentive, friendly service that would do credit to a long-established favorite; and word-of-mouth alone has already built a busy scene and loyal clientele.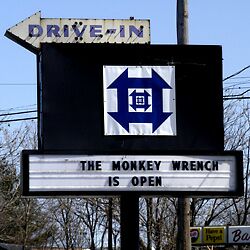 Humphrey, a genial host who makes every visitor feel at home, said he settled on the name "Monkey Wrench" when he planned to open in another location, a former auto garage. The more desirable Pita Delights building came open unexpectedly, but they kept the name and, just to mix things up, added a logo based on a traditional quilting pattern called, well, "The Monkey Wrench." (See photo at left.)
Hard to pin down in style, the restaurant is casual yet stylish, eclectic and affordable, an excellent dining room with a bit of a sports-bar feel, the kind of place where you can drop by for a drink or a quick lunch without any fuss, yet sufficiently upscale to qualify as a weekend date destination. Comparisons are always iffy, but in my mind, it's a fair comparison to call The Monkey Wrench "Cafe Lou Lou in black," similar in food and mood but substituting black, gray and white for the Clifton hot spot's bold primary colors.
You could call the 'Wrench's style "industrial chic," in fact, all grays and blacks and a shiny concrete floor. Simple black tables, black-and-white chairs and oversize, exceptionally comfortable booths fill the dining room, which is in the shape of a broad V that surrounds a large, friendly bar with plenty of tall tables and stools. Television screens abound (it should be a great place to watch the NCAA Final Four), but so does fine art, in the works of local artists on the walls and striking hanging lamps fashioned by Louisville-area glass-blowers. When the room goes dim at night, those lights twinkle through the dark like nothing so much as clouds of stars, turning the spartan room into an atmospheric, cozy den.
Chef Brummett, who's paid his dues in the kitchens of such top local spots as the English Grill, Jack Fry's and Lilly's, offers an American-style menu, heavy on light bites and bar fare, that looks down-home but goes well beyond the basics, ranging from North (Polish pierogies) to South (shrimp and grits) to pasta and pizza and beyond.
A wide variety of appetizers range in price from $3 (for chips and salsa) to $7 (for "loaded" beef nachos), not counting such top-end starter plates as the "Gigantic" nachos ($12) or a 50-piece platter of hot wings ($28) which come in medium, hot or Monkey Hot. Soups are $2 for a cup, $3 for a bowl of white bean soup, red chili or the soup of the day; a half-dozen salads are $4 (for the garden salad) to $9 (for a calamari Caesar). Sandwiches, served on good breads from The Bakery at Sullivan University, are $5 (for PB&J or grilled cheese) to $8 (for several numbers including a Reuben, roast beef au jus or Liberty Pork BBQ). Or build your own from a list of fresh deli meats and cheeses for $6 or $7. Half-pound burgers, served with fries, cheese and a pickle, are $7.
You'll also find pizzas ($7 or $14 plus toppings for standard 12-inch or 18-inch pies; $9 for a 12-inch "specialty" pizza) and calzones ($7).
Finally, a short but tasty list of dinner dishes includes entrees, served with two sides and bread, from $9 (for a Hot Brown) to $14 (for crab cakes), and pasta dishes (served with a side Caesar and breadstick) from $8 (for the pierogies) to $11 (for shrimp fettuccine Alfredo).
There's full bar service, of course, with a short but affordable and very nicely chosen wine list that substitutes some frankly interesting choices in place of the usual mass-market suspects, about half of them available by the glass. Prices range from $16 for a bottle of Feudo Arancio Nero d'Avola from Sicily to $30 for Condes de Albarei Albariño from Spain or Escudo Rojo Carmenere/Cabernet from Chile. By-the-glass prices are $4 for Rex Goliath Pinot Noir ($17 a bottle) to $5 for Stephen Vincent Cabernet, Joseph Pepi Sauvignon Blanc or Bonterra Chardonnay.
Similar praise goes to a short but interesting beer list, including such import goodies as Bass Ale and Pilsner Urquell on draught ($4 a pint), served properly cool, not ice-cold, in good, heavy pint glasses.
We stopped in for lunch during the early going and enjoyed it so much that we soon came back for dinner. (The Monkey Wrench also offers a generous Sunday brunch, with live music, and is open every day but Monday.)
A soup of the day ($3 for a bowl) of roasted tomato and garlic soup was a delight. It looked a little like Campbell's - a bright-red, thick tomato puree - but it sure didn't taste like Campbell's. It was a rich brew that mingled intense ripe-tomato flavor with a waft of garlic sufficient to keep Dracula and all his kin at bay, suffused with a subtle but distinct edge of hot peppers, served in a good-size white ceramic bowl. A cup ($2) of chili was fine, too, hearty, chunky ground beef and red beans in a savory Midwestern-style bowl of red, spicy and filling, no spaghetti, just hearty chili all the way down to the last bite.
Pierogies ($8), a Polish treat more familiar in Pittsburgh and points north than the Ohio River Valley, consisted of about a dozen fried, double-bite-size ravioli-style pasta sombreros, each encasing a tender, steaming potato filling, tossed with a bit of meat sauce that added a slight Italian accent to the Polish, made the old-fashioned way with tomatoes, coarsely ground beef, sauteed onions and just a whiff of hot spice. They were piled on a large oval plate with a very good salad on the side, crisp fresh romaine tossed with shredded Parmesan, big, crunchy croutons and a good ration of real-bacon bits.
Another special - and one I desperately hope they have often - was shrimp and grits ($8), a mound of rich, creamy egg-yellow grits topped with six absolutely perfect grilled shrimp, tender and faintly smoky, and a thick, brown "redeye" sauce that all came together in an outstanding rendition of this Carolina coastal favorite.
When we returned for dinner another day, we found the food just as good and the mood, maybe, even a little better. All the television screens were on and tuned to sports - maybe a dozen of them, including one gigantic screen in the bar - but somehow they didn't dominate the scene. The room is very dark, but the hanging lights twinkle everywhere like stars on a moonless night, doubled by large wall mirrors around the bar room, made for a lovely scene.
"Breaded asparagus" ($5) is a seriously inadequate description for one of the city's most addictive appetizers: About eight sizzling-hot, bright-green asparagus spears were deep-fried to crisp-tender perfection in a light, crunchy tempura-style coating that was not at all heavy, so delicate that asparagus green showed through between crunchy flakes of something like Japanese panko. It was served with a small tub of a lightly spicy remoulade-style mayo, which was fine but hardly necessary, as these beauties were toothsome without any adornment.
A 12-inch sausage pizza ($7) was straightforward, a thin, breadlike crust heavily laden with molten mozzarella, an ample portion of tangy, spicy tomato sauce and good big chunks of tender mild Italian sausage.
The Hot Brown ($9) was fine if a bit tweaked from the Brown Hotel's original recipe: Thin sliced deli-style turkey and ham were piled atop a sliced round of good white bread, topped with a thick slice of decent-for-the-season tomato, a light but savory cheesy Mornay sauce and several thick slices of crispy, smoky bacon. It came with a choice of two sides: Steamed broccoli was surprisingly tasty for an item so healthful, perfectly cooked to the point of tender but not mushy. Mashed potatoes, pushed through a ricer and topped with plenty of chopped parsley, were as good as Mom used to make.
There's a short selection of appealing desserts, from $2 for ice cream to $5 for trademarked Derby-Pie or cheese cake, but we were too full to try them on either visit.
A hearty lunch for two, with competent and friendly service, was $24.24 plus a $3.24 tip. Dinner with two beers was $30.26 plus a $6.74 tip. This one is definitely a keeper, and I predict it will be a very popular spot by Derby time. $$
(March 2005)
ACCESSIBILITY: The Monkey Wrench appears to be fully accessible to unassisted wheelchair users.
<!REVIEW ENDS HERE!>
---