!REVIEW GOES HERE!>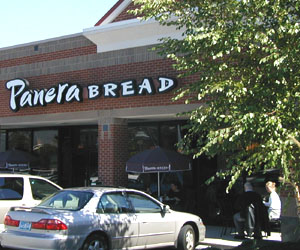 ** Panera Bread
601 S. Hurstbourne Lane
(502) 423-7343
National Website: www.panera.com

Panera Bread, with locations on Hurstbourne, the St. Matthews Mall and the Springs Shopping Center in Louisville as well as one in Lexington, is the local outpost of a national chain based in St. Louis, where it's known as St. Louis Bread Co.
Frankly, Panera compares with artisan bakeries like Louisville's Blue Dog in pretty much the same way as Starbucks compares with artisan coffee shops like Heine Brothers. But I can think of at least two good reasons to choose Panera for lunch: (1) You're stuck in the 'burbs without a car, or (2) you've got a hankering for a taste of their excellent Asiago bread, a chewy, sweet-tart flat loaf (or bagel) savory with nutty, earthy Italian Asiago cheese.
Panera's shops combine a bakery and a cafe in a bright and shiny, fast-food setting, offering fresh bread to go and a fair selection of competently made if uninspiring soups, salads and sandwiches to take out or eat in. The affordable menu tops out at $6.29 (for an Italian combo sandwich with a deli full of meats and cheeses), save for the community-property "Party Sandwich," a two-foot sub designed for six to eight hungry diners to share.
French onion soup ($2.99 for a bowl, also featured in a $5.69 daily soup-and-half-a-sandwich special) was rich, sweet and quite salty, with a flour-thickened quality. In place of the usual crouton, it had two neat squares of packaged sliced process cheese floating on top.
A panini portabello sandwich, a daily special with the soup-and-sandwich pair, made a filling meatless lunch, with the contents just heavy and most enough to work their way through the bread. The Asiago roast beef sandwich ($5.99) came on that excellent signature bread; thin-sliced deli roast beef and process cheese were topped with lettuce, tomatoes and thick onion slices with a very mild, mayo-like horseradish sauce.
Iced tea ($1.29) came from a vending machine. A large latte ($3.19) was strong and bitter, with a light foam that subsided as fast as the head on a beer.
Lunch for two, with two soup-and-sandwich pairs, an iced tea and a latte, built up pretty quickly to $18.27.
The chain (Nasdaq: PNRA) formerly operated both Panera Bread and Au Bon Pain restaurants. It sold off Au Bon Pain last year to focus on the fast-growing Panera "concept," which has 87 company-owned bakery-cafes and 133 franchised bakery-cafes in 25 states. Although each shop bakes its own bread on premises and boasts that it "bakes bread fresh daily," the actual dough is prepared in one of 13 commissaries around the U.S. and shipped to individual restaurants in refrigerated trucks. $
OTHER LOCATIONS: St. Matthews Mall, 5000 Shelbyville Road, (502) 899-9992; The Springs, 6221 Dutchmans Lane, (502) 895-9994. <!REVIEW ENDS HERE!>
---