!REVIEW GOES HERE!>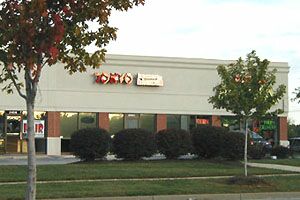 *** Tokyo Japanese Restaurant
2415C Lime Kiln Lane
(502) 339-7171
Kyoichi Shimodaira - or "KS" as many people know him - may be Louisville's most well-known sushi chef, having built a loyal following during many years at Shogun Japanese Steakhouse.
He left there in the summer of 2001 to help his friend Roy Kang start this new venue, and with the support of his loyalists, it started packing in crowds from its first day of business.
Now KS has moved on, but under Mr. Kang's administration Tokyo Japanese reamins appealing; pleasant in atmosphere and friendly in service, and most important, serving up excellent sushi, prepared with care and flair from high-quality, impeccably fresh ingredients.
Located directly across Lime Kiln Lane from Hawley-Cooke's Glenview Pointe store, the restaurant is more attractive than its anonymous shopping-center location would suggest. It's a bright, simply-decorated room with a few small Japanese prints on off-white walls. A good-size black-laminate sushi bar seats 12 at the back under golden flags, with colorful, neatly arranged seafood and fish in glass-front coolers.
Both sushi chefs speak English well, interacting with the customers with smiles and friendly jokes. Away from the sushi bar, about 20 red-and-black tables for two, many of them shoved together in units of four or six, are set with sturdy black chairs. Soft Japanese music - I think I recognized the twangy plucking of the koto and shamisen - plays discreetly in the background.
The sushi menu joins the new Bardstown Road Sapporo in its breadth and diversity; with well over 50 selections, it's one of the most varied sushi selections in town. (Watch, too, for daily specials, listed on a whiteboard. Or, if you're adventurous, you can simple offer KS a bow and a smile and say, "surprise me." Prices are competitive by sushi standards, from $1.25 to $4.75 for most nigiri (fish-on-rice-ball sushi) and $3 to $5.50 for most of the maki (sushi rounds, rolled in black nori seaweed). A few special items are more, including the infelicitiously named spider roll ($7.50, soft-shell crab rolls) and caterpillar ($8, avocado and eel rolls).
Worth special note are the only-in-Kentucky Cardinal roll and Wildcat roll, $4.95 each, tinted with sauces in red and blue, of course.
Full Japanese lunch and dinner menus are also available, with nearly two-dozen appetizers and light bites from $1 (for steamed rice) to $5.95 (for teriyaki beef rolled on asparagus). The lunch menu offers two dozen items from $6.50 (for ten don, tempura shrimp and veggies on a bowl of rice) to $15.95 (for a sashimi combo with assorted raw fish). The dinner menu includes about three dozen choices from $8.95 (for a teriyaki and sushi-roll combo) to $22.95 (for sushi moriawase, a 10-piece chef's-choice plate of nigiri and maki-sushi. There's plenty of cooked fare, by the way, if raw fish makes you uneasy, including teriyaki dishes from $11.95 to $14.95, sukiyaki for $14.95 and tempura (deep-fried goodies) for $11.95 to $14.95.
We went with sushi and were glad we did.
While we waited for our order, we enjoyed bowls of steaming miso soup ($1.50), served in pretty lacquer bowls, black outside, red inside, with red ceramic spoons. It was rich and meaty (although it's actually a vegetarian fermented-soy soup), loaded with tofu dice and plenty of tender dark-green seaweed (don't be afraid, it looks and tastes a lot like spinach). Green tea was strong and hot, with refills readily available from the attentive servers.
The first round of sushi came neatly arrayed on a wooden tray. The nigiri rice balls were carefully formed, with a generous portion of fish to rice. Maguro (tuna, $4 for a pair) was fine-grained and pink, resembling very tender rare beef. Saba (mackerel, $3.50) was cut in the traditional fashion with a pretty stripe of silver skin contrasting with the dark flesh. It was flavorful but not as "meaty" as usual. Tai (red snapper, $3.50) was melt-in-your-mouth tender, pale pink and translucent. Kaibashira (scallop, $3.50) featured a shiny white slice from an oversize sea scallop, sweet as seafood candy, bound to a rice ball with a belt of black nori.
Sushi rolls were well-formed, bite-size and flavorful. Tekkamaki ($4.50 for six rounds) featured a bite of tuna at the center. Salmon-skin hand roll ($3.75 for a large, pointed roll the shape of an ice-cream cone) was savory and flavorful, but a juicy sauce made it a bit hard to eat. Cardinal roll (Go, Cards!) was a largish six-slice roll ($4.95) with a center of crispy fried squid and a spicy hot sauce to provide a dash of crimson.
It was all so good, we couldn't leave without trying a couple more items. Kappamaki ($3.25 for a six-slice roll), one of the simplest sushi rolls, was beautifully displayed, each slice formed into a pendant shape rather than the usual circle, then assembled in a ring like the petals of a big sushi flower.
Finally, rainbow roll ($8.95 for six slices) was a spectacular variation on California roll. "Inside-out" rolls with rice on the outside of nori and filling had a center of crab "shape" and avocado, with assorted thin-sliced raw fish - tuna, yellowtail and shrimp - formed into a thin, edible exterior that gave each slice a slightly different color, flavor and texture. An innovative take on sushi, it was a delight for the eyes as well as the taste buds.
A large sushi lunch came to $42.29, which isn't cheap but falls within the usual range for this quality hand-crafted fare; we rounded up to $50 with a 20 percent tip. $$$
(October 2001)
<!REVIEW ENDS HERE!>
---